Barn at UC Irvine reflects local legacy of famed theater director Jerzy Grotowski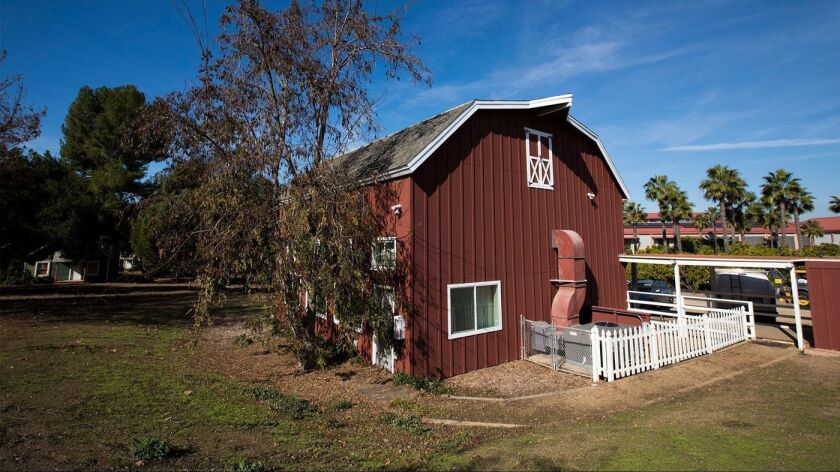 When renowned theater director Jerzy Grotowski was considering a job as a UC Irvine professor in the 1980s, the founding chair of the school's drama department promised him perks.
"He said, 'Well, what I really want is a barn,'" Robert Cohen, 79, recently recalled.
Luckily, the school's campus was built on a cattle range that included a barn that was being used as a storehouse.
So Grotowski, who had taught in barns in his native Poland, got his perk. Eventually, he also had a wooden yurt built nearby.
The two buildings, which seem at odds with the rest of the UC Irvine campus, were used by Grotowski during the years he taught at the school from 1983 to 1986. Today, the buildings are considered landmarks.
Grotowski, who died in Italy in 1999 at the age of 65, was once considered the world's most daring and influential theater director. They keystone of his philosophy was "poor theater," the idea that theater should be viewed as a secular ritual, stripped bare of lights, music, props and other artificial trappings.
In 1982, the native of Poland somehow made his way to New York, even though his country was controlled by the Soviet Union and navigating across borders would have been difficult.
"During the Soviet occupation of Poland, he couldn't leave the country nor could anybody else," Cohen said. "We suddenly found out he was in New York. He had, I guess, escaped."
An admirer of the director, Cohen was notified by a friend that he was interested in coming to California. Cohen thought it would be desirable to lure the director to UCI.
After an all-night party at Cohen's home, Grotowski would eventually agree, provided that the barn was included in the deal.
While Grotowski was teaching at the school, his unusual disposition endeared him to his students and the faculty.
"He was an odd person," said Cohen, noting that Grotowski had a tendency to allow only a handful of people into his plays in Europe. "People would say, 'I have tickets,' and he would say, 'Too bad.'"
Grotowski's teaching methods also were atypical. He often held classes at odd hours and had students perform physical tasks to prepare them for a performance.
He had the yurt built to provide some respite for his students. The round tent-like building is traditionally used by Central Asian nomads.
In a rare public lecture at Irvine in 1991, Grotowski tried to explain the motives behind his life's work.
"The true art is profoundly rebellious. The true art is not an obedient dog," he said. "It's not by accident that the great artists were not in agreement not only with the establishment but also with society."
Cohen said the barn and the yurt are now considered historical landmarks because of the role they played in Grotowski's life. He was dying of cancer when he made his pilgrimage to UCI.
"He knew he was dying when he came here," Cohen said. "I was the only one who knew."
Periodically, Grotowski would fly to France to see his physician. One day he called Cohen and said he was going back to Europe.
He settled in Pontedera, Italy, where he died.
Today, the barn and the yurt on the UCI campus are used by the school's drama department and faculty.
"The barn was treated reverently by Grotowski and his students," said drama Professor Annie Loui, who uses it today as a studio space. "That was part of his whole ethos, that the space was sacred …I am very clear about this with students every year, that we are working in Grotowski's legacy, so it's a place we need to respect and take care of."
Brazil writes for Times Community News.
---
For reporting and exclusive analysis from bureau chief John Myers, get our California Politics newsletter.
You may occasionally receive promotional content from the Los Angeles Times.