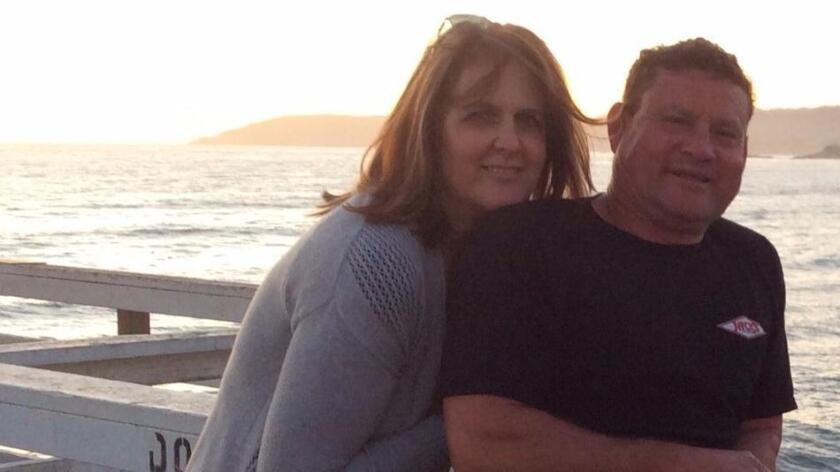 Reporting from Bakersfield —
Jack Beaton felt equally comfortable gripping a pair of barbecue tongs surrounded by friends or swinging his roofer's hammer on a hot day at work. He died a hero shielding his wife from a gunman in the nation's deadliest mass shooting in modern history.
More than 800 people packed into a California church on Saturday for one of the first memorial services for the 58 people killed when gunman Stephen Paddock opened fire from a Las Vegas casino hotel room nearly a week ago. The service was held in Beaton's hometown of Bakersfield, a community that was home to several victims.
In family pictures and in tearful tributes, Beaton, 54, was remembered as a fun-loving friend, a hard-working roofer by trade, a generous and kind-hearted neighbor and, above all, a devoted husband and father. He took his wife, Laurie, to Las Vegas for the Route 91 Harvest festival to celebrate their 23rd wedding anniversary, and he died in her arms.
"He told me, 'Get down, get down, get down!' "Laurie Beaton told Associated Press ahead of the memorial service.
He put his body on top of hers for protection, she said.
"He told me, 'I love you, Laurie,' and his arms were around me and his body just went heavy on me," she said.
Jeff Sallee, a next-door neighbor of the Beatons', said Jack was the kind of person who put others first. If you tried to thank him for his kindness, Sallee said, he would cut you off and say: "Well, that's just what you do. Doesn't everyone?"
Inside the church, the family displayed photos from the couple's wedding and family portraits throughout the years. His football jersey from Kern Valley High School was laid out near a portrait of him wearing it as a young man. There was a coffee mug that had "I Love Dad" painted on it in bright colors.
He leaves behind a 20-year-old son and an 18-year-old daughter.
The Beatons traveled to the music festival with two other couples, including Dario and Kim Catallo, close friends they often took trips with.
Dario Catallo described the chaos and "sheer terror" he felt when it became clear gunfire was raking the festival crowd.
"We right away got on top of our wives. We got down together. The next rounds of bullets came. We survived that. Unfortunately, Jack was struck," he said. "There was so much going on. You had milliseconds to make decisions. Do we stay? What do we do?"
Laurie Beaton knew her husband was dead when she told him she loved him and he didn't respond.
"I screamed his name and he wasn't answering me," she said. A man who said he was a nurse and emergency responder ran up and told her to put her husband on his side. She heard Jack struggling to breathe. The shooting hadn't stopped, and someone advised them to run to safety.
"So we ran," Laurie Beaton said. When they went back for Jack, they couldn't find him. They called hospitals and eventually the coroner's office, which confirmed her husband was among the dead.
"I knew every day that he would protect me and take care of me and love me unconditionally, and what he did is no surprise to me," she said. "He is my hero."
---