Married Alhambra couple sues employer, saying insurance was revoked because they're gay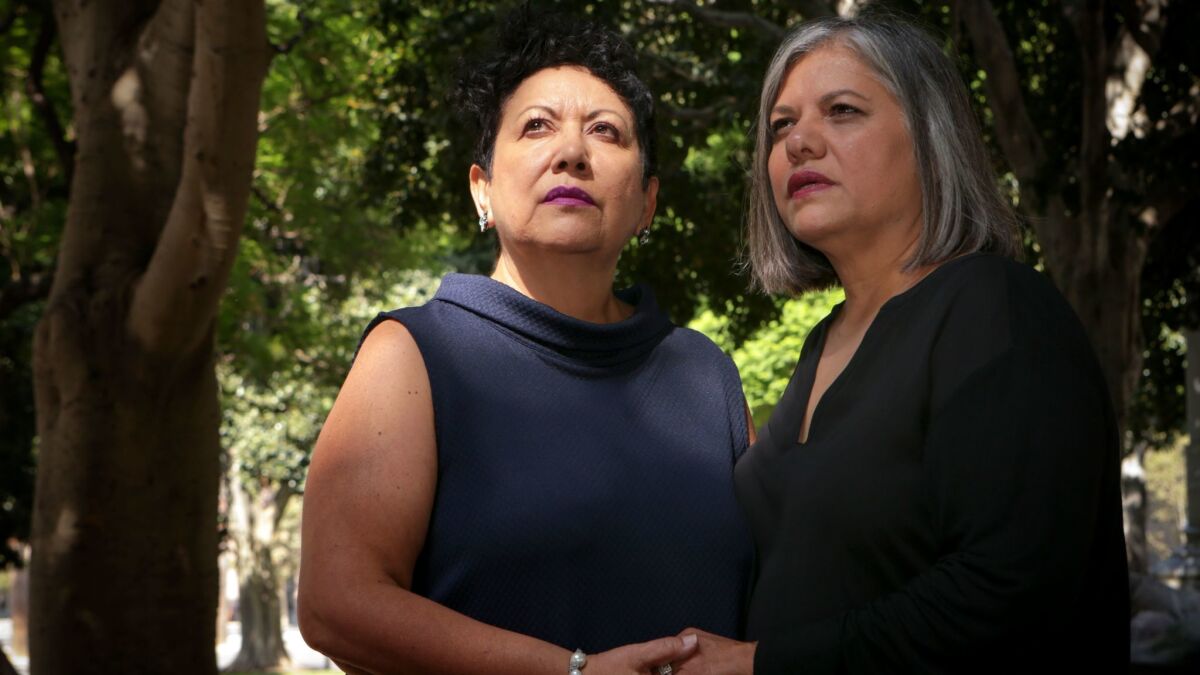 An Alhambra couple has filed a federal discrimination lawsuit against a former employer, alleging the company refused to provide spousal health insurance coverage because of their sexual orientation and rescinded previous coverage, leaving them with tens of thousands of dollars in medical bills.
Judith Dominguez, 59, began working as a loan originator for Colorado-based Cherry Creek Mortgage at a branch office in Diamond Bar in 2016 and enrolled herself and her wife, Patricia Martinez, 55, in the UnitedHealthcare plan offered by the company. The couple had been covered for most of the year when, in November, Dominguez submitted her annual re-enrollment "employee + spouse" forms.
The company told Dominguez it would not allow the women to re-enroll in a spousal plan "because Cherry Creek covers 'spouses who are in a legal union between one man and one woman,'" according to the lawsuit, which the couple filed Thursday in federal court in downtown Los Angeles.
The company also told Dominguez it was retroactively canceling Martinez's coverage from March 2016 onward, according to the suit.
Martinez suffered two heart attacks in 2015 and requires regular cardiology checkups and other care. They have received more than $40,000 in bills for past treatment that was previously covered, the couple said at a news conference Thursday. Bill collectors have now started calling, Dominguez said.
"When I first started to work for Cherry Creek, they told me that they put family first," Dominguez said. "Family before business. I soon found out that that meant some families, not all families."
Michael Norton, an attorney for Cherry Creek, said the company does not comment on pending litigation. UnitedHealthcare, which also is named as a defendant in the suit, could not be reached for comment.
In January, the suit alleges, John Carson, a vice president for Cherry Creek, wrote to the women's attorneys, saying their marriage did not meet the company's "clear criteria for spousal benefits." Carson also "referenced religious views that employees should not marry a same-sex spouse," according to the lawsuit.
Days later, the lawsuit states, a UnitedHealthcare representative wrote the attorneys, saying that Cherry Creek is a "Christian-based company," and, as its healthcare administrators, they had to follow the company's direction.
"We intend to put an end to this despicable practice of using religion as a mechanism for discrimination.… We intend to not let them hide behind religion in order to prevent people from living on the same, equal basis as all others during the course of their marriage," said Dan Stormer, one of the couple's attorneys.
Stormer, a Pasadena-based civil rights attorney, said he believed the company was emboldened by the election of Donald Trump, whose Justice Department has argued that federal civil rights laws do not protect against discrimination based on sexual orientation.
"It is absolutely clear to us that once Trump was elected, these people saw their opportunity to carry out their bigotry — that without the election of Trump, the [federal] Civil Rights Division would clearly have moved on them, would clearly have determined that their actions were unlawful," Stormer said.
Dominguez and Martinez have been a couple for 29 years and legally wed in 2013, after the U.S. Supreme Court cleared the way for same-sex marriage in California. Both have worked for years in the real estate and insurance industries.
"In the male-dominated business world, they have been verbally and physically harassed by men who believed they 'just needed to meet the right man," their lawsuit states.
The women say that after Dominguez filed a complaint with the federal Equal Employment Opportunity Commission, Cherry Creek retaliated against her, moving her to another branch office that was soon closing and then firing her.
Dominguez says that after she was fired, the company continued to use her photograph on its website, saying she worked in a Rancho Cucamonga office — where she has never worked — and featuring a promotional statement with a forged signature of her name.
Dominguez said Thursday that she believed the company continued to use her image and name to appeal to Latino customers.
The suit says Cherry Creek profits from offering mortgages to customers who are same-sex spouses and trains employees on how to enter them into their computer system.
The lawsuit alleges discrimination based on sex, retaliation, violation of the Equal Pay Act, violation of the Affordable Care Act, wrongful termination, violation of multiple California laws and unauthorized use of a name or likeness for commercial purposes.
"I'm afraid that I won't be able to afford to stay healthy," Martinez said. "Judith and I are family. This is my companion, my soulmate. And for some reason to go in and rip apart who we are is just not right."
Twitter: @haileybranson
The stories shaping California
Get up to speed with our Essential California newsletter, sent six days a week.
You may occasionally receive promotional content from the Los Angeles Times.