Council committee approves 'sanctuary' label for L.A. and rules on border wall contractors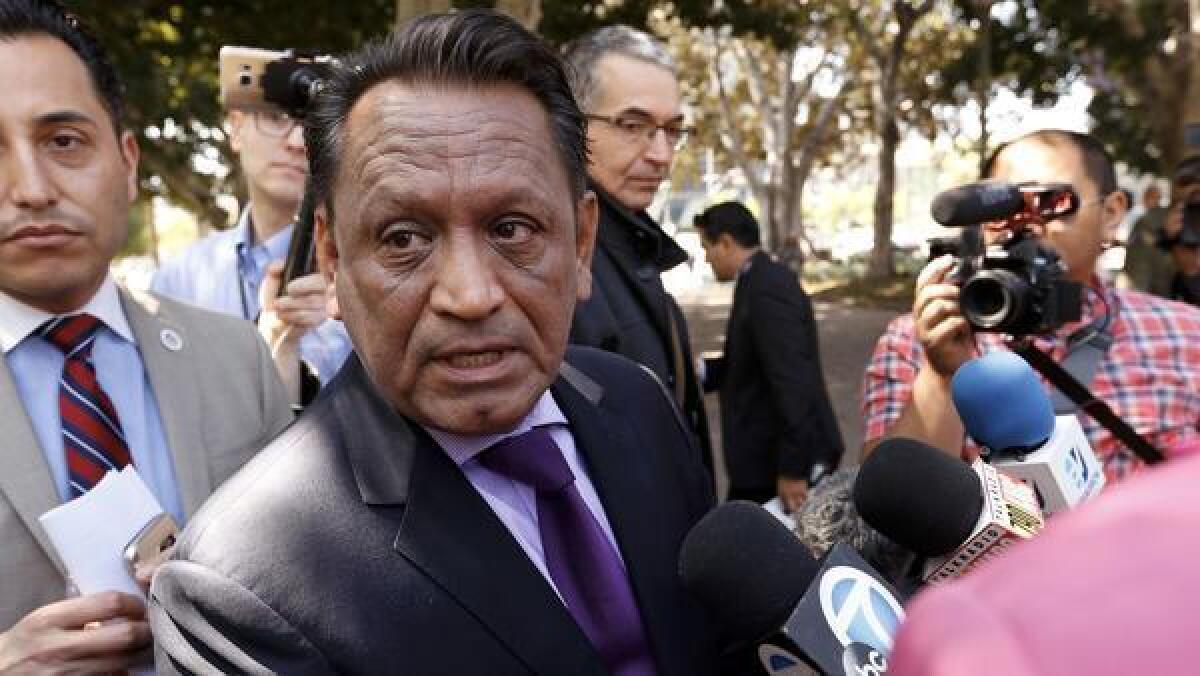 A Los Angeles City Council committee backed a plan Thursday to formally declare L.A. a "city of sanctuary" — a symbolic gesture that comes as city leaders battle President Trump's administration over immigration policies.
The council's Immigrant Affairs, Civil Rights and Equity Committee voted to formally adopt the "sanctuary" label and to require businesses with city contracts to disclose if they are working on Trump's proposed border wall. The full council must sign off on the proposals.
City Councilman Gil Cedillo, who chairs the committee, said it was moving to protect the city's "harmony from the irrational, erratic actions of the Trump administration."
The label doesn't provide any new protections for those without legal status living in L.A. However, council members will consider proposals to help immigrants in the coming months.
Trump issued an executive order in January barring sanctuary cities from receiving funds from the departments of Justice and Homeland Security.
The crackdown has prompted a flurry of lawsuits from Los Angeles and other cities, and the issue is pending in the courts.
Additionally, in a move viewed by some as a way to punish L.A., the Justice Department recently declined to award to the LAPD grants given to scores of other law enforcement agencies across the nation.
The LAPD previously received such grants and sought the money this year to hire 25 officers in South L.A.'s Harvard Park, one of the city's deadliest neighborhoods.
There is no clear definition of a sanctuary city, but in general, cities that adopt the designation seek to offer political support or practical protections to people who are in the country illegally.
For some cities, the sanctuary movement consists simply of encouraging people without legal status to get more involved in government. Other places, such as San Francisco, have adopted far-reaching policies, such as taking steps to cut ties with federal immigration officials and refusing to fully cooperate with them.
Mayor Eric Garcetti and LAPD Chief Charlie Beck say forcing officers to aid immigration enforcement builds mistrust in the community and makes it harder for officers to do their job. However, the LAPD cooperates with federal agents who have warrants, officials say.
The committee's vote comes a year after advocates pushed lawmakers to declare L.A. a sanctuary city amid concern that Trump would make good on his campaign promise to aggressively deport immigrants in the country illegally and build a border wall.
Advocates supported the committee's move to adopt the sanctuary label but pushed officials to take concrete steps to assist immigrants.
"The City Council has yet to respond with true policies to protect the city's residents," Nina Torres of the National Immigration Law Center said at Thursday's hearing. She told council members there should be a clearer barrier between police and federal immigration agents.
Other activists have called for stronger measures to ensure that sensitive information about immigrants remains private, and for the city to curb the criminal enforcement of minor violations, which they say disproportionately affects immigrants.
City leaders have already committed $2 million to a legal fund for immigrants facing deportation and barred city employees from helping the federal government to create a registry based on religion.
The council has also asked Congress to investigate whether Trump violated the Constitution's foreign emoluments clause or committed any other impeachable offenses.
Cedillo and Council President Herb Wesson introduced their "city of sanctuary" plan in September, calling it a response to Trump's plans to unwind the Deferred Action for Childhood Arrivals program, which protects immigrants brought to the U.S. illegally as children.
The Republican Party of L.A. County and other groups oppose the "sanctuary" label.
The committee also backed a plan that requires companies that seek contracts with the city to disclose if they are working on Trump's proposed border wall.
However, the proposed law includes more than a dozen exceptions, mostly involving contracts for the investment of city funds.
The committee also passed a resolution in support of the federal Temporary Protected Status program, which allows protections for some foreign citizens in the U.S.
Twitter: @dakotacdsmith
The stories shaping California
Get up to speed with our Essential California newsletter, sent six days a week.
You may occasionally receive promotional content from the Los Angeles Times.