Former head of South Korean geoscience center convicted of laundering $1 million in bribes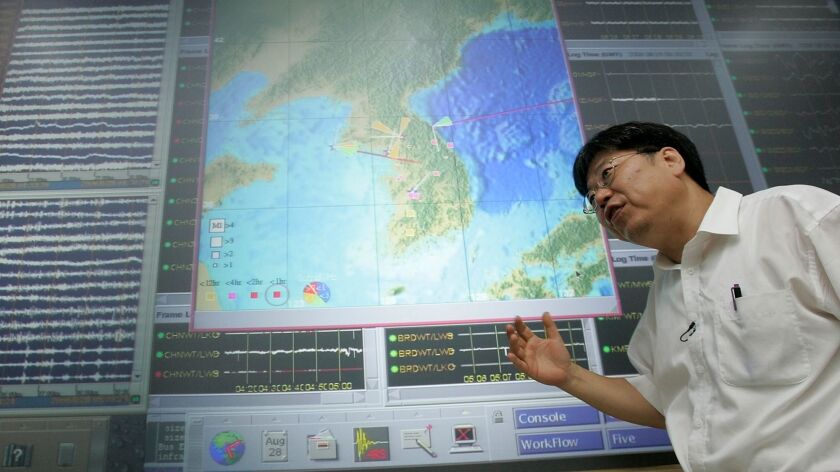 The former head of South Korea's earthquake research center was convicted this week of laundering more than $1 million in bribes from two seismological companies, including one based in Pasadena, that paid him in exchange for insider information.
After a four-day trial, a federal jury convicted Heon-Cheol Chi, a 59-year-old resident of South Korea, of one count of transacting in criminally derived property, according to the U.S. attorney's office. The jury failed to reach a verdict on five other counts of money laundering.
Chi's conviction hinged on the jury's determination that the payments were illegal under South Korea's bribery laws. Prosecutors said Chi abused his public position by accepting kickbacks, but his attorney argued that consulting agreements are common in South Korea and that the law was not properly explained to the jury.
"Money laundering is only a crime if you can prove the money came from an illegal source. The only illegal source they charged him with was violating Korean law," said defense attorney Joel Koury, adding that Chi was never charged with taking bribes in South Korea. "If the judge got Korean law wrong, then it's not a crime."
For years, Chi headed the Korea Institute of Geoscience and Mineral Resources' Earthquake Research Center in South Korea, where he tested seismological equipment, offered technical certifications for equipment used in government-funded projects and developed an early-warning earthquake system.
Starting in at least 2009, two companies — Kinemetrics in Pasadena and Guralp in the United Kingdom — began dumping large sums of money into Chi's bank account in Glendora, authorities said.
In turn, prosecutors said, Chi gave those companies an upper hand in doing business in South Korea, advocating for the purchase and use of their equipment and offering confidential information about their competitors and the research center's bidding process.
In emails to the companies, Chi called the payments "advice fees," acknowledging that it was illegal for him to accept them as a public official, according to federal court records.
"Due to my position, I am not allowed to participate in any activity of private companies," he wrote in 2010, according to court records. "That is why I got the advice fee from you through the American bank."
Meanwhile, he urged representatives of the companies to delete or not reply to his emails.
Through 2015, prosecutors said Chi accepted more than $1 million in payments — roughly $650,000 from Guralp and $386,000 from Kinemetrics. Each year, he pocketed more from the bribes than from his research center salary, according to court records.
He then made a series of transfers between his California bank account and his brokerage account in New York, using the money for personal purposes, largely in South Korea, court records show.
Chi was arrested in December on his way to a seismology convention in San Francisco, Koury said. Chi, who faces up to 10 years in federal prison and is scheduled to be sentenced in October, plans to appeal his conviction, he added.
Meanwhile, Acting U.S. Atty. Sandra R. Brown said in a statement that Chi's conviction "sends a message" that should be heard around the world.
"The American financial system is not to be used as a storehouse for the proceeds of corrupt activity," she said.
alene.tchekmedyian@latimes.com
Follow me on Twitter @AleneTchek
---
For reporting and exclusive analysis from bureau chief John Myers, get our California Politics newsletter.
You may occasionally receive promotional content from the Los Angeles Times.