Spring storm expected to bring rain, snow across state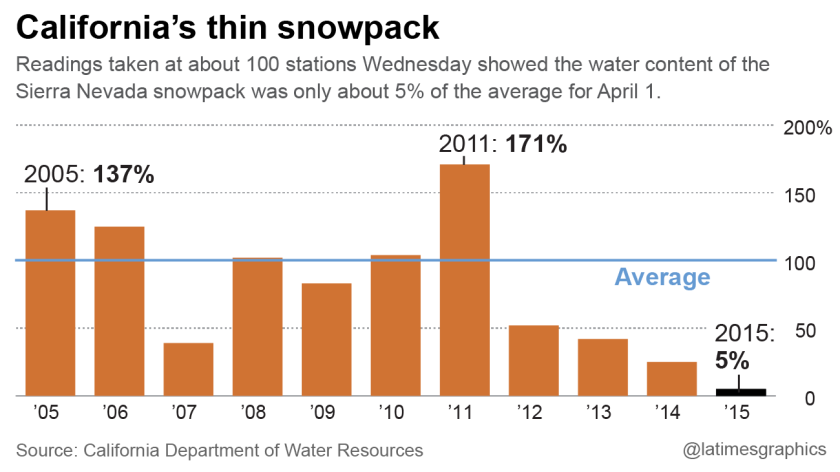 A low-pressure storm system is expected to drench California through the first half of this week, bringing much-needed rain to the drought-stricken state, forecasters said Sunday.
Starting Monday evening, Northern California will see showers, scattered thunderstorms and possibly hail that will peak during the Tuesday morning commute, National Weather Service meteorologist Bob Benjamin said.
Just before noon Tuesday, rain will roll into the Central Coast and Los Angeles area, picking up after sunset before clearing out Wednesday morning, Benjamin said.
"It will definitely give us a decent soaking and save some of the irrigation for a couple of days," Benjamin said.
The Central Coast and Central Valley will see up to 1 inch of rain, while Los Angeles and Ventura counties will see up to half an inch, according to the weather service.
Higher elevations will see snowfall, with light snow showers about 3,500 feet, according to the weather service. Snow will probably accumulate above 5,500 feet, with up to 10 inches falling in the southern Sierra Nevada.
Storm cells are expected to clear out by late Wednesday, with temperatures warming up to the low 70s by Friday, said weather service meteorologist Carol Smith.
Parts of Northern California saw a prelude to the storm on Sunday, with as much as a quarter of an inch of rain falling on the Bay Area before the system moved inland to the Central Valley.
"It's definitely a good rain -- we need it -- but it's not going to be significant or for a long enough duration to provide any relief for the overall drought," Benjamin said.
Last week, Gov. Jerry Brown ordered cities and towns across California to trim water use by 25% as part of the state's first set of mandatory drought restrictions.
The conservation measure came days after water officials measured the lowest April 1 snowpack in more than 60 years of record-keeping in the Sierra Nevada.
"It's a different world," said Brown, calling on residents to dramatically shift their water consumption as the drought drags into its fourth year. "We have to act differently."
For breaking news in California, follow @MattHjourno.
---
The stories shaping California
Get up to speed with our Essential California newsletter, sent six days a week.
You may occasionally receive promotional content from the Los Angeles Times.