Expo Line train hits car near USC; 12 injured, one critically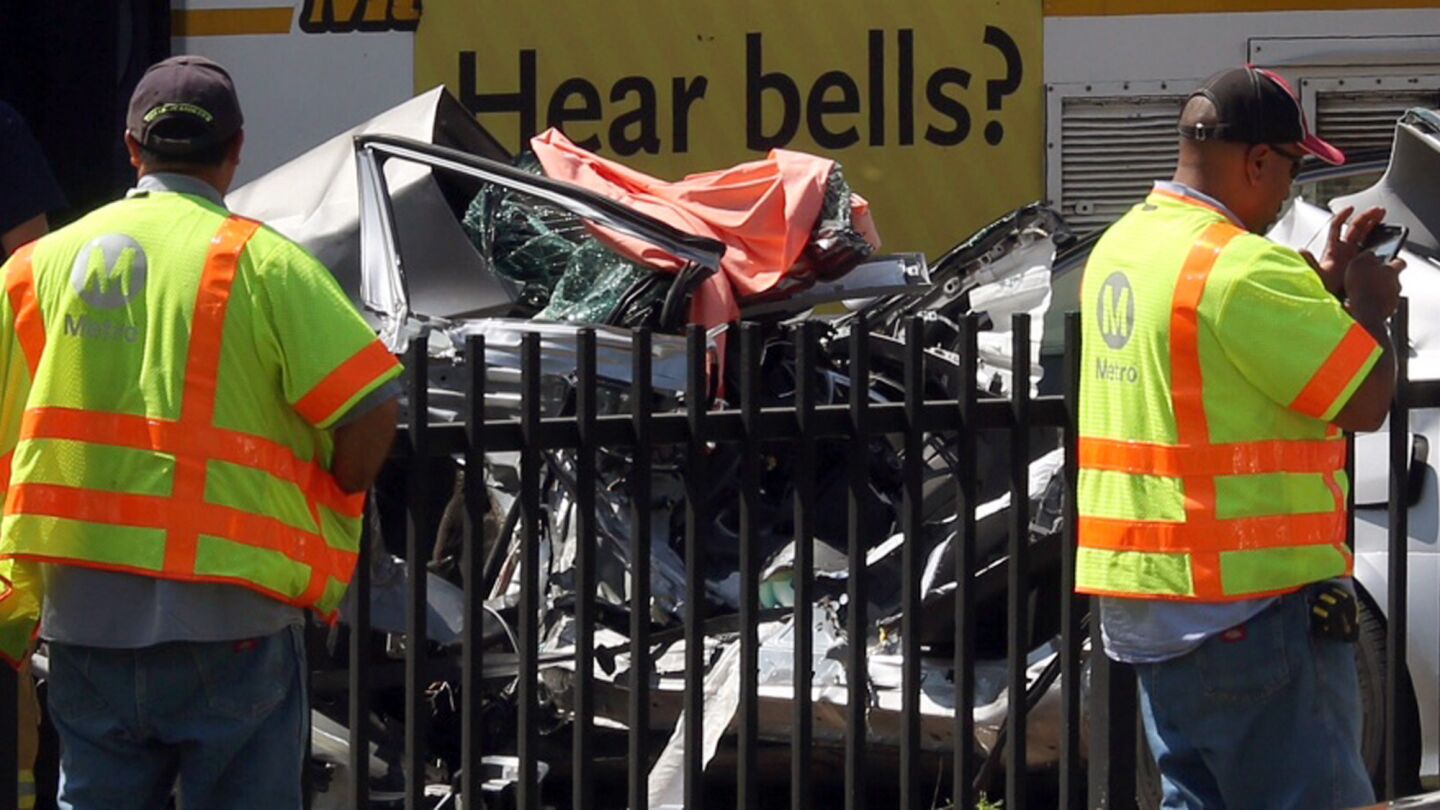 Mangled metal of the silver Hyundai sedan sits in front of the train. The crash was at least the 18th between a car and Metro train in the last 12 months.
(Irfan Khan / Los Angeles Times)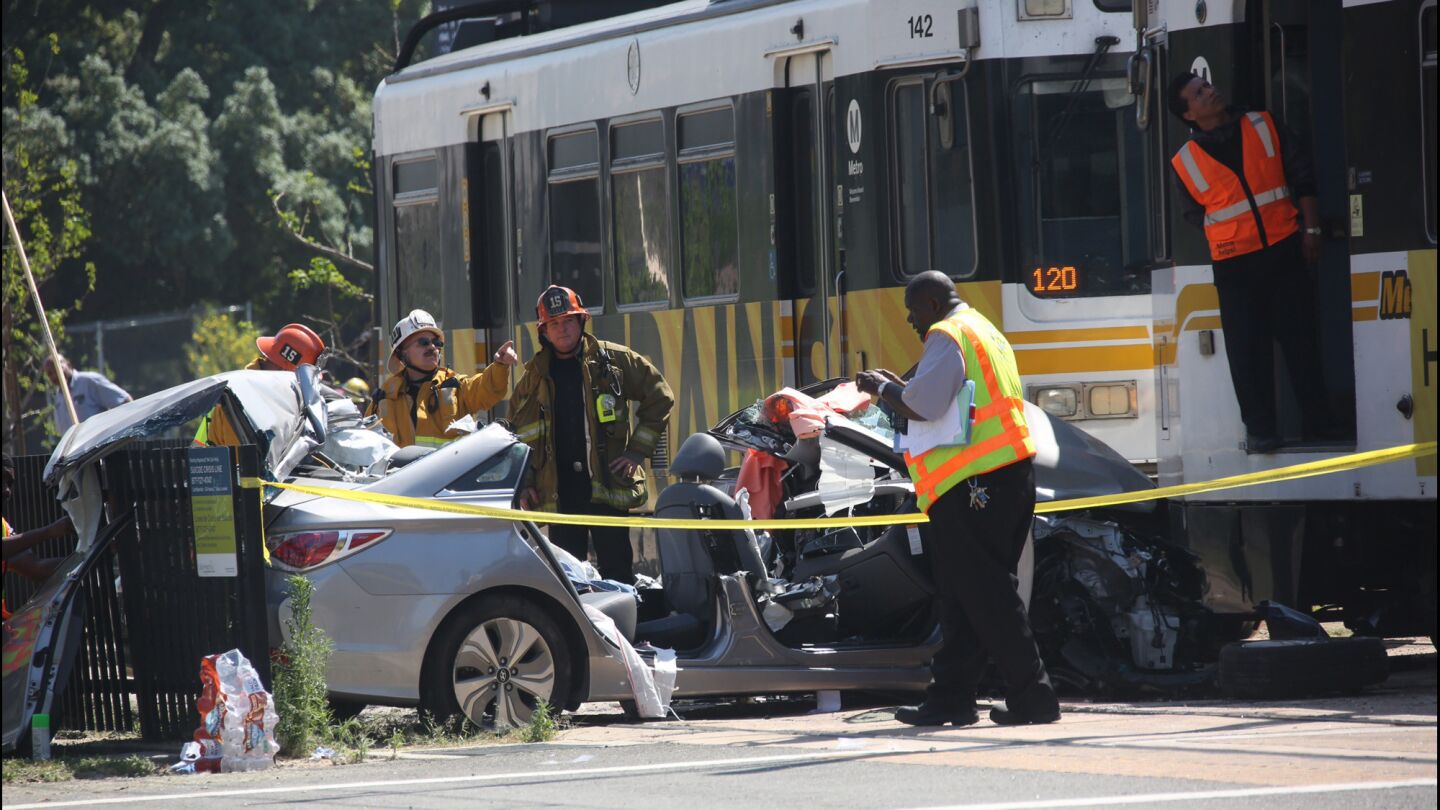 Emergency crews work to clear the scene of the accident between a Metrol Expo Line train and a Hyundai sedan near USC.
(Irfan Khan / Los Angeles Times)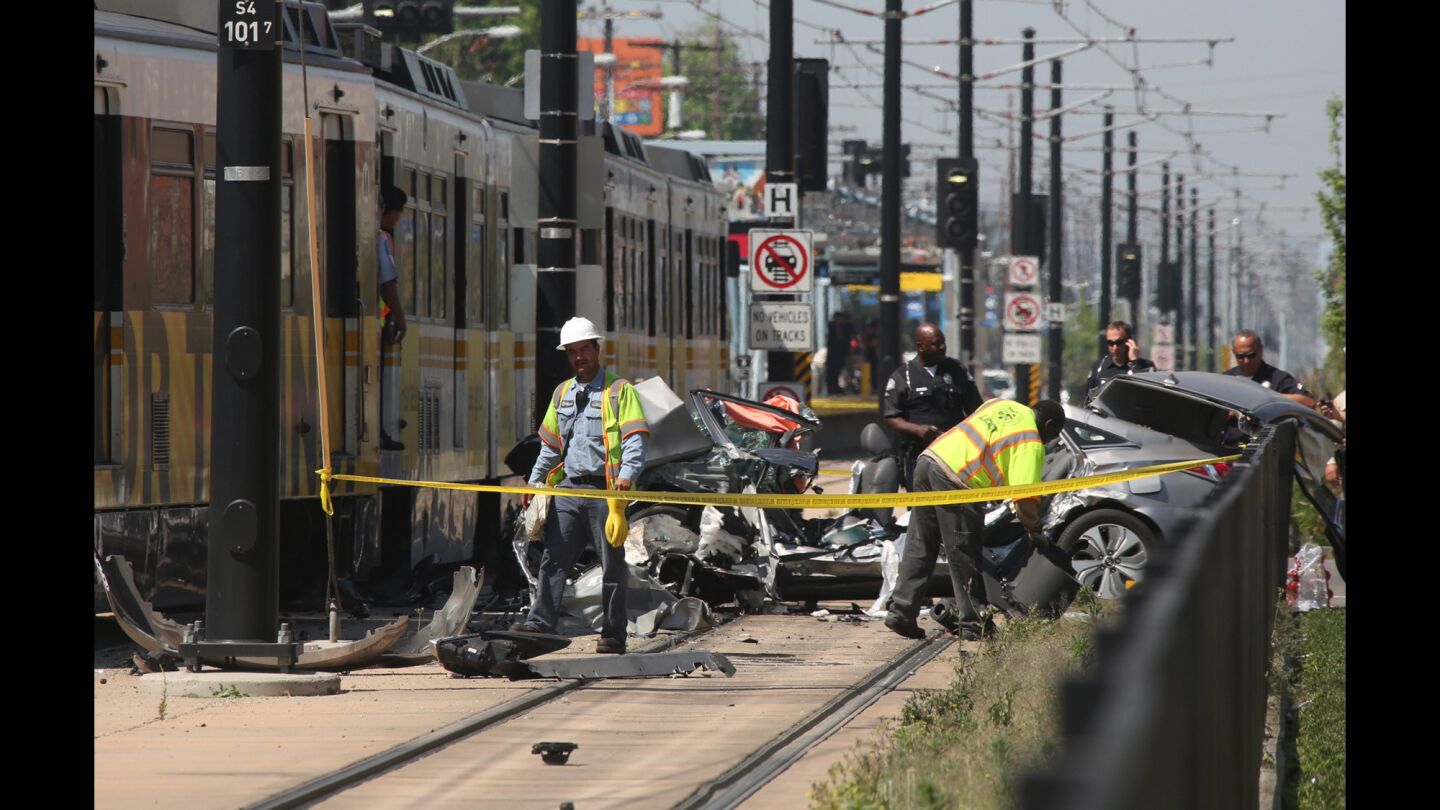 Twelve people were hurt, one critically, when an Expo Line train and a car crashed along Exposition Boulevard.
(Irfan Khan / Los Angeles Times)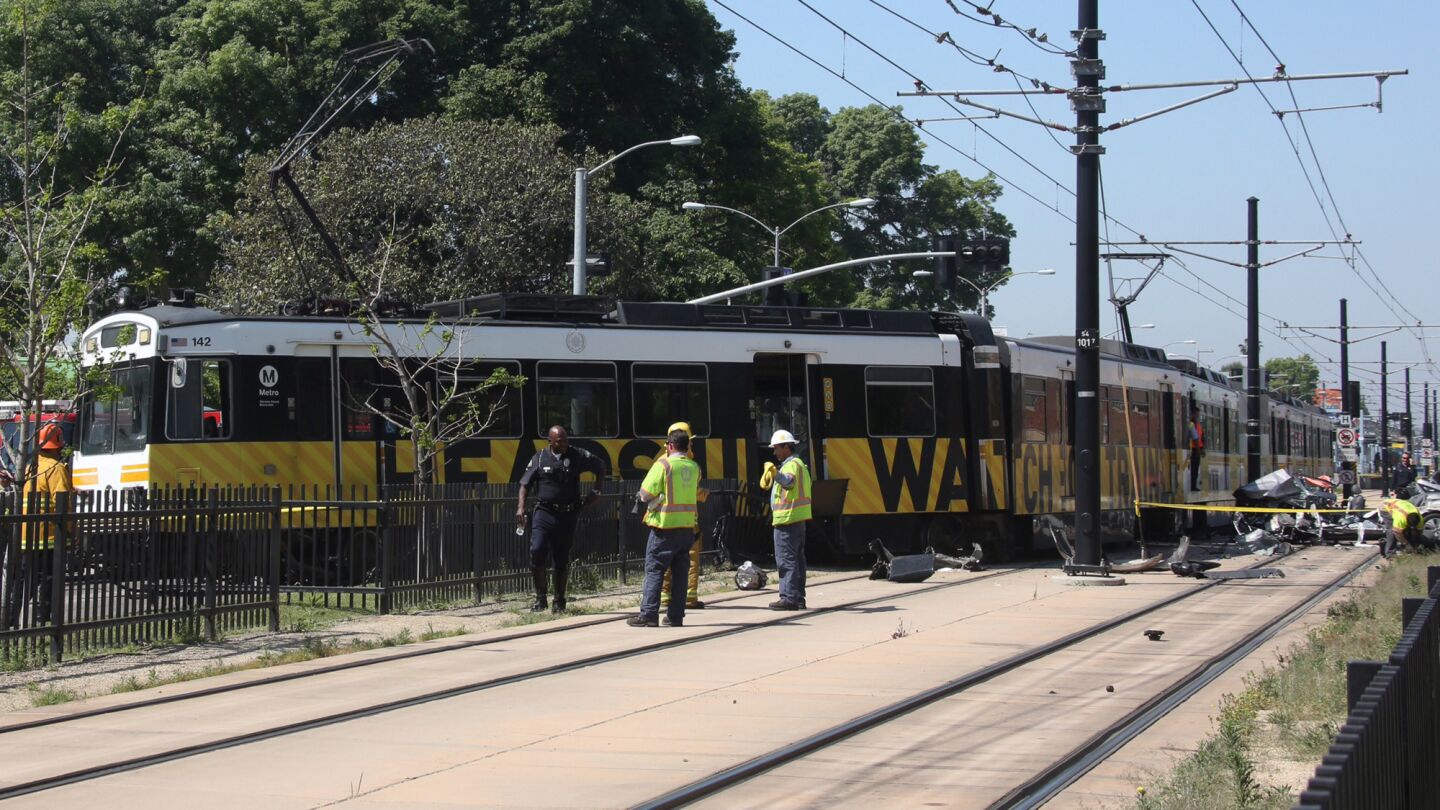 The crash derailed the Expo Line train and totaled the car. The car's driver had to be cut from the vehicle.
(Irfan Khan / Los Angeles Times)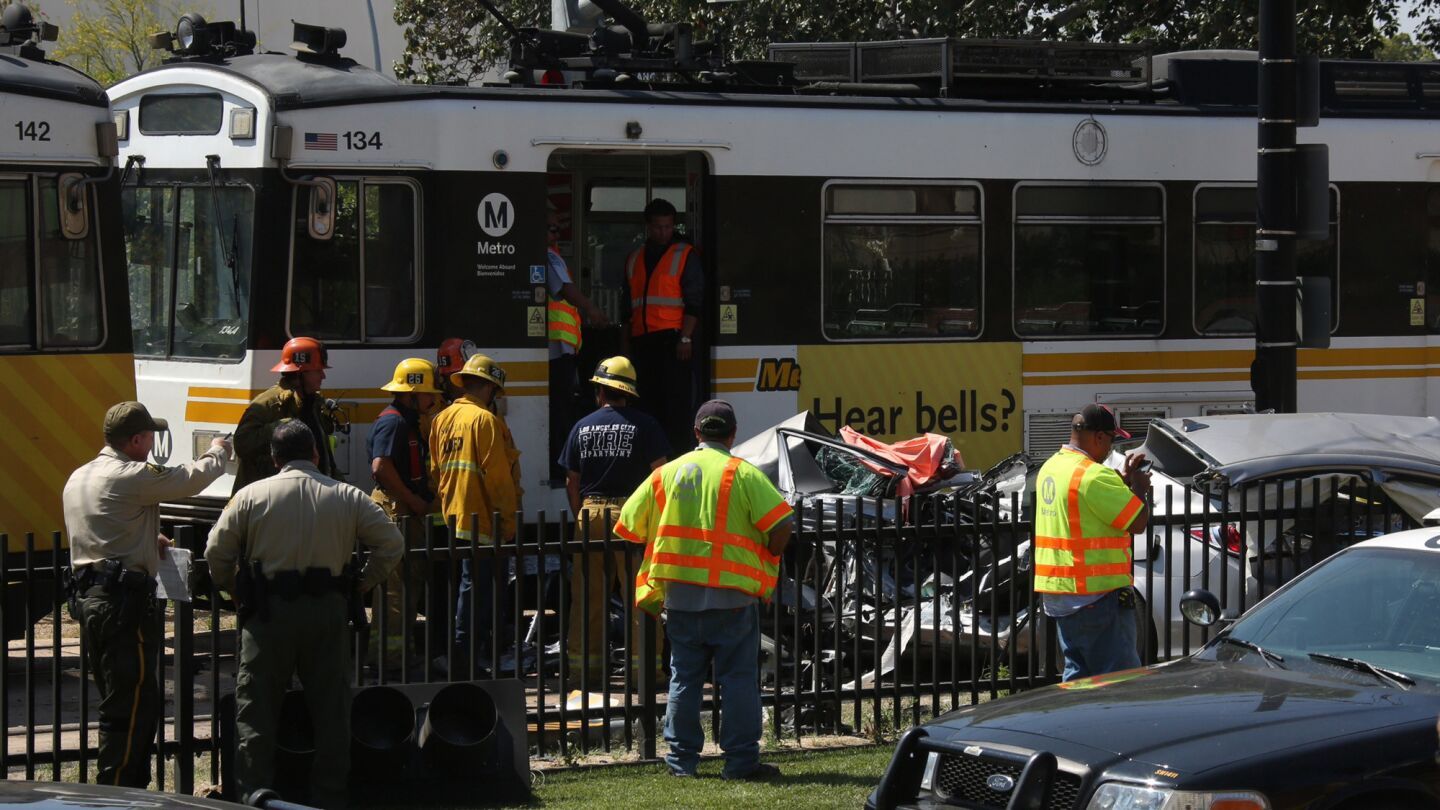 Firefighters and other personnel assess the scene of the accident along Exposition Boulevard near USC.
(Irfan Khan / Los Angeles Times)
At least 12 people were injured, one critically, when an Expo Line train collided with a car Saturday near USC, authorities said.
Firefighters and paramedics were dispatched to the scene about 10:50 a.m., said a spokesman with the Los Angeles Fire Department. The silver Hyundai Sonata struck by the train was crushed. The driver, who was in grave condition Sunday evening, had to be cut out of the vehicle.
The LAFD said the operator of the train, Kenneth Goss, was seriously hurt and also taken to a local hospital. The other 10 people suffered minor injuries.
Two Expo Line cars came off the tracks between Vermont Avenue and the train tunnel at Figueroa Street.
Photos on social media showed a crumpled compact car pinned between a train car and an iron fence near a crossing.
Much of the Metro light rail system is at-grade, and accidents involving both cars and pedestrians have been an issue for years.
The system has 5 million monthly boardings, and fatal accidents are relatively rare.
The largest concern has been about the Blue Line.
The 22-mile line connecting downtown Los Angeles with Long Beach has long been considered the deadliest in Southern California. Between 1990 and 2013, nearly 120 people have died along the line -- 31 by suicide -- more than all other lines combined.
There has been debate for several years about whether more safety precautions are needed at some Expo Line crossings that are close to schools. Metro has said existing safety measures are effective.
The train involved in the accident Saturday had large safety warnings wrapped on the car saying "WATCH THE TRAIN" and "HEAR BELLS?"
Twitter: @byjsong
---
The stories shaping California
Get up to speed with our Essential California newsletter, sent six days a week.
You may occasionally receive promotional content from the Los Angeles Times.