Howling wind and tumbleweeds wreak havoc in Victorville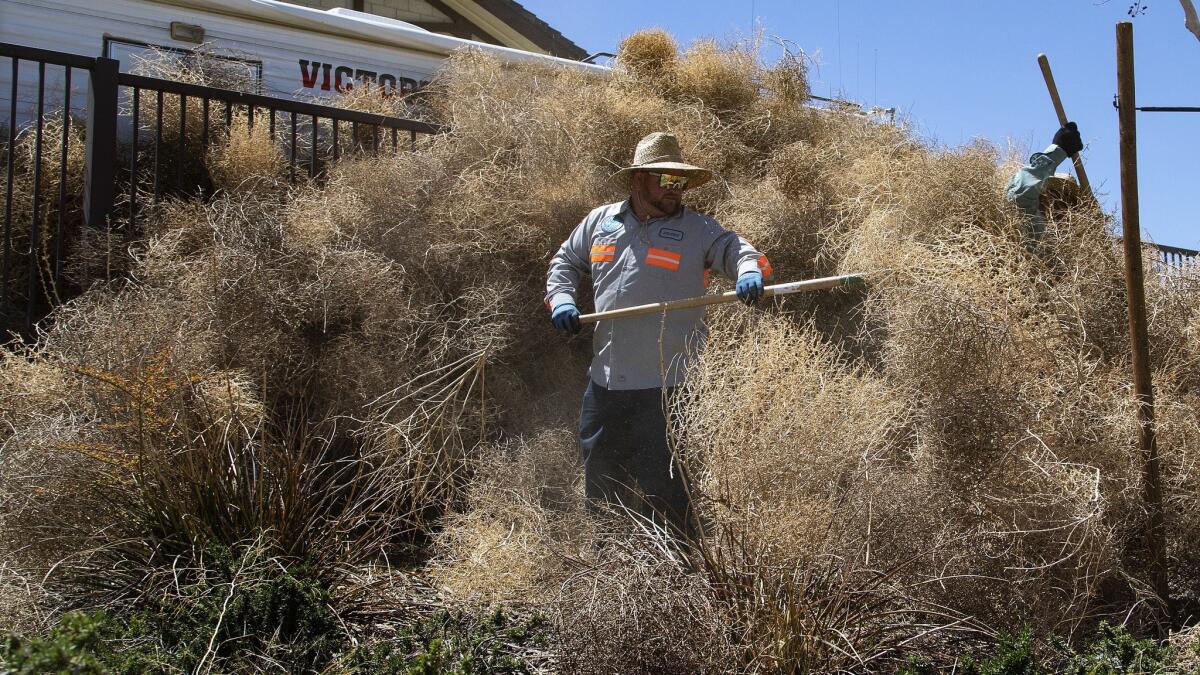 When she rose from bed early Monday, Nancy Martinez-Brown could hear the howl of a fierce Mojave Desert wind.
She knew what that meant: Tumbleweeds.
Not the little Wild West things you see in cartoons, but massive, wind-driven tumbleweeds measuring 3 or 4 feet wide and just as tall. Dry thorny things that bunch up together to form big prickly boulders that block doors and garages.
She could already hear them scratching against the second-story windows of her Victorville home.
When noon arrived and the winds hadn't let up, she knew things were going to be bad.
As the day wore on, and wind gusts reached nearly 50 mph in the high desert, more and more tumbleweeds swept into this neighborhood on the southern edge of town, bombarding some 150 houses off Mesa Street.
The prickly orbs bounced through the air and bunched up in front of doorways, in side yards, in backyards and against fences. Some residents had their front doors blocked, while others could escape their homes only through the garage.
"There is no stopping them," Martinez-Brown said. "They pile up 5 feet tall. It does get scary."
About 100 homeowners needed assistance clearing the mess from their property, said Victorville spokeswoman Sue Jones.
"The crazy thing about tumbleweeds is that they are extremely thorny, they connect together like Legos," she said. "You can't reach out and grab them and move them. You need special tools. They really hurt."
The city dispatched code enforcement officers, public works crews and its trash-hauling contractors to start clearing the neighborhood. A 15-person fire crew even showed up to assist in the effort.
Crews used pitchforks to pile the invaders into garbage trucks, which crushed and compacted them.
"It was all hands on deck," Jones said.
This isn't the first time the neighborhood has found itself in tumbleweed trouble. The group of houses is located in a particularly precarious geographic position with open desert to the south and east.
A field south of the neighborhood goes on for more than half a mile until it hits the east branch of the California Aqueduct. Then there's more desert beyond that.
"We don't have any neighbors across the street," said Martinez-Brown. "We have the desert. It is like a little wind tunnel straight into this neighborhood."
The windy conditions are typical for the high desert area, but Martinez-Brown pointed out that humans haven't made it easier on themselves.
A lot across the street from her home was cleared of Joshua trees and large creosote bushes that typically dot the desert landscape to make way for more homes about 10 years ago.
But since the economy crashed, the land has sat barren waiting for housing that hasn't come, stripped of the vegetation that once served as a natural wind break when tumbleweeds came barreling through.
"There is nothing to stop them," she said.
Jones, the city spokeswoman, said it is hard to say which specific lots produce tumbleweeds when homes face such vast stretches of desert.
"When you are that close to undeveloped land, tumbleweeds can happen," she said.
A low-pressure system brought strong winds across Southern California on Monday. Gusts reached 71 mph at one peak in the San Diego County mountains and 60 mph in Palm Desert, according to the National Weather Service.
The strong jet stream shrank as it moved east into the Rocky Mountains, but strong winds are expected to return to the Southland on Wednesday night and remain through Friday. A high wind warning will be in effect through Friday morning for the mountain and desert regions of the Coachella Valley as well as Riverside and San Diego counties.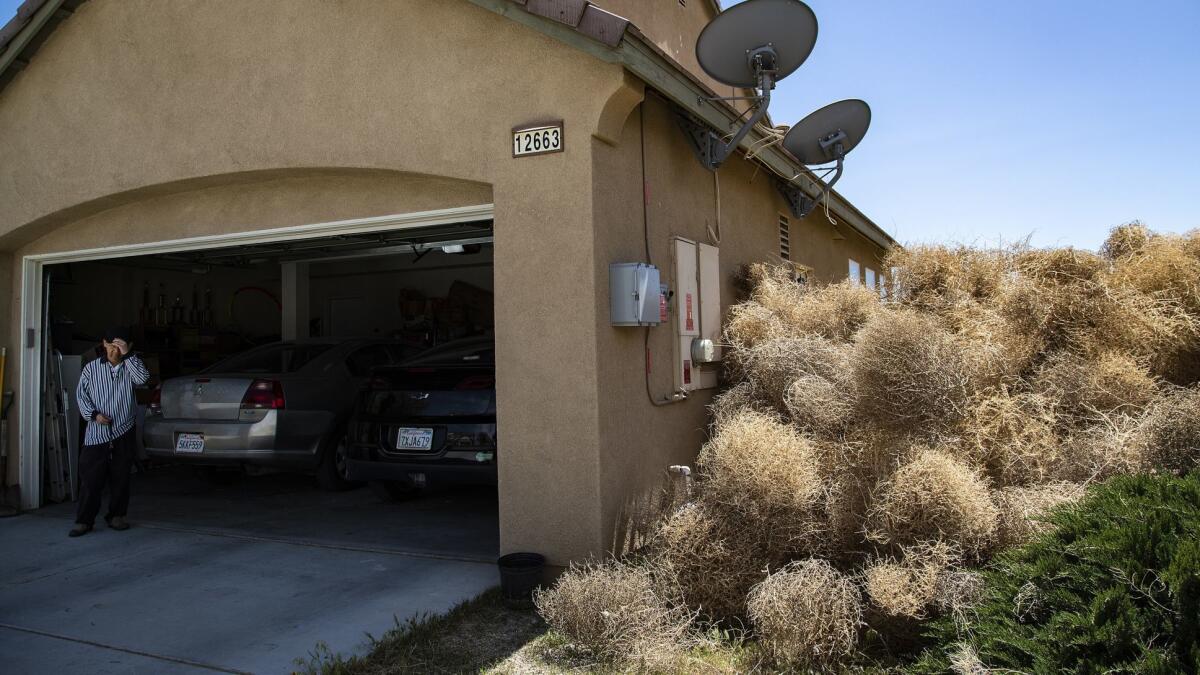 Twitter: @jpanzar
Sign up for Essential California for news, features and recommendations from the L.A. Times and beyond in your inbox six days a week.
You may occasionally receive promotional content from the Los Angeles Times.