In Little Saigon, anxiety after arrest of Orange County man in Vietnam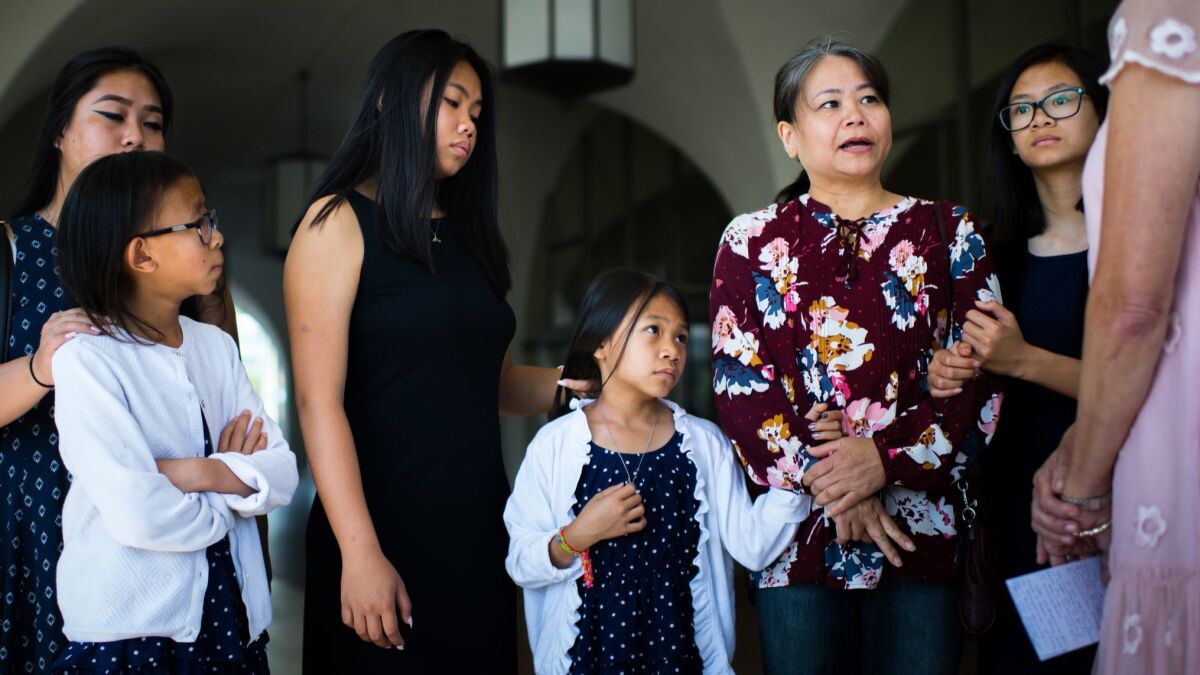 The family of a man missing for a month in Vietnam announced Thursday that he has been detained by the government and imprisoned in Ho Chi Minh City "without cause or charges."
Michael Phuong Minh Nguyen had been found alive with no "visible signs of abuse," according to U.S. Embassy officials who notified family members Wednesday.
The father of four daughters had left his home in Orange County on June 27, intending to tour central Vietnam with friends before stopping to visit relatives in the southern part of the country.
When he did not fly home as expected on July 16, his wife frantically tried to locate her 54-year-old husband. Using social media and tapping into Vietnamese-language media, she spread news of his case. His disappearance stoked fears in the Vietnamese community in Southern California of the dangers of traveling to a country where human rights and basic freedoms are restricted.
"He was making a personal trip. He has done nothing wrong. More than anything, we just want him back safely," said his wife, Helen Nguyen, an operating room nurse. She was accompanied by her daughters at a news conference near their Orange home.
Authorities in Vietnam detained her husband on July 7, as the print shop owner left Da Nang for Ho Chi Minh City, formerly known as Saigon. He carried just his clothes and more than $1,200 for expenses.
An agreement between the U.S. and Vietnam requires that the Vietnamese government notify their U.S. counterparts within four days if an American citizen has been arrested and jailed. But in Nguyen's case, no information was exchanged, reportedly as a result of a 1994 privacy act — also signed between the two countries — that does not allow details about a person to be shared unless that person signs a release form.
"We were in a catch-22. We couldn't get any information about Michael because he hadn't signed anything. But no one would say where he was to get him to sign," said Mark Roberts, Nguyen's brother-in-law. Nguyen is being held at the Phan Dang Luu Detention Center in Ho Chi Minh City, he said.
On July 17, Vietnamese authorities finally notified the U.S. Embassy of Nguyen's arrest. By Tuesday, U.S. Consul General Franc Shelton spoke face to face with Nguyen for the first time — while in Southern California, his extended family met with U.S. Rep. Mimi Walters (R-Laguna Beach) to plead for her help.
Walters said Nguyen's case is her "highest priority."
"I am working to secure Mr. Nguyen's freedom and to ensure his safety," she said. "The Vietnamese government needs to know there will be consequences if they don't treat American citizens with respect."
In Orange County's Little Saigon, the arrest has led to widespread worry, with immigrants saying they will rethink or cancel travel plans to Vietnam.
If the Vietnamese government "can target an ordinary person like this, who knows what might happen if we go back and are at the wrong place at the wrong time?" said Mickie Mai, a math graduate student from Fountain Valley who hoped to tour the birthplace of her ancestors during school holidays.
Dat Hoang, an auto repairman from Santa Ana, said he would look into Thailand as a vacation destination rather than Vietnam.
"Imagine a middle-aged guy like me taking my kids back to my homeland to see their grandparents. If something crazy occurs, if all of a sudden they take me, what can my kids do?" the father of two teenagers said. "They don't understand how the system works over there. We have to think twice about taking these risks when we can just as easily go somewhere else in Europe or Asia."
In June, Will Nguyen, a Vietnamese American man from Houston, was arrested after participating in a pro-democracy rally in Vietnam. Video captured his beating, which prompted supporters worldwide to demand his release.
"This is becoming a pattern. These are two high-profile cases of citizens arrested without charges, and people are noticing how randomly the government acts," Roberts said, adding that no formal charges have been filed against his brother-in-law.
"Yet we're prevented from seeing him," he said. "It is a huge violation of human rights and international law."
The stories shaping California
Get up to speed with our Essential California newsletter, sent six days a week.
You may occasionally receive promotional content from the Los Angeles Times.