Second woman accuses Lynwood councilman of sexual misconduct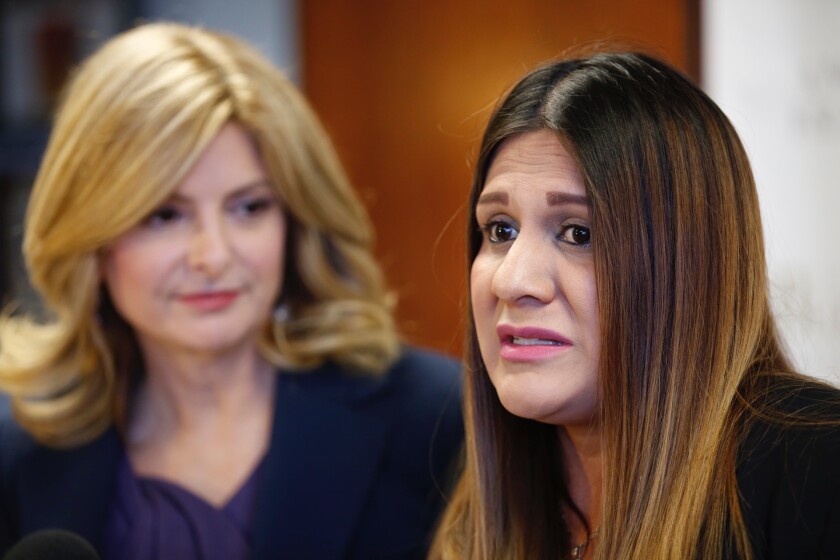 A second woman has come forward to accuse Lynwood Councilman Edwin Hernandez of behaving inappropriately toward her while she was employed with the city.
Marisela Santana, 45, said Hernandez sexually harassed her and later retaliated against her after she was hired as the city's spokeswoman in late 2012, a year before Hernandez was elected into office.
"He wanted us to be more than friends outside of City Hall," Santana said. "He wanted something physical, and I said no."
The allegations come more than three weeks after Monica Ochoa, a senior accounting technician with the city, accused Hernandez of sexual harassment, forcing officials to launch an independent investigation.
Since Ochoa went public last month, city officials have said they have learned about other claims of inappropriate behavior involving Hernandez. So far, four women have made accusations against him, including Ochoa and Santana. At least two women have declined to file formal complaints.
"This is a dark cloud over us," Lynwood Mayor Jose Solache said.
He said the City Council and administrators are taking the allegations against his council colleague seriously.
"We want to make sure we respect the employee and acknowledge the allegations," he said. "But we also want to give Hernandez the right to a process."
Hernandez, who stepped away from his duties as mayor pro tem, did not respond to requests for comment.
Lisa Bloom, an attorney representing Ochoa and Santana, hopes more women will come forward to support her clients.
"This investigation is not going to go on forever; it's going to close soon. It's not going to be helpful for someone to come forward a year from now," she said. "One woman standing up against a powerful guy is probably not going to win. Two? Maybe, maybe not. Three, we're going to win. Four, we're going to win.
"Standing together, we are believed; we have strength," she said.
Santana, who served as the city's public information officer between 2012 and 2016, said her problems soon began after she was hired by the city. In her job, Santana handled public relations and coordinated media requests as well as public events such as business openings and fairs. She also helped organize roundtable discussions for the Lynwood Chamber of Commerce.
She said Hernandez was the city treasurer when he began making flirtatious remarks and sexual advances toward her. Hernandez was elected to office in 2013.
"Things started going downhill from there," she said.
Santana said her workload began to get lighter. She said Hernandez would sometimes assign her duties to other employees. She also was prohibited from handling events with the Lynwood Chamber of Commerce, where Hernandez was president.
"He would go to my supervisor and request that I be removed from projects," she said.
Santana said she complained to the human resources director in late 2014 and 2015 about how she felt Hernandez was retaliating against her because she had rejected his sexual advances before he was elected.
Santana said she didn't file a formal complaint because she was afraid she would lose her job and because she didn't think anyone would believe her.
"I hope he would have stopped with me, but he didn't and that's unfortunate," she said.
Santana lost her job in March 2016. A week before she was laid off, she said she was crying in her office. Hernandez walked in and asked her why she was crying.
"I said, 'I'm being pushed out of a job I love,' " she said, adding, "I told him to stop pressuring the city manager to fire me. He said, 'No, why should I care about your feelings when you didn't care about mine?' "
For more Southern California news, follow @latvives on Twitter.
---
For reporting and exclusive analysis from bureau chief John Myers, get our California Politics newsletter.
You may occasionally receive promotional content from the Los Angeles Times.