Lynwood city employee who accused a councilman of sexual harassment breaks her silence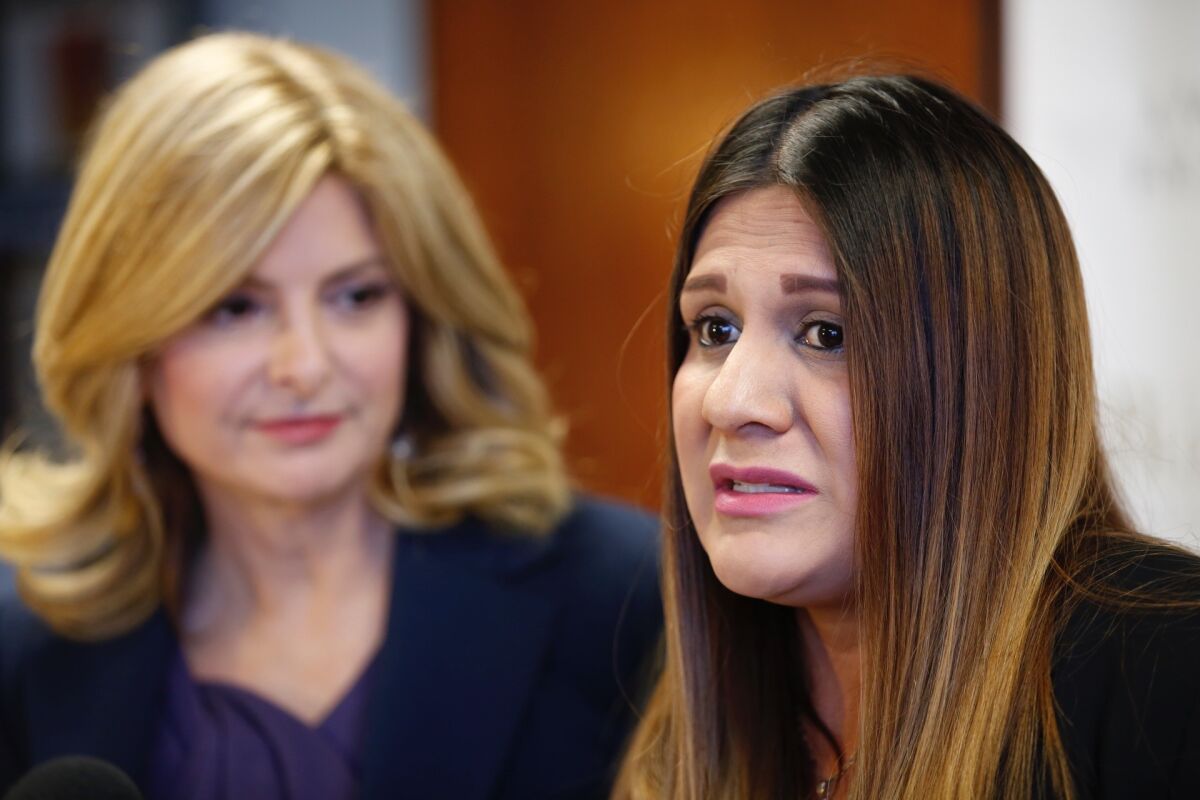 In March 2017, just after her mother died, Monica Ochoa said she was sitting in her office when Lynwood City Councilman Edwin Hernandez walked in to give her his condolences — or so she thought.
"He said, 'So when are we going to dinner?' " Ochoa recalled. "I was shocked. … Then he said, 'How about we have breakfast in bed?' "
Standing in front of reporters Thursday with one of her attorneys by her side, Ochoa spoke publicly for the first time about her allegations against the councilman.
"Mr. Hernandez often made me feel very uncomfortable and disgusted in the workplace by making sexually inappropriate comments," Ochoa said. "He would text me inappropriate messages of him wanting to kiss my pink lips that included kissy-face emojis."
An employee of the city since 2001 and a senior accounting technician, Ochoa said she filed a complaint with the city in December but she said nothing was immediately done to address her grievances.
"I am disappointed that the city of Lynwood has known for two months that I was sexually harassed by Mr. Hernandez and has not taken appropriate action to investigate the matter," she said.
Lisa Bloom, one of three attorneys representing Ochoa, said the city has been more concerned about finding the person who leaked the complaint to the media than addressing her client's allegations.
"Monica made the brave decision to break her silence today in the hope that shining a light on this will spur the city to take the action it should have taken months ago," Bloom said. "It is now late February. I have personally reached out to the city's attorneys and have received only excuses as to why nothing is happening with Monica's complaint."
The city issued a statement on Feb. 18, saying that the allegations were "serious and troubling" and that an investigation would be conducted by a third party.
Hernandez, who relinquished his duties as mayor pro tem but did not resign, could not be reached for comment.
Ochoa, who is eight months pregnant, said she was forced to go on paid leave because of stress.
"Ever since my story was made public in the media, I have been harassed and intimidated by public officials, city employees and members of the community," she said.
Bloom and Ochoa did not provide details about those allegations.
Bloom said she has advised Ochoa to file a discrimination complaint with the California Department of Fair Employment and Housing, the agency that enforces the state's civil rights laws. She said the move is a first step before filing a lawsuit.
At the news conference, Ochoa and Bloom said they hope more women will come forward to attest to their own harassment.
"Although it is difficult for me to come forward and speak out, I'm glad I am because I don't want this to happen to anyone else," Ochoa said.
For more Southern California news, follow @latvives on Twitter.
---
The stories shaping California
Get up to speed with our Essential California newsletter, sent six days a week.
You may occasionally receive promotional content from the Los Angeles Times.