Amid opioid overdoses, Santa Clarita officials team up to arrest dealers and offer rehab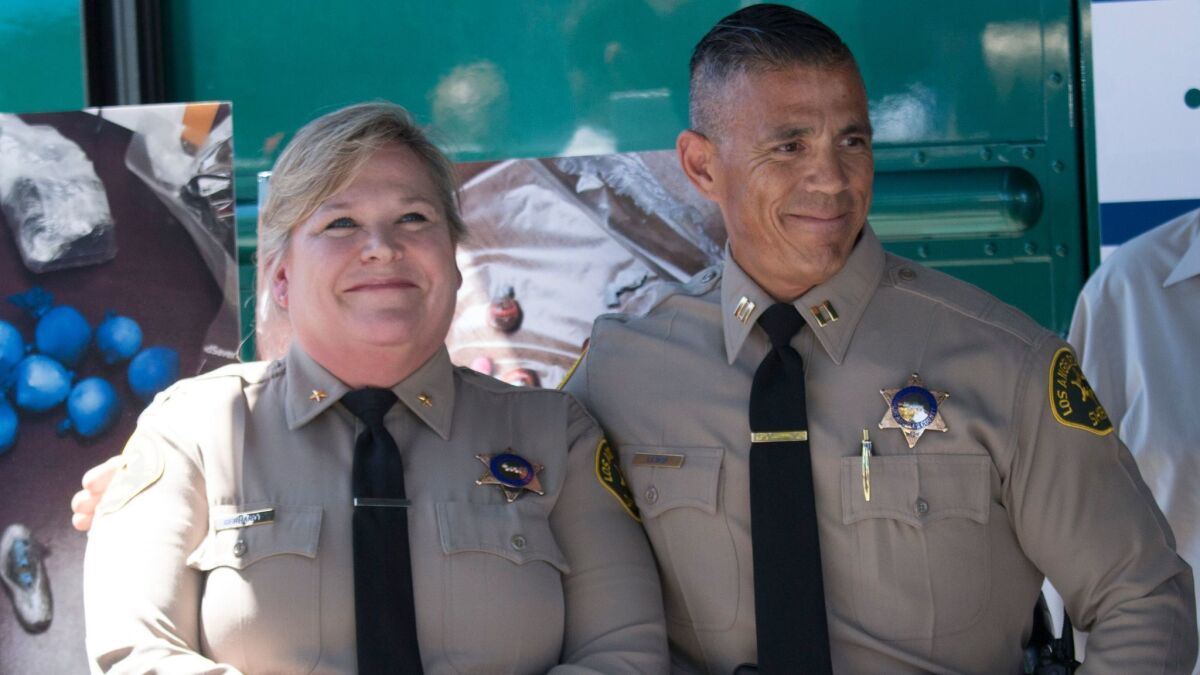 The dealers were smuggling in bundles of cocaine and heroin, some of it hidden in secret compartments inside their cars. They carried thousands of dollars in cash and at least one firearm, all believed to be linked to their drug peddling in Santa Clarita.
Over the last month and a half, a special team of Los Angeles County sheriff's detectives based out of the Santa Clarita Valley station arrested 39 people on suspicion of narcotics possession and sales, officials announced Wednesday. The team also seized two pounds of heroin, $13,000 in cash and a stolen firearm in the operation.
In April, a surge in local opioid overdose emergencies within a 72-hour period "was a signal" that the team needed to be created, said Capt. Robert Lewis of the Santa Clarita Valley station.
But the effort isn't only about arresting people, said the city's mayor, Cameron Smyth. He said officials were taking a "holistic" approach to fight the opioid epidemic through family counseling, rehabilitation and the deployment of an anti-opioid medication to be used by deputies who are often first on the scene of an overdose.
Earlier this month, Sheriff Jim McDonnell announced that more than 1,200 doses of naloxone — an anti-opioid nasal spray known by its brand name Narcan — are being issued to deputies patrolling Santa Clarita, East Los Angeles, Crescenta Valley as well as parks and colleges.
Soon, all 240 sworn members of the department's Santa Clarita Valley station, including supervisors, will be issued doses and trained on how to administer the life-saving drug, Lewis said.
As part of the effort, deputies formed a unit called the Juvenile Intervention Team to speak to youngsters at schools about avoiding drugs. The city is also partnering with local drug treatment centers to provide rehabilitation and education about addiction.
On Tuesday, Los Angeles County Supervisors Kathryn Barger and Mark Ridley-Thomas introduced a motion to establish U-C.A.N. (Conquer Addiction Now), a working group that would study ways to continue to fund the deployment of Narcan to first responders and support substance abuse service providers.
Addiction "doesn't have any knowledge of socioeconomic status," Barger said at a press conference on Wednesday. "It happens in every community, and up here is no different."
Twitter: @mayalau
---
The stories shaping California
Get up to speed with our Essential California newsletter, sent six days a week.
You may occasionally receive promotional content from the Los Angeles Times.