James Garner, star of 'Maverick' and 'The Rockford Files,' dies at 86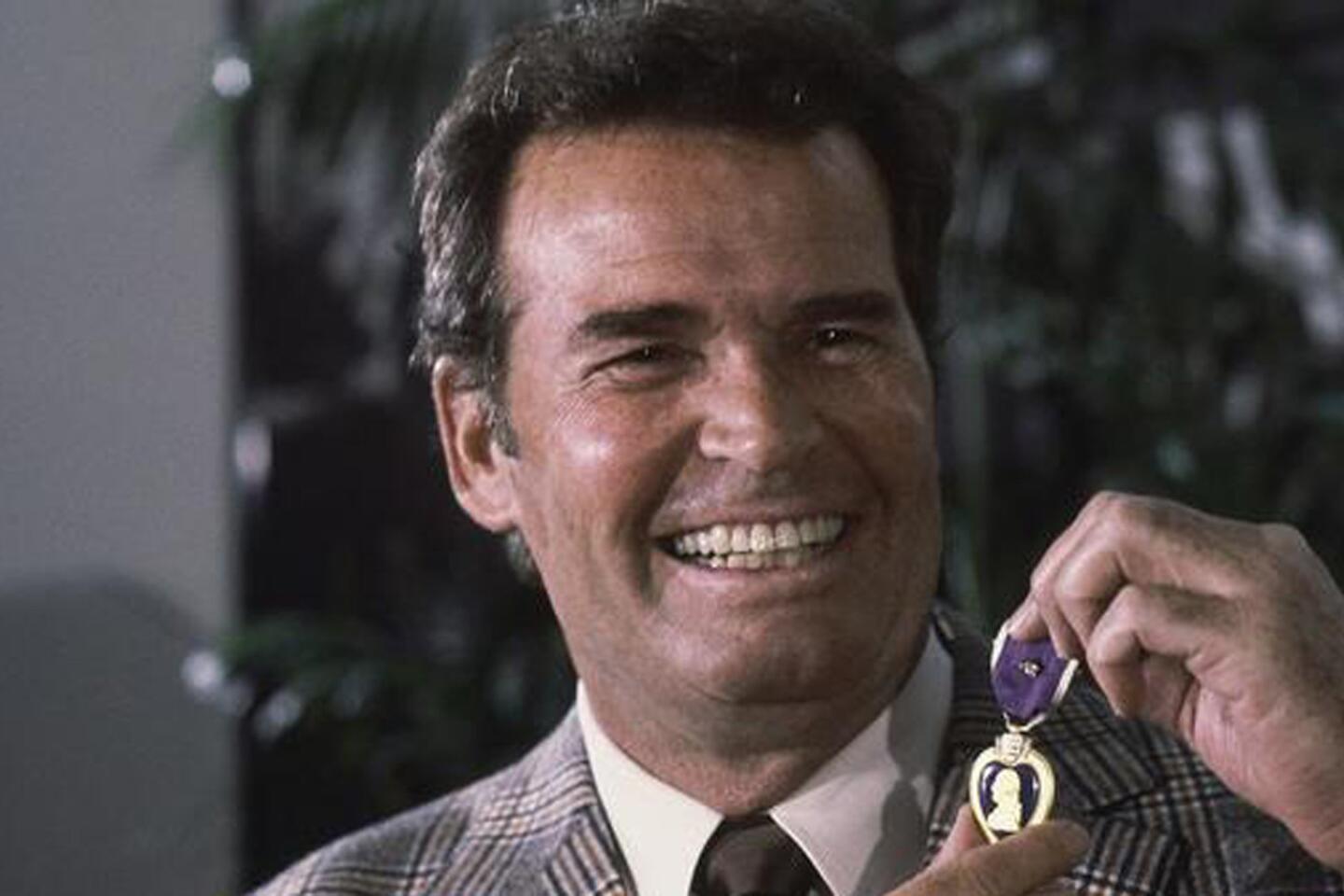 James Garner (1928-2014) -- An Emmy Award-winning actor who rose to fame playing the wisecracking Bret Maverick in TV's "Maverick."
(Lennox McLendon / Associated Press)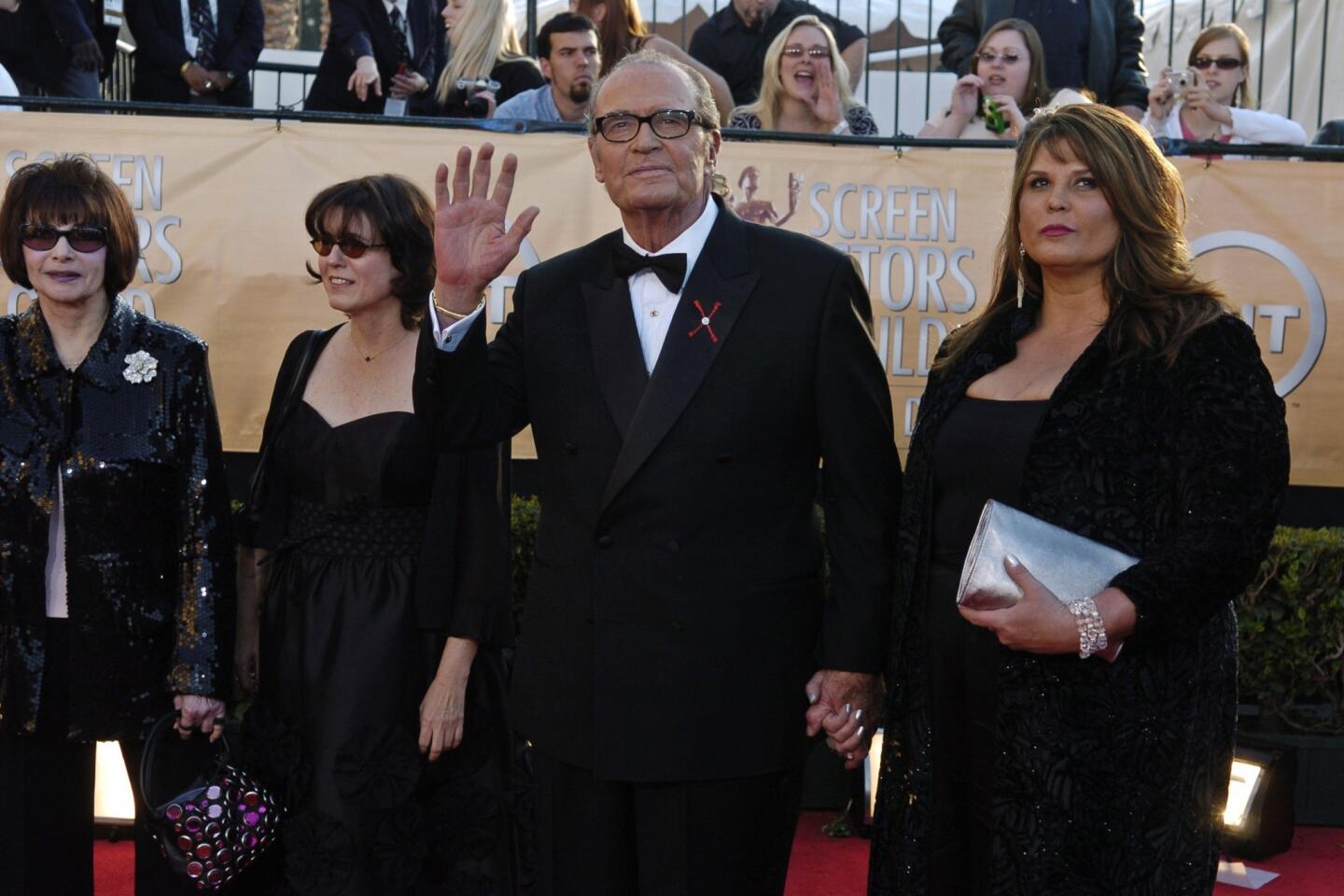 James Garner arrives with his family including his wife, Lois Clarke, far left, at the Screen Actors Guild Awards in February 2005. Garner received a life achievement award.
(Chris Pizzello / Associated Press)
Actor James Garner, whose whimsical style in the 1950s TV Western "Maverick" led to a stellar career in TV and films such as "The Rockford Files" and his Oscar-nominated "Murphy's Romance," has died, police said. He was 86.
He was found dead of natural causes Saturday evening at his home in Brentwood, Los Angeles police officer Alonzo Iniquez said early Sunday.
Police responded to a call around 8 p.m. and confirmed Garner's identity from family members, Iniquez told The Associated Press.
There was no immediate word on a more specific cause of death. Garner had suffered a stroke in May 2008, just weeks after his 80th birthday.
Although he was adept at drama and action, Garner was best known for his low-key, wisecracking style, especially with his hit TV series, "Maverick" and "The Rockford Files."
His quick-witted avoidance of conflict provided a refreshingly new take on the American hero, contrasting with the steely heroics of John Wayne and the fast trigger of Clint Eastwood.
Well into his 70s, the handsome Oklahoman remained active in both TV and film. In 2002, he was Sandra Bullock's father in the film "Divine Secrets of the Ya-Ya Sisterhood." The following year, he joined the cast of "8 Simple Rules … For Dating My Teenage Daughter," playing the grandfather on the sitcom after star John Ritter, who played the father, died during the show's second season.
When he received the Screen Actors Guild's lifetime achievement award in 2005, he quipped, "I'm not at all sure how I got here."
But in his 2011 memoir, "The Garner Files," he provided some amusing and enlightening clues, including his penchant for bluntly expressed opinions and a practice for decking people who said something nasty to his face — including an obnoxious fan and an abusive stepmother. They all deserved it, Garner declared in his book.
It was in 1957 when the ABC network, desperate to compete on ratings-rich Sunday night, scheduled "Maverick" against CBS's powerhouse "The Ed Sullivan Show" and NBC's "The Steve Allen Show." "Maverick" soon outpolled them both.
At a time when the networks were crowded with hard-eyed, traditional Western heroes, Bret Maverick provided a fresh breath of air. With his sardonic tone and his eagerness to talk his way out of a squabble rather than pull out his six-shooter, the con-artist Westerner seemed to scoff at the genre's values.
After a couple of years, Garner felt the series was losing its creative edge, and he found a legal loophole to escape his contract in 1960.
His first film after "Maverick" established him as a movie actor. It was "The Children's Hour," William Wyler's remake of Lillian Hellman's lesbian drama that co-starred Audrey Hepburn and Shirley MacLaine.
He followed in a successful comedy with Kim Novak, "Boys Night Out," and then fully established his box-office appeal with the 1963 blockbuster war drama "The Great Escape" and two smash comedies with Doris Day — "The Thrill of It All" and "Move Over Darling."
Throughout his long film career, Garner demonstrated his versatility in comedies ("The Art of Love," "A Man Could Get Killed," "Skin Game"), suspense ("36 Hours," "They Only Kill Their Masters," "Marlowe"), Westerns ("Duel at Diablo," "Hour of the Gun," "Support Your Local Gunfighter").
In the 1980s and 1990s, when most stars his age were considered over the hill, Garner's career remained strong.
He played a supporting role as a marshal in the 1994 "Maverick," a big-screen return to the TV series with Mel Gibson in Garner's old title role. His only Oscar nomination came for the 1985 "Murphy's Romance," a comedy about a small-town love relationship in which he co-starred with Sally Field.
His favorite film, though, was the cynical 1964 war drama "The Americanization of Emily," which co-starred Julie Andrews.
Unlike most film stars, Garner made repeated returns to television. "Nichols" (1971-72) and "Bret Maverick" (1981-82) were short-lived, but "The Rockford Files" (1974-80) proved a solid hit, bringing him an Emmy.
Among his notable TV movies: "Barbarians at the Gate" (as tycoon F. Ross Johnson), "Breathing Lessons," "The Promise," "My Name Is Bill W.," "The Streets of Laredo" and "One Special Night."
He said he learned about acting while playing a non-speaking role as a Navy juror in the 1954 Broadway hit play "The Caine Mutiny Court Martial," starring Henry Fonda and Lloyd Nolan.
"I had no lines, and I had trouble staying awake," Garner recalled.
After "Caine Mutiny," Garner found work in Hollywood as a bit player in the "Cheyenne" TV series. Warner Bros. gave him a screen test and signed him to a seven-year contract starting at $200 a week.
The studio cast him in supporting roles in three minor films, followed by the important break as Marlon Brando's sidekick in "Sayonara." When Charlton Heston declined a war movie, "Darby's Rangers," because of a money dispute, Garner assumed the role.
"Maverick," which co-starred Jack Kelly as brother Bart Maverick, made its debut on Sept. 22, 1957.
Garner was born James Scott Bumgarner (some references say Baumgarner) in Norman, Okla. His mother died when he was 5, and friends and relatives cared for him and his two brothers for a time while his father was in California.
In 1957, Garner married TV actress Lois Clarke, and the union prevailed despite some stormy patches. She had a daughter Kimberly from a previous marriage, and the Garners had another daughter, Gretta Scott. In the late 1990s, the Garners built a 12,000-square-foot house on a 400-acre ranch north of Santa Barbara.
"My wife and I felt … we'd just watch the sunset from the front porch," Garner said in 2000. "But then the phone started ringing with all these wonderful offers, and we decided, `Heck, let's stay in the business for a while."'
Sign up for Essential California for the L.A. Times biggest news, features and recommendations in your inbox six days a week.
You may occasionally receive promotional content from the Los Angeles Times.