Lin Bolen, opened doors for women as trailblazing TV executive, dies at 76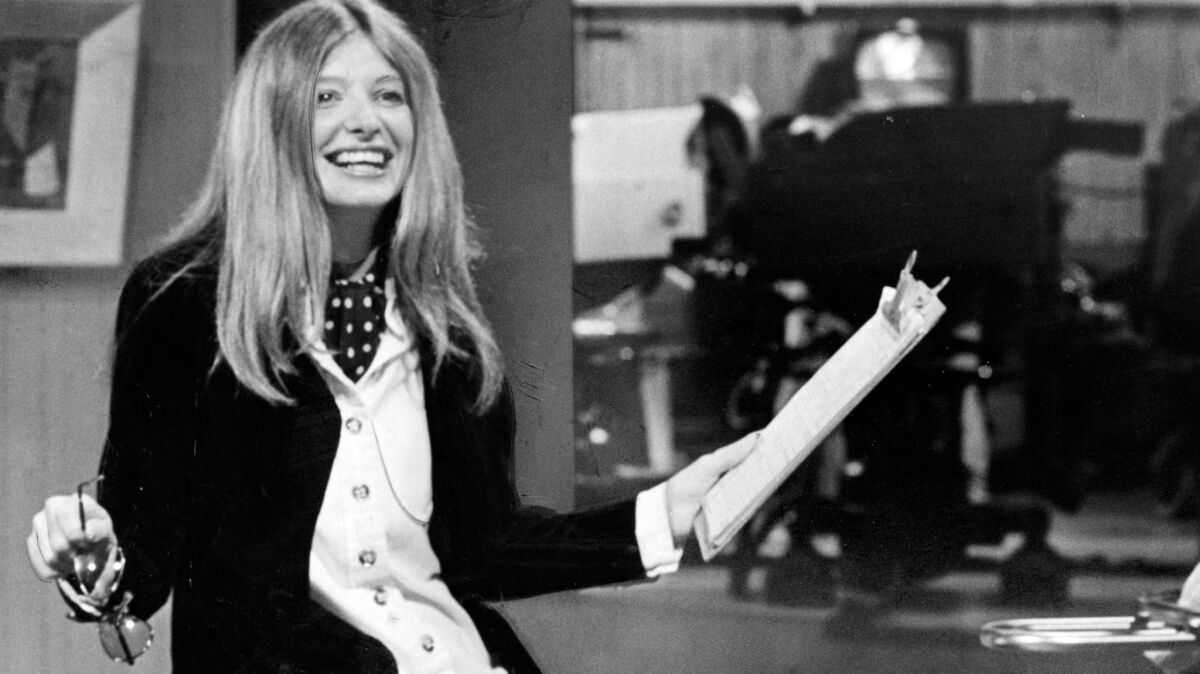 Television was still a boy's club when Lin Bolen pushed through the front doors of NBC, rearranged the landscape of daytime programming and cemented herself as one of the most powerful women in TV.
At a time when feminism was still putting down roots in America, Bolen envisioned a television future where women would be portrayed not as secretaries or housewives, but as business owners, powerful politicians, crusading attorneys and decision-makers.
"I see no reason why a woman hasn't held this job before," Bolen told the Los Angeles Times after being put in charge of daytime television for the network.
An agent of change through her career as a TV executive and production company owner, Bolen died Jan. 18 in Santa Monica. At 76, she had been in good health but had been battling what she thought was the flu, friends said.
Bolen was just 31 when she was named director of daytime programming at NBC and inherited a lineup of tired game shows, predictable soap operas and ratings that trailed both ABC and CBS.
People say I'm aggressive because I am aggressive.
— Lin Bolen
She energized the daytime fare, pushing for soaps like "Days of Our Lives" to span a full 60 minutes with more complex plots and scripts that moved beyond romance and retribution. She sacked hosts, revamped programs, added daytime entertainment specials, brought in high-tempo game shows like "Wheel of Fortune" and peppered the lineup with more robust fare, such as "First Ladies Diaries," biographical sketches of the leading women of the White House.
While there were bruised egos and upended careers in the process, NBC climbed to the top of the ratings leaderboard.
"People say I'm aggressive because I am aggressive," she said in 1975. "These shows are my children. I have to make sure their report cards are good before the Nielsens come out."
Bolen was so driven, so confident, so energetic — "a Cosmopolitan Girl on uppers," Newsweek said — that many co-workers were convinced that Faye Dunaway's ratings-obsessed character in the film "Network" was created with Bolen in mind.
The Academy Award-winning film, which portrayed network television as a bloodless enterprise interested in ratings at any cost, was written by Paddy Chayefsky, who spent time in Bolen's office while fleshing out characters for his script.
Bolen said that while she shared some similarities with the character — the liberal use of expletives, the long brown cigarettes, the excitable hand gestures while talking — there were marked differences too.
"I didn't really like the character," Bolen told The Times in 1978. "Even in the satirical context that it was created, she was not a believable woman in a network job. She was a cardboard cutout."
Bolen was born March 23, 1941, in the small coal mining town of Benton, Ill. Her father was a union organizer and her mother a major fan of radio soap operas. Bolen won a national baton twirling competition when she was 14 and was sent to a finishing school in St. Louis after graduating from high school. She attended City College of New York but left before graduating.
"I don't think a degree is all that important," she later said.
After several years in New York helping produce television commercials, she came west and landed at NBC as a program producer, helping develop pilots and, at one point, resuscitating the slumping television show "McMillan and Wife." In 1972, she was named the network's director of daytime television and a year after that, vice president of daytime programming.
When she was promoted, a male colleague remarked: "Thank God they've got a lady at last calling the shots of women's programming."
"Thank God they're finally taking a woman seriously — at last," she replied, according to a 1972 Times story.
Christie Craig, a close family friend who considered Bolen a mentor, said the producer was a steady crusader for women's rights.
"She really wanted to empower women," Craig said. "She wanted them to believe the odds weren't always against them. She wanted them to take their power back."
In 1976, Bolen left NBC and formed her own production company. Among her first projects in television was "W.E.B," a sequel of sorts to "Network" in which the protagonist is an assistant in a daytime programming department — as charming and effervescent as Dunaway was cold and soulless. The series was picked up by NBC but canceled after one season.
Among the films she produced for television was "Christmas Miracle in Caufield, U.S.A.," the story of coal miners trapped in a Christmas Eve cave-in.
Bolen was married to filmmaker Paul Wendkos, who directed "Gidget" and its sequels. He died in 2009.
Film producer and writer Lisa Demberg said while Bolen was hard-charging at work, there were other dimensions to her life. She collected first-edition poetry and art, enjoyed interior design and spent so much time on the beach in Malibu that she was known equally by the well-heeled and the homeless.
Bolen is survived by a brother, Tom.
---
Must-read stories from the L.A. Times
Get the day's top news with our Today's Headlines newsletter, sent every weekday morning.
You may occasionally receive promotional content from the Los Angeles Times.