The Rev. Richard McBrien dies at 78; liberal Catholic theologian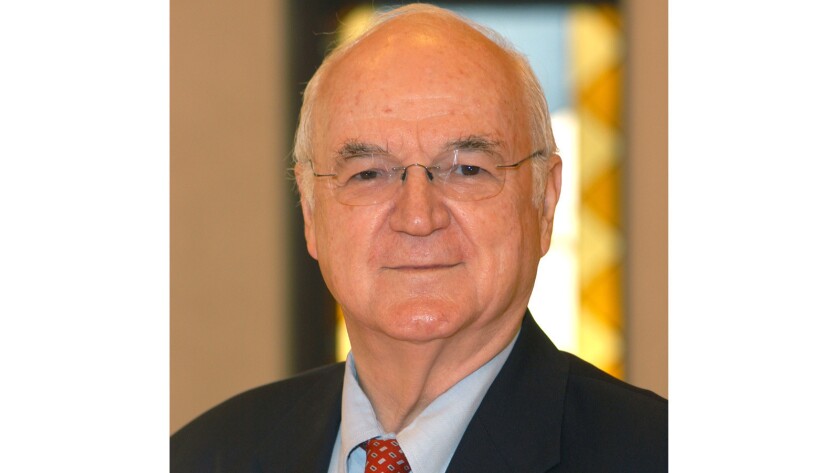 The Rev. Richard McBrien, a University of Notre Dame theologian known for his unabashedly liberal stands on various church teachings and his popular books on Catholicism, died Sunday in his native Connecticut after a lengthy illness, according to the school. He was 78.
The often-quoted theology professor, who for nearly 50 years penned a weekly column for Catholic newspapers, courted controversy with his criticism of Pope John Paul II's emphasis on orthodoxy, and he advocated for change. McBrien also spoke out in favor of artificial contraception, the ordination of female priests and optional celibacy for priests.
"While often controversial, his work came from a deep love of and hope for the church," said Notre Dame's president, the Rev. John Jenkins. "We pray for eternal rest for his soul."
McBrien, who was highly sought out by reporters seeking comment about the Roman Catholic Church, was one of the most widely quoted Notre Dame professors since joining the faculty in 1980. He also wrote 25 books, the most popular of which were "Catholicism," which drew criticism from church officials, along with "Lives of the Saints" and "Lives of the Popes."
McBrien was asked in 1986, when speaking out in favor of the ordination of women, whether he feared church retribution in light of the Vatican's forbidding the Rev. Charles Curran from teaching as a Catholic theologian for what the church said was his "repeated refusal to accept" certain church teachings. Curran was a professor at Catholic University of America.
"Do I look afraid to speak out?" McBrien responded.
His book "Catholicism" was criticized by U.S. bishops who said he had presented some core Catholic teachings as one view among many instead of as the authoritative views of the church.
Church officials said the book maintained that it was possible for Catholics to believe Jesus Christ could have sinned; indicated that the virgin birth of Jesus probably never happened; and held that homosexuality, contraception and women's ordination were open questions, with the official church teaching merely being one option.
"While the book could be a helpful resource to theologians looking for a survey of opinions on some question, it might well be bewildering and unsettling for Catholics taking undergraduate courses in theology," the Secretariat for Doctrine and Pastoral Practices said in 1996.
Still, several of his books were considered must-reads by many Catholic seminarians, theologians and parishioners. Along with his weekly column, McBrien also served as general editor of "The Encyclopedia of Catholicism."
McBrien was born Aug. 19, 1936, in Hartford, Conn. He earned his bachelor's degree from St. Thomas Seminary in Bloomfield, Conn., and was ordained a priest of the Hartford archdiocese in 1962. He earned a doctorate in theology at Gregorian University in Rome in 1965.
He served as chairman of Notre Dame's theology department for 11 years, and was a past president of the Catholic Theological Society of America.
Coyne writes for the Associated Press.
---
Must-read stories from the L.A. Times
Get all the day's most vital news with our Today's Headlines newsletter, sent every weekday morning.
You may occasionally receive promotional content from the Los Angeles Times.