Herb Score dies at 75; Cleveland Indians pitcher turned to broadcasting after line drive altered his pitching career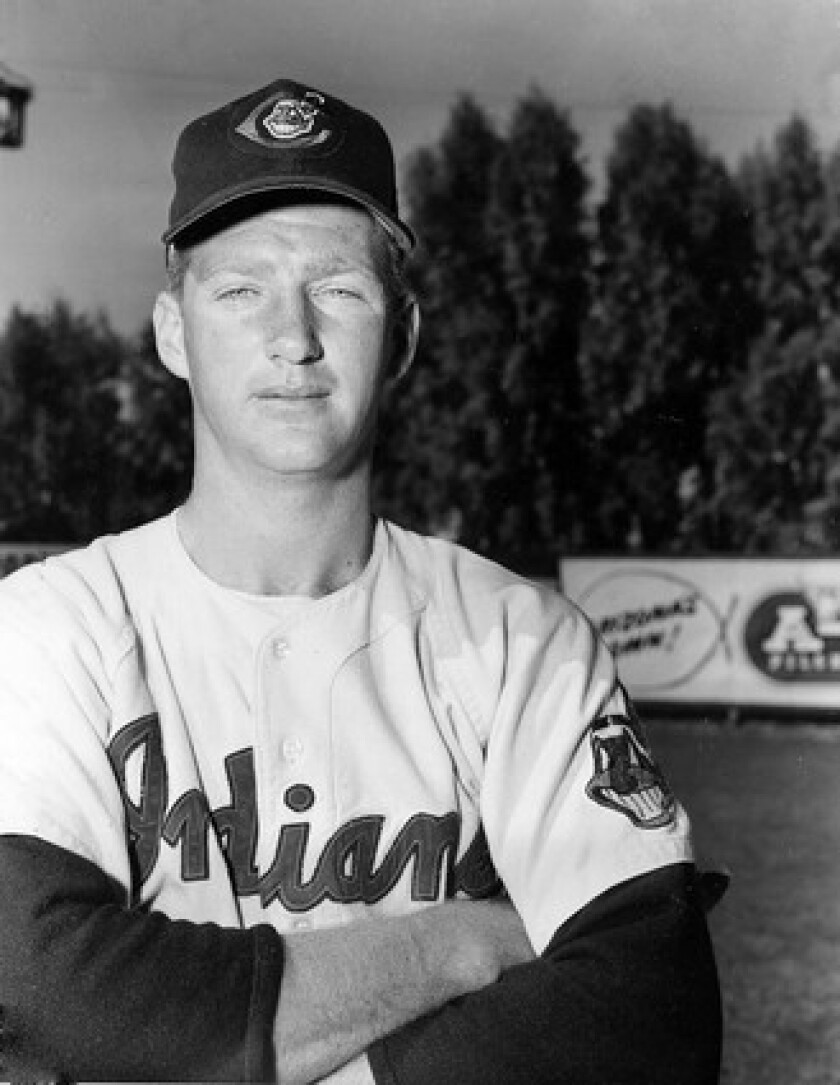 Associated Press
Herb Score, the Cleveland Indians pitcher and former broadcaster whose promise on the mound was shattered by a line drive, died Tuesday at his home in Rocky River, Ohio, the team said in a statement. He was 75 and had needed a wheelchair since suffering a stroke in 2002.
A hard-throwing left-hander, Score pitched for the Indians from 1955 to '59. He was named American League Rookie of the Year in 1955 after going 16-10. He went 20-9 in 1956 and was twice named to the All-Star team. He also led the American League in strikeouts in 1955 and 1956.
But Score's career took a sad and nearly tragic turn on May 7, 1957, when Gil McDougald of the New York Yankees lined a ball off Score's right eye, breaking his nose and a number of bones in his face. As Score lay on the field covered in blood, the public-address announcer asked the crowd at Municipal Stadium, "If there is a doctor in the stands, will he please report to the playing field."
Fearful of being hit again, Score changed his pitching motion, with less than favorable results. After two losing seasons in Cleveland he pitched parts of three seasons with the Chicago White Sox. He didn't win more than nine games a season after the injury and retired in 1962 with a 55-46 record and 837 strikeouts in 858-plus innings.
"Herb Score . . . would've been just as good if not better than Sandy Koufax if it wouldn't have been for his injury to his eye," Bob Feller, a Hall of Fame pitcher for the Indians, said Tuesday. "And Sandy Koufax was the best pitcher I ever saw in my lifetime. Herb was a very dear friend of mine."
Not long after ending his playing career, Score began a second one when he joined the Indians' TV broadcast team in 1964. He moved to radio in 1968, where his deep voice and thick New York accent became a fixture for generations of Indians fans.
He retired from broadcasting after the 1997 season.
Score was named to Cleveland's 100th anniversary team in 2001. He was inducted into the Indians Hall of Fame in 2006.
From the outset, Score showed as much promise as the three future Hall of Famers -- Bob Lemon, Early Wynn and Feller -- he joined on the Cleveland staff.
During his 1955 rookie year, Score recorded 245 strikeouts, a rookie record that stood until 1984, when it was broken by the New York Mets' Dwight Gooden. Score followed that up by going 20-9 with a 2.53 earned-run average and a league-leading 263 strikeouts in 1956.
But the solidly built lefty had an awkward pitching motion that left him vulnerable to balls hit back through the mound.
Although the Indians languished for decades during Score's broadcasting tenure, his last game was Game 7 of the 1997 World Series. The Indians blew a ninth-inning lead and lost it in the 11th, missing a chance to end a World Series title drought dating to 1948.
Score offered a brief personal send-off to listeners that night.
"And so that is the season for 1997," he said. "And there's very little else we can say except to tell you it's been a pleasure. I would like to thank all the fans for their kindness over the years. You've been very good to me. And we hope that whoever sits in this chair next, you'll be as kind to them as you have been to me."
Score was born June 7, 1933, in Rosedale, N.Y. He was signed by the Indians as an amateur free agent on June 7, 1952. He is survived by his wife of more than 40 years, Nancy, and three children.
Services are pending.
---
Must-read stories from the L.A. Times
Get all the day's most vital news with our Today's Headlines newsletter, sent every weekday morning.
You may occasionally receive promotional content from the Los Angeles Times.