Secretary of state candidate Schnur open about past legal problems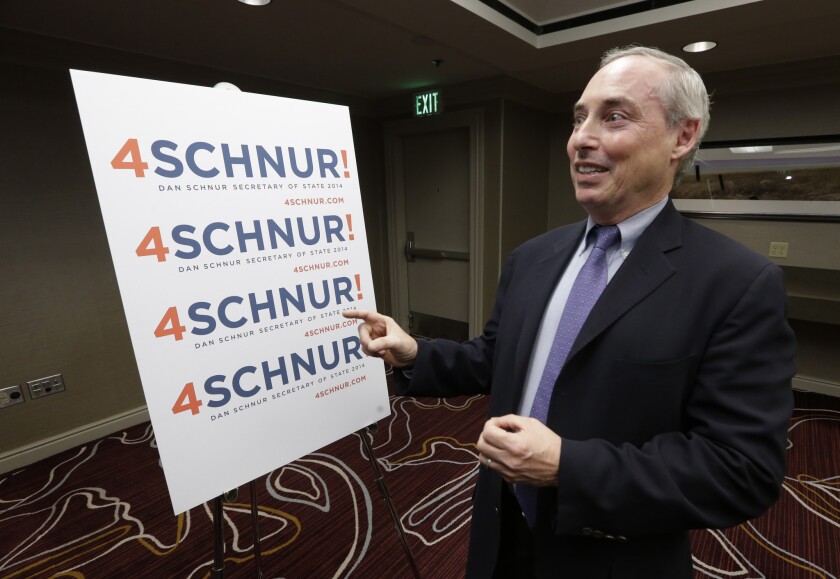 Reporting from Sacramento —
The latest campaign mailer in the contest for California secretary of state features a photo of a man in handcuffs and reads, "YOU CAN SLAP THE CUFFS ON SACRAMENTO BY VOTING 4 DAN SCHNUR."
The mailer is in response to criminal cases filed against three state senators, two of them on political corruption charges. The mailer is an aggressive move from a candidate who has found himself in police custody in the past.
Schnur was arrested for driving under the influence of alcohol in 1992 and 1994. In the earlier incident, Schnur said he was arrested after he turned left on a green light in downtown Sacramento and hit another car. Two people were injured. He pleaded no contest to one misdemeanor charge; he said he paid a fine and had his license suspended.
In the second case, Schnur was sentenced to 10 days in jail, fined $1,500 and placed on four years' probation for driving under the influence of alcohol, court records show. He said he served 48 hours in jail.
At the time of his second arrest, Schnur was the press secretary for the reelection campaign of Republican Gov. Pete Wilson, who turned down his offer to resign. "I made two bad mistakes many years ago and I paid the price for them," Schnur said recently. He said he has not had an alcoholic drink in more than 20 years.
On Wednesday, Schnur said in a statement that he has talked openly about his past. "It would be disappointing if the defenders of Sacramento's culture of corruption would exploit this personal matter to protect a broken system of politics," Schnur said.
Arrests that occured two decades ago are not likely to have a major impact on Schnur's campaign, according to Thad Kousser, a political scientist at UC San Diego.
He said there is a de facto statute of limitations on how long voters will hold a scandal against a candidate. Schnur, who is on leave as head of the Jesse M. Unruh Institute of Politics at USC, took a gamble in going with the mailer featuring handcuffs, but he had to take a risk given a recent Field Poll showing him running fourth with support of only 4% of voters, Kousser said.
"The message of the mailer is clearly tied to political corruption, and that is the issue that is front and center in the minds of voters today when they hear of Sacramento and handcuffs," Kousser said.
"It was worth the risk for him to be aggressive and bring up corruption," he continued. "It was worth the risk of having these skeletons in his closet come out, because he really needs to gain traction with his campaign."
---
Get breaking news, investigations, analysis and more signature journalism from the Los Angeles Times in your inbox.
You may occasionally receive promotional content from the Los Angeles Times.