Proposal would raze West Hollywood's iconic Factory building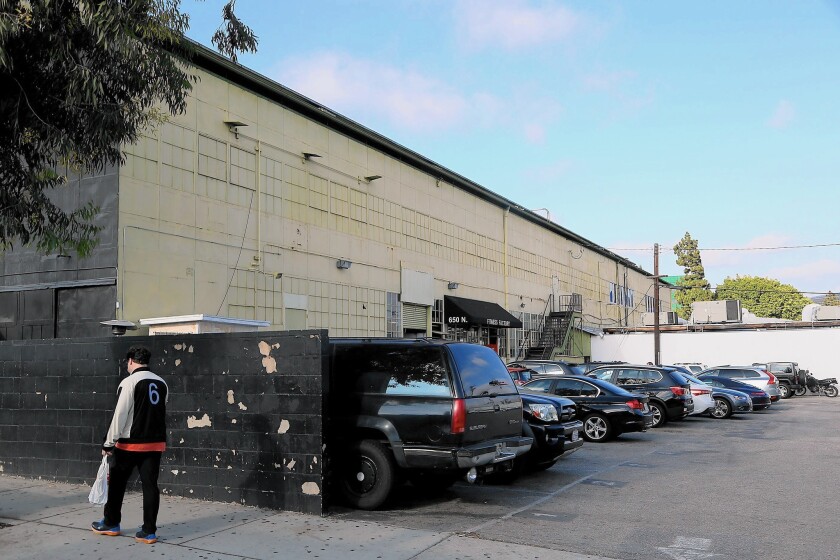 The Factory building in West Hollwood has seen many incarnations over its 86-year history. The three-story building on La Peer Drive once housed a camera company and later served as a cosmetics warehouse.
But it was the building's life as the popular disco Studio One that cemented its legacy in West Hollywood's gay and lesbian community. Opened in 1974, Studio One drew hundreds every night to its dance floor, including celebrities such as Patti LaBelle and Liza Minnelli.
Today, many residents see the Factory as a cultural landmark that helped shape the city's reputation as a gay mecca and should be preserved. But developers see the nondescript building with the fading green facade as an obstacle to creating a new bustling marketplace in the neighborhood.
The National Trust for Historic Preservation recently added the Factory to its 2015 list of America's 11 Most Endangered Historic Places, noting that one of the country's first major AIDS fundraisers took place at Studio One.
"Recent history, sometimes, isn't given its due," said Chris Morris, Los Angeles field director for the National Trust. "It's hard to recognize as 'History' with a capital H."
Faring Capital's proposed plan would knock down the Factory building and replace it with a "park-like" walkway that it hopes will eventually connect Doheny Drive, La Peer Drive, Robertson Boulevard and San Vicente Boulevard in partnership with several other development projects.
Jason Illoulian, managing partner at Faring Capital, said he hopes the new development would lure shoppers and diners to the neighborhood. There are also plans for a hotel and meeting spaces for people visiting West Hollywood's design district.
A handful of preservation organizations fear the Factory would be yet another city landmark allowed to vanish.
"Studio One was a bridge between the '40s and '50s hole-in-the-wall, dark, don't-let-anybody-see-me-going-in-here places," to the openly gay nightclubs and bars that exist today, said Kate Eggert, a member of the West Hollywood Lesbian and Gay Advisory Board and the West Hollywood Heritage Project.
West Hollywood City Councilman John Duran said he hasn't decided whether to support the proposal because it has not yet been presented to the City Council.
Duran said he remembered going to Studio One when he was a young man in the 1970s.
"It was a fantastic world so beyond the dreariness of Los Angeles County," he said. "When I walked through the double doors to Studio One, it was a dream come true."
Studio One closed in the '90s, when crowds began migrating to newer, flashier clubs along Santa Monica Boulevard.
The Factory is the latest in a string of landmarks in Los Angeles and West Hollywood to face demolition because of development pressures. The Palms, the city's last lesbian bar, was razed in 2013. Jewel's Catch One closed in March after years of serving as a meeting place for black gay men. Circus Disco, a gay club in Hollywood that catered to the Latino lesbian, gay, bisexual and transgender community, is also threatened.
Many developers are vying for approval to build new hotels, retail centers and housing in West Hollywood, said Councilman John D'Amico.
Faring Capital's plan fits in with the city's vision of the area near Santa Monica Boulevard as a place for entertainment, tourism and nightlife, he said. But preserving places that have a rich history is also an important goal for the city.
"My feeling is that development should enhance, not destroy, what we love about our city," Mayor Pro Tempore Lauren Meister said in an emailed statement.
Meister added that West Hollywood needs to follow policies set by its General Plan and Climate Action Plan, which shape city officials' decisions in considering new development, while also making an effort to encourage the preservation and reuse of existing buildings.
Illoulian said Faring Capital is aware of some people's concerns for the building, and the company is trying to find a way to honor the history of Studio One while staying true to its vision of a pedestrian-friendly shopping hub and parkway.
---
The stories shaping California
Get up to speed with our Essential California newsletter, sent six days a week.
You may occasionally receive promotional content from the Los Angeles Times.