Suspended Alabama Chief Justice Roy Moore is running for Senate to 'make America good again'
Reporting from Atlanta —
Suspended Alabama Chief Justice Roy Moore, who was ousted from his position last year after leading a judicial revolt against same-sex marriage, announced plans Wednesday to run for U.S. Senate.
"My position has always been God first, family, then country," Moore said in a short news conference outside the Alabama State Capitol in Montgomery. "I know I share the vision of our President Donald Trump to make America great again…. Before we can make America great again, we've got to make America good again."
The conservative 70-year-old Baptist, dubbed the "Ayatollah of Alabama" by the Southern Poverty Law Center, announced he will join the crowded Republican field for the special election to fill the U.S. Senate seat formerly held by Atty. Gen. Jeff Sessions.
The seat is currently held by Luther Strange, a former state attorney general who was appointed by then-Gov. Robert Bentley to replace Sessions in February. Yet after Bentley was forced to resign amid a sex scandal, new Gov. Kay Ivey moved the date of the Republican primary forward to Aug. 15, followed by a Dec. 12 general election.
On Wednesday, Moore struck a familiar traditional stance, railing against same-sex marriage, abortion, "socialized medicine" and national Common Core education standards.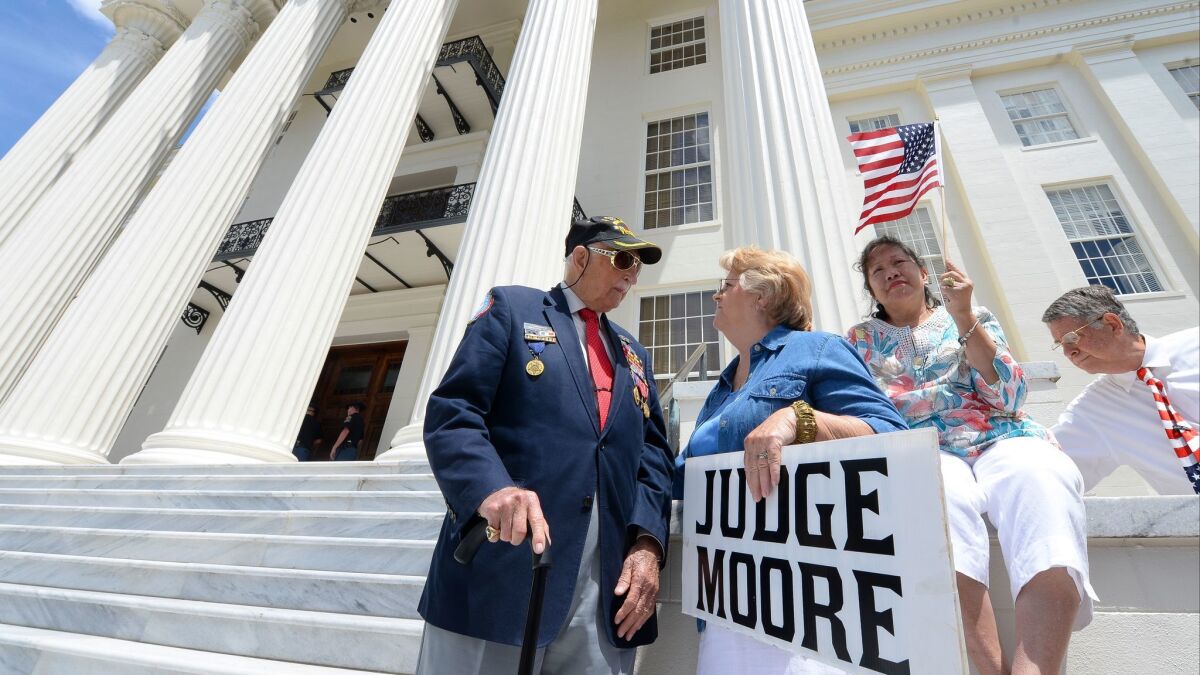 "The foundations of the fabric of our country are being shaken tremendously," Moore told a small huddle of reporters and supporters outside the Capitol. "Our families are being crippled by divorce and abortion. Our sacred institution of marriage has been destroyed by the Supreme Court, and our rights and liberties are in jeopardy."
"As United States senator, I will continue to stand for the rights and liberties not only of this state, but of its people as well," he added. "I will defend those rights and liberties under the Constitution of the United States, so help me God."
Last September, a state judicial discipline panel permanently suspended Moore from the Alabama Supreme Court, finding him guilty of violating the canons of judicial ethics after he urged state probate judges to defy federal court rulings that said that gays and lesbians have a fundamental right to marry.
Throughout, Moore denied any wrongdoing. Dismissing the scrutiny of his ethical conduct as "ridiculous," he insisted he was simply trying to address confusion among probate judges over conflicting state and federal orders. Last week, the Alabama Supreme Court upheld his suspension.
Moore was also removed as chief justice in 2003 after he repeatedly refused to obey a federal court order to remove a Ten Commandments monument from the rotunda of Alabama's judicial building.
Age restrictions prevent Moore from being reelected to the Alabama Supreme Court. After his ouster, many speculated that he would use the publicity to kick off a fresh political campaign. Yet while Moore's defense of traditional values and strident stance on gay marriage plays well with the Republican base, some political experts say he is unlikely to win over a broader swath of the general electorate. In 2006 and 2010, he lost campaigns for governor.
The Senate race is already crowded with conservative candidates. In addition to the incumbent, Strange, state Rep. Ed Henry, an early supporter of President Trump's campaign, and Randy Brinson, a former chairman of Christian Coalition of Alabama, have also announced plans to run.
ALSO
New Orleans is tearing down its Confederate monuments, but the South has plenty of others
Trump signs order to reconsider national monuments created by Obama, George W. Bush and Clinton
Republicans force a June runoff in House race seen as referendum on President Trump
Jarvie is a special correspondent.
---
Must-read stories from the L.A. Times
Get the day's top news with our Today's Headlines newsletter, sent every weekday morning.
You may occasionally receive promotional content from the Los Angeles Times.