The hunt for the lost Nazi diary
Henry Mayer, son of a Holocaust survivor, made it his mission to find the long-lost journal kept by Alfred Rosenberg, the Nazi Party's chief ideologue and a confidant of Adolf Hitler.
Henry Mayer, son of a Holocaust survivor, made it his mission to find the long-lost journal kept by Alfred Rosenberg, the Nazi Party's chief ideologue and a confidant of Adolf Hitler.
Henry Mayer had long heard of the lost Nazi diary.
Mayer helped maintain the vast collection of artifacts at the U.S. Holocaust Memorial Museum and knew the diary had been kept by Alfred Rosenberg, the Nazi Party's chief ideologue and a confidant of Adolf Hitler.
The diary was found in the final days of World War II, hidden behind a false wall in a Bavarian castle. Excerpts were introduced into evidence at the Nuremberg war crimes trials.
Then the 425-page diary disappeared.
Half a century later, Mayer, the son of a Holocaust survivor, made it his mission to find it.
His quest began in 1996, when the former legal secretaries of Robert Kempner, a Nuremberg prosecutor, suggested the museum contact the lawyer's two sons about donating their father's papers. Kempner died in 1993 at age 93. He had amassed a huge collection of documents from a career that included helping to convict Hermann Goering and other Nazis of war crimes.
The legal secretaries made no mention of the diary, but Mayer, then 46 years old and the museum's chief archivist, suspected it might be among Kempner's files.
"It had been rumored that Dr. Kempner had the diary. He had published excerpts from it that nobody else had ever seen," Mayer said.
Kempner cited an April 2, 1941, diary entry in which Rosenberg recalled Hitler telling him shortly before the invasion of Russia, "Rosenberg, jetzt ist Ihre grosse Stunde gekommen!" ("Rosenberg, now your great hour has come!")
Kempner's sons agreed to hand over their father's collection, and in 1997 Mayer and three colleagues traveled to his house in Lansdowne, Pa., outside Philadelphia.
"It was like Miss Havisham's home in 'Great Expectations,'" Mayer said. "Stuff everywhere. Piles and piles and piles."
The museum team found documents stacked in the bedroom and basement, dining room and living room, closets and an enclosed porch. Floors had buckled under the weight.
The team spent one day assessing the condition and size of the collection. There was no sign of the diary.
An unrelated dispute over Kempner's estate delayed the transfer of the materials to the museum for two years. When Mayer returned to the house, he was greeted by the Kempner family's attorney and, for reasons he didn't understand, a police officer.
He quickly saw that the collection wasn't as large as he remembered and suspected a burglary. The officer called detectives.
Police followed clues that led them to Lewiston, N.Y., near Niagara Falls. There, Mayer said, he found a sign in front of a small white-clapboard house that read: "The Robert Kempner Collegium."
The building also housed a stockroom for a publishing business owned by a Dr. Herbert Richardson, a former professor who was acquainted with Kempner's legal secretaries. One of the secretaries was at the house, Mayer recalled, and screamed at him to get off her property.
"However, her attorney, the police and I reminded her that there was an agreement that allowed us to remove Dr. Kempner's papers," he said.
Kempner's legal secretaries puzzled Mayer. They seemed to both help and hinder his efforts to secure the Kempner collection, and their motivations were never quite clear.
Kempner himself hadn't always been forthcoming about the documents he collected. He had previously held back on sharing his discovery of a copy of the Wannsee Protocol, a record of the 1942 meeting where Nazis plotted the "final solution" for the murder of Jews.
Mayer and others long hoped to secure the diary because of the prominent role Rosenberg played in the Nazi hierarchy.
"It was Rosenberg, the intellectual high priest of the 'master race,' who provided the doctrine of hatred which gave the impetus for the annihilation of Jewry," Supreme Court Justice Robert H. Jackson, the chief U.S. prosecutor at Nuremberg, said at the tribunal.
Rosenberg was hanged on Oct. 16, 1946, at age 53.
The German-born Kempner had been an early critic of the Nazi regime and fled the country in the mid-1930s. The man who fired Kempner from his position as legal counsel to the Prussian State Police was Goering.
"Thus the great irony that he had helped to convict Goering," Mayer said. "According to Kempner, when he entered Goering's cell, Goering exclaimed, 'You!'"
Kempner later practiced law in the United States and Germany, mostly representing Jewish clients in Nazi restitution cases.
A few months after visiting the Robert Kempner Collegium, museum officials received a call from a Pennsylvania junk dealer who said he had found about 40 boxes of papers while cleaning out Kempner's home for his heirs.
Museum officials were stunned. They didn't know where the documents had come from and were sure they hadn't missed 40 boxes when they inventoried the collection. The junk dealer offered to sell the material — for $100,000.
It was like finding the white whale."

— Henry Mayer on his hunt for the lost Nazi diary
"It was then that we contacted the FBI," Mayer said. The FBI seized the papers.
In time, the museum collected 600 boxes of materials assembled by Kempner, and went through them carefully in hopes of finding the diary. Still, it eluded them.
But Mayer did find many important documents, including a memo written by propaganda minister Joseph Goebbels' office shortly after the invasion of Poland, ordering the seizure of radios owned by Jews and closing with "Heil Hitler."
Mayer also found a memo, written by the official who oversaw documents at the Nuremberg tribunal, that gave Kempner permission to retain unclassified documents "for purposes of writing, lecturing and study." But Mayer said the official had overstepped his authority and that Kempner had no right to the diary or any other documents.
Mayer believed the diary could still be found — he doubted it had been sold. "Something like that would have gained notoriety if they had tried to sell it," he said.
At times, Mayer thought, "Am I ever going to find this thing?"
Then in 2003, he received a call from the attorney for the sister and guardian of one of the legal secretaries, offering yet more papers. These were stored in a locker near Buffalo.
"I was completely shocked," Mayer said. "This was even more material of Dr. Kempner's ... that was never shown to us."
Mayer made two day trips to the storage locker to rummage through 300 more boxes of documents. On the second trip, he brought up the diary, telling the sister how disappointed he was that he had not found it in the locker.
In what he described as an "offhand, off-the cuff manner," the woman said she'd seen the diary at the Lansdowne house and that it was held in three red binders. She said that she had been present when her sister told a reporter for a German magazine that she had given the diary to Richardson, the retired professor, for "safekeeping."
"I was blown away," Mayer said.
But finding Richardson and recovering the diary proved to be surprisingly difficult, and the museum turned to Robert K. Wittman, a retired FBI agent who had developed an expertise in tracking down missing property. Wittman, who wrote the book "Priceless: How I Went Undercover to Rescue the World's Stolen Treasures," located Richardson and contacted the U.S. attorney's office in Wilmington, Del., which worked with a unit of Immigration and Customs Enforcement specializing in recovering stolen artifacts.
It took 10 years to find Richardson and to execute complicated legal steps needed to claim Rosenberg's writings. Finally, in March 2013, federal authorities traveled to upstate New York and served Richardson with a subpoena to produce the diary. About four weeks later, he surrendered it. Richardson, now in his 80s, did not respond to requests for comment, and authorities have declined to discuss him.
A few more weeks passed before Mayer took a train to the Immigration and Customs Enforcement office in Wilmington, where investigators wearing white gloves had set out stacks of the papers on a table. Mayer walked into an office to see hundreds of loose pages that had been kept, just as the sister recalled, in three red binders. Some of it was written on the back of Nazi stationery emblazoned with the swastika.
"Seventeen years, and finally, I'm looking at it," Mayer said.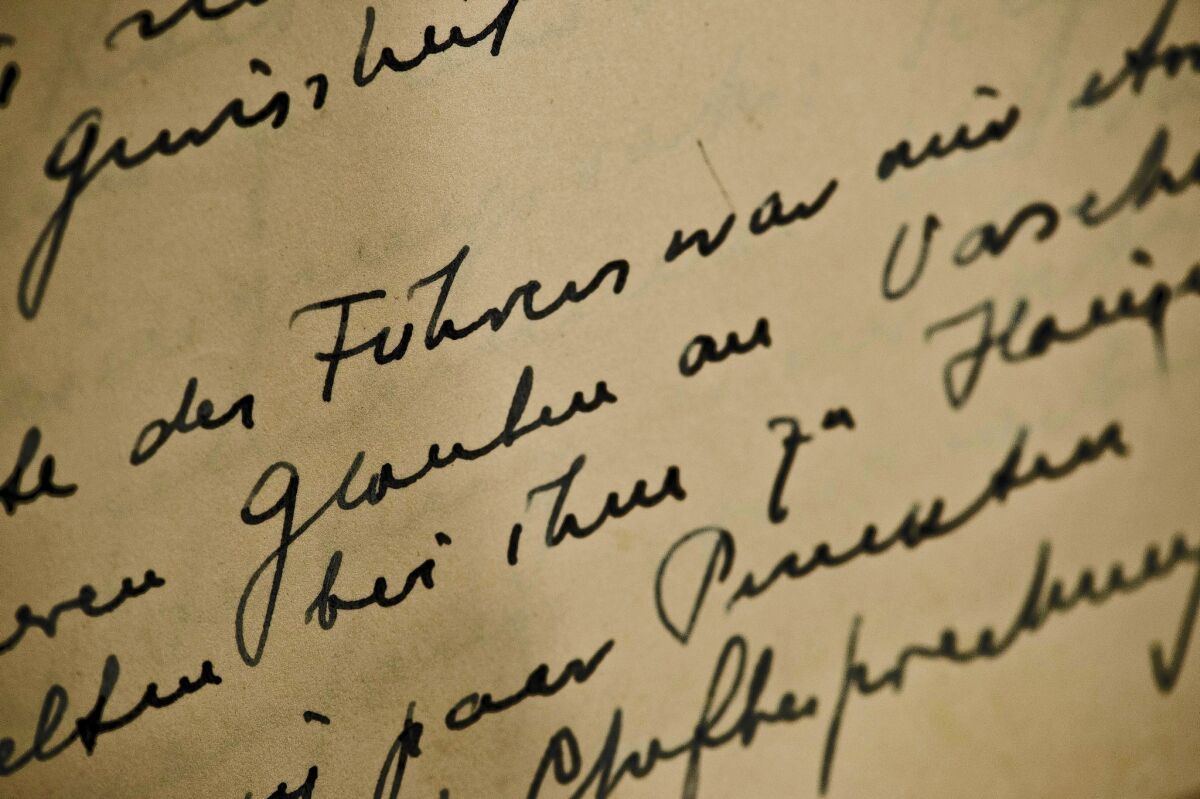 The first page he saw was dated April 2, 1941 — Rosenberg's account of Hitler telling him "your great hour has come."
"It was like finding the white whale," said Mayer, who is now 63 and senior advisor on archives at the museum. "It doesn't get much better than this as an archivist."
The diary, covering 1936 through 1944, includes Rosenberg's accounts of meetings with "der Führer," describes fighting among Hitler's inner circle and reveals the depths of Rosenberg's anti-Semitism.
Rosenberg served as Reich minister for the Occupied Eastern Territories, and in a March 28, 1941, entry called the opening of the Institute for Study of the Jewish Question a success "with the clear program to remove this race from Europe. And now this perception of a historic necessity is backed up by power."
He boasted that the "Jewish art treasures" his staff had confiscated were "without a doubt magnificent," with a value estimated at 1 billion reichsmarks, or about $250 million. "I will show them soon to the Führer."
On Sept. 12, 1941, he wrote that Germany had obtained reports indicating that Soviet leader Josef Stalin planned to send 400,000 captured Germans to Siberia. Rosenberg equated the move with murder, adding, "All of us felt the hatred against Moscow swell up again." If Stalin carried out the plan, he wrote, "Germany will punish the Jews of Central Europe for this."
The diary is not on public display, but digital scans are posted on the museum's website. There is no English translation yet.
The diary describes a great evil, Mayer said, and perhaps will instruct future generations about where evil can lead.
"That is why we diligently search for these irrefutable proofs, sometimes for a very long time," he said. "It's about justice for all of the victims."
Follow Richard Simon(@richardsimon11) on Twitter
---
Must-read stories from the L.A. Times
Get the day's top news with our Today's Headlines newsletter, sent every weekday morning.
You may occasionally receive promotional content from the Los Angeles Times.