Unruly man on L.A.-to-Hawaii flight subdued by passengers, flight attendants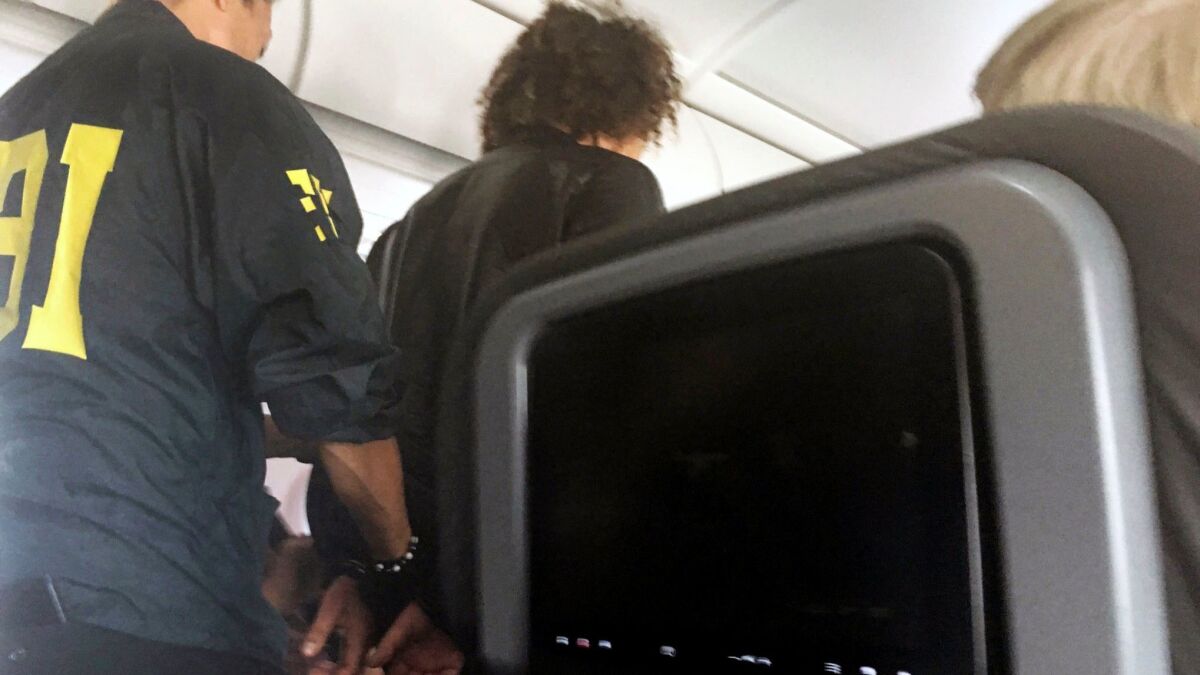 Reporting from HONOLULU —
Two U.S. fighter jets were summoned Friday to escort a flight from Los Angeles to Hawaii after an unruly man was subdued by passengers and flight attendants, who used a drink cart to block him from the front of the plane.
The man, identified by law enforcement officials as Anil Uskanil, 25, of Turkey, was duct-taped to his seat until the plane landed in Honolulu and federal agents boarded the plane and arrested him, passenger Lee Lorenzen said.
"The flight attendants just were really heroic," Lorenzen said. "By the time we landed and the FBI took him into custody, he was very mellow."
American Airlines Flight 31 had 181 passengers and six crew members aboard, said airline spokeswoman Katie Cody, who did not provide details on the incident.
The trouble with Uskanil actually began about eight hours before the flight departed. He was arrested before dawn at Los Angeles International Airport for opening a door that led onto an airfield ramp, according to Los Angeles Airport Police, who provided Uskanil's identity to the Associated Press.
Police say Uskanil had been drinking but didn't meet the criteria for public drunkenness. He was arrested on suspicion of misdemeanor trespassing, given a date to appear in court and allowed to take the flight to Honolulu.
Passengers noticed him before the plane even took off.
Mark and Donna Basden were among the first to board the plane and found a laptop in the seat pocket of Mark Basden. The Albuquerque, N.M., couple assumed it was from the previous flight.
A flight attendant said it must belong to a man in the bathroom.
Then a "disheveled looking fellow" walked out, Donna Basden said.
Mark Basden handed the man the laptop, telling him it had been in his seat. He said the man scowled at him, took the laptop, opened it and closed it and then tried to sit in another seat in first class.
Donna Basden said the man "clearly looked out of place," but he didn't say anything. The flight attendant approached him and asked to see his boarding pass, then when she looked at it, she told him he was in row 35 and sent him to the back of the plane.
About halfway through the six-hour flight, the Basdens saw the same man, holding his laptop, with something over his head, which they thought was a towel or a blanket.
Passenger Grant Arakelian said, "He was very quiet, moving very sluggish. He was trying to approach the cabin, like where the captain is."
Lorenzen and his wife, Penny Lorenzen, of Orange County, were sitting in first class and saw a "really serious look" on the flight attendant's face.
The flight attendant ran down the aisle with her serving cart and blocked the doorway separating first class from the rest of the plane.
"She jammed the cart in that doorway, and she just said, 'You're not coming in here,' " Lee Lorenzen said.
He said the man was pushing against the cart, trying to get through. At that point, passengers came up from behind and grabbed him. He was restrained with duct tape for the rest of the flight.
Uskanil having a laptop with him may have caused more concern than usual, with U.S. and European officials in recent weeks exchanging threats about aviation believed to include bombs hidden in laptop computers. Laptops have been banned on a handful of international flights and soon could be outlawed on far more.
U.S. Department of Homeland Security Secretary John Kelly was briefed on the midair disturbance, according to a statement from the department. There are no other reports of disruptions, but the department said it was monitoring all flights Friday out of caution.
As Uskanil was subdued, the cockpit called for help. Federal agents were sent to wait for the plane, and two F-22 Raptors from the Hawaii Air National Guard scrambled to meet the plane.
"We got that military escort coming into Honolulu," Donna Basden said with a laugh, "so welcome to Hawaii."
ALSO
United flight delayed after scorpion crawls from customer's clothing
More air travelers are expected to fly this summer despite airline incidents
Try this alternative to banning laptops and tablets on planes, airline group says
---
Must-read stories from the L.A. Times
Get the day's top news with our Today's Headlines newsletter, sent every weekday morning.
You may occasionally receive promotional content from the Los Angeles Times.