More air travelers are expected to fly this summer despite airline incidents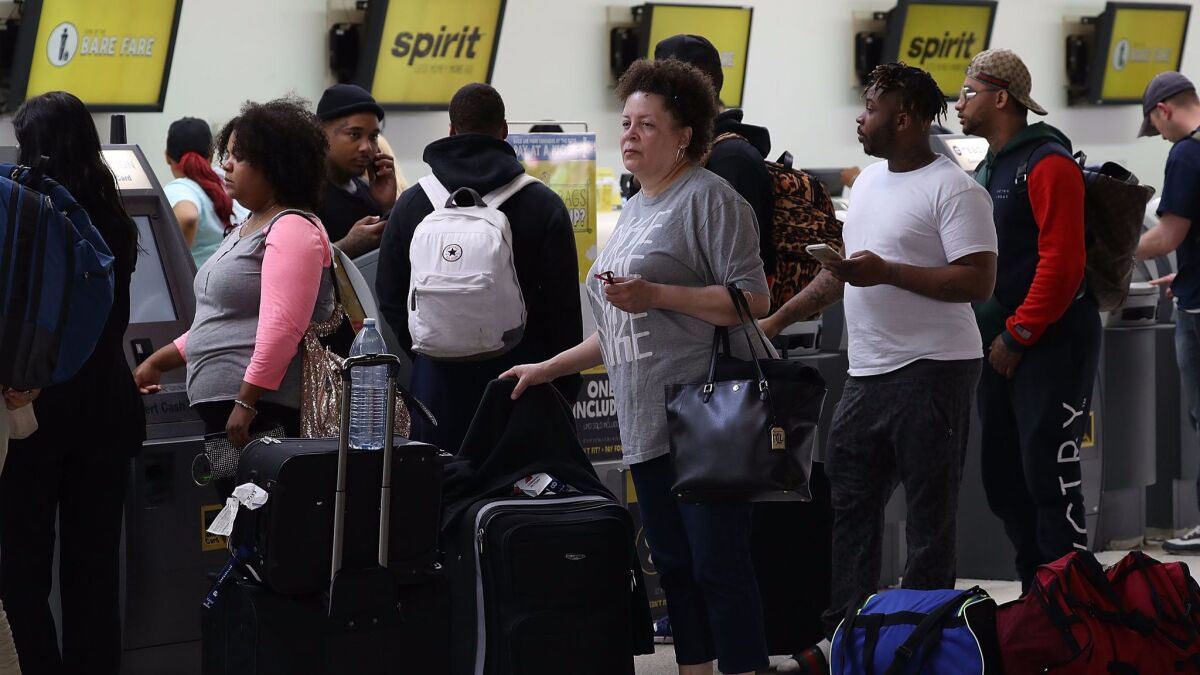 A record 234.1 million passengers are expected to fly on U.S.-based carriers this summer, apparently not dissuaded by a series of customer-relations blowups in recent weeks.
Airlines for America, which represents the airline industry, attributes the projected 4% increase in summer travel to improving economic conditions, higher household net worth and lower airfares.
To accommodate the increase of about 100,000 more fliers a day, airlines plan to add 123,000 extra seats a day, according to the trade group.
John Heimlich, chief economist for the airline trade group, said the organization has spoken to various airlines to gauge whether Donald Trump's election as president or recent passenger incidents have had any effect on bookings.
"There is no detectable, no palpable changes in booking patterns," he said during a conference call Thursday.
Viral videos put airlines on the spot
Airlines have suffered several embarrassing controversies recently — all caught on video that went quickly went viral — that have raised disturbing questions about passenger treatment. Among them:
• A doctor was dragged off a United Airlines flight after refusing to give up his seat to make room for a flight crew. The incident forced United to overhaul its policies and training and prompted several other carriers to examine their overbooking practices.
• A family flying home from a Hawaiian vacation was booted from a Delta Air Lines flight after a dispute over seating for an infant.
• Violence erupted at Fort Lauderdale-Hollywood International Airport in Florida after Spirit Airlines canceled several flights because of a labor dispute with pilots.
The airline group's forecast echoes AAA's prediction this week that 39.29 million Americans will travel for the upcoming Memorial Day holiday, a 2.7% overall increase compared with last year, with air travel expected to rise 5.5%.
The Auto Club of Southern California forecast that 3.03 million people in the Southland will get away for the long weekend, a 3.4% increase over last year. That would be a record and the sixth year in a row that the number of Memorial Day travelers has grown over the previous year.
Most of the vacationers — 2.52 million — are expected to travel by car, up 2.9% from last year, with Las Vegas, San Diego, the Grand Canyon, San Francisco and Yosemite National Park expected to be the top destinations.
Gasoline prices are expected to hold steady around $3 a gallon, the second-cheapest average price for a Memorial Day holiday weekend since 2009.
Filomena Andre, the Auto Club's vice president for travel, said the increase in air travelers suggests that vacationers are planning to take more time off work and travel farther from home.
To read more about the travel and tourism industries, follow @hugomartin on Twitter.
Sign up for the California Politics newsletter to get exclusive analysis from our reporters.
You may occasionally receive promotional content from the Los Angeles Times.