Interior Secretary Ryan Zinke vows to end culture of harassment and intimidation in National Park Service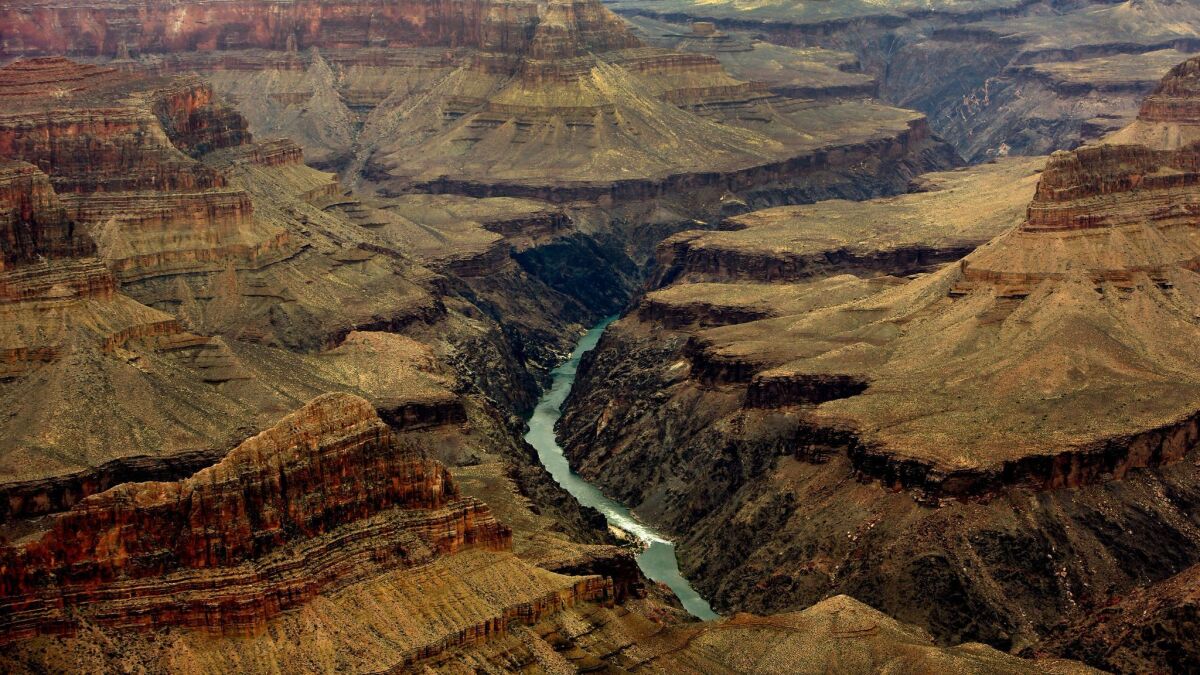 Interior Secretary Ryan Zinke on Friday announced a plan to combat sexual harassment, bullying and intimidation of employees within America's national parks system and to hold managers accountable if inappropriate behavior is ignored.
The plan aims to change an embedded culture that Zinke said has allowed senior officials to downplay or stonewall complaints from mostly female workers of being physically threatened, propositioned for sex and inappropriately touched.
"In the past, 'zero tolerance' has been an empty phrase — instead of taking action, our leadership fell back and took no action at all," Zinke said during a news conference at the National Park Service's Grand Canyon headquarters. "That's over. We're going to root out this virus, and it begins with putting a new culture in place that embraces the best of the Park Service's values."
"Under my leadership we're going to hold people accountable," he added. "We're also fixing the problem of victims being afraid of retaliation or inaction by codifying the right of victims to report abuse to any manager at any location across the service, and by bringing on an independent investigative partner."
Zinke's announcement comes as the entertainment industry and other businesses are roiled by resignations of high-profile figures in harassment scandals, such as movie titan Harvey Weinstein and Uber Technologies Chief Executive Officer Travis Kalanick, who allegedly fostered a "men's club" work environment that tolerated abuse and exploitation of women.
The announcement follows a series of investigations and congressional hearings into allegations of hostile work environments and sordid incidents that a year ago led to the resignations of several senior Park Service officials, including the superintendents of Yosemite and Grand Canyon.
Zinke's plan will strengthen the agency's ability to investigate and address harassment complaints by adding 14 employees to its labor relations and ethics staffs. It will also expand training to support harassment prevention efforts.
The results of a recent survey of about half of all Park Service employees underlined the problem: The agency has failed to shield its employees from work environments that, in some cases, included routine groping.
The survey found that about 10% of those surveyed reported experiencing sexual harassment in the last 12 months. About 38% of employees reported experiencing some form of harassment over the same time period.
The survey also found that about 75% of employees who experienced harassment did not file a complaint about the behavior, said Mike Reynolds, acting director of the Park Service. Of those who chose not to report, 46% thought no action would be taken if they filed a complaint, and 33% did not trust the process, he said.
In an interview, Chris Lehnertz, superintendent of Grand Canyon National Park, said, "The isolation in places like the Grand Canyon can magnify opportunities for abuses of power that can lead to sexual harassment."
Stories of Park Service employees being preyed upon by men in positions of authority, agency critics say, have circulated for years within the agency that likes to project a lofty image of itself as caretaker of America's natural treasures visited by 330 million people each year.
Until recently, critics say, most harassment cases were handled internally, with managers sweeping the allegations under the rug, or handing down minimal penalties.
"This is the fourth declaration of zero tolerance of sexual harassment we've heard from the Interior Department in the past three years alone," Jeff Ruch, executive director of the advocacy group Public Employees for Environmental Responsibility. "The problem is that people at the highest levels never wind up facing consequences. Instead, they tend to kick troublemakers upstairs, or offer them the option of resignation."
For example, Ruch's group cites a female staffer's complaints of unwanted hugs, lingering handshakes and inappropriate comments from Jorge Acevedo, superintendent of De Soto National Memorial in Florida. The complaints prompted an Interior Office of Inspector General investigation.
Acevedo, whom the woman also accused of lying prone on her desk while she tried to work, was transferred in April to a new position as manager of a complex of small parks in Alabama at his previous salary. He also received a $1,000 performance bonus, according to an Interior Office of Inspector General report the advocacy group obtained under the Freedom of Information Act.
"If, as the Park Service claims there is zero tolerance, then why aren't these firing offenses?" Ruch said.
The harassment allegations erupted last year, after the disclosure of an inspector general's investigation prompted by a 2014 letter to then Interior Secretary Sally Jewell from 13 current and former female employees. The womenalleged that their complaints — of being threatened and inappropriately touched and photographed by boatmen in charge of educational floats along the Colorado River — had not been addressed.
Congressional hearings led to the removal of David Uberuaga, superintendent of Grand Canyon National Park, and Myrna Palfrey, superintendent of Canaveral National Seashore in Florida, for their failure to appropriately handle such accusations.
The hearings also prompted Don Neubacher to retire in 2016 as superintendent of Yosemite National Park, where employees had complained of a systematic failure to investigate and address allegations of harassment at the California landmark renowned for its majestic waterfalls, granite ridges and serene valleys.
A few weeks later, his wife, Patty Neubacher, deputy regional manager for the Park Service's Pacific West Region, which covers 56 national parks in six states, stepped down amid allegations that she used her position to protect her husband during the harassment scandal.
ALSO
Susan Collins announces she will stay in the Senate rather than seek Maine's governorship
The Catholic Church knew he was an abuser, but helped him get a job in public schools
Shift to the right: With immigration and healthcare moves, Trump abruptly ends his bipartisan moment
---
UPDATES:
2:10 p.m.: This article was updated with comments from Mike Reynolds and Chris Lehnertz.
This article was originally published at 12 p.m.
Must-read stories from the L.A. Times
Get the day's top news with our Today's Headlines newsletter, sent every weekday morning.
You may occasionally receive promotional content from the Los Angeles Times.