Missouri Gov. Eric Greitens' extramarital affair was 'the worst-kept secret in the world'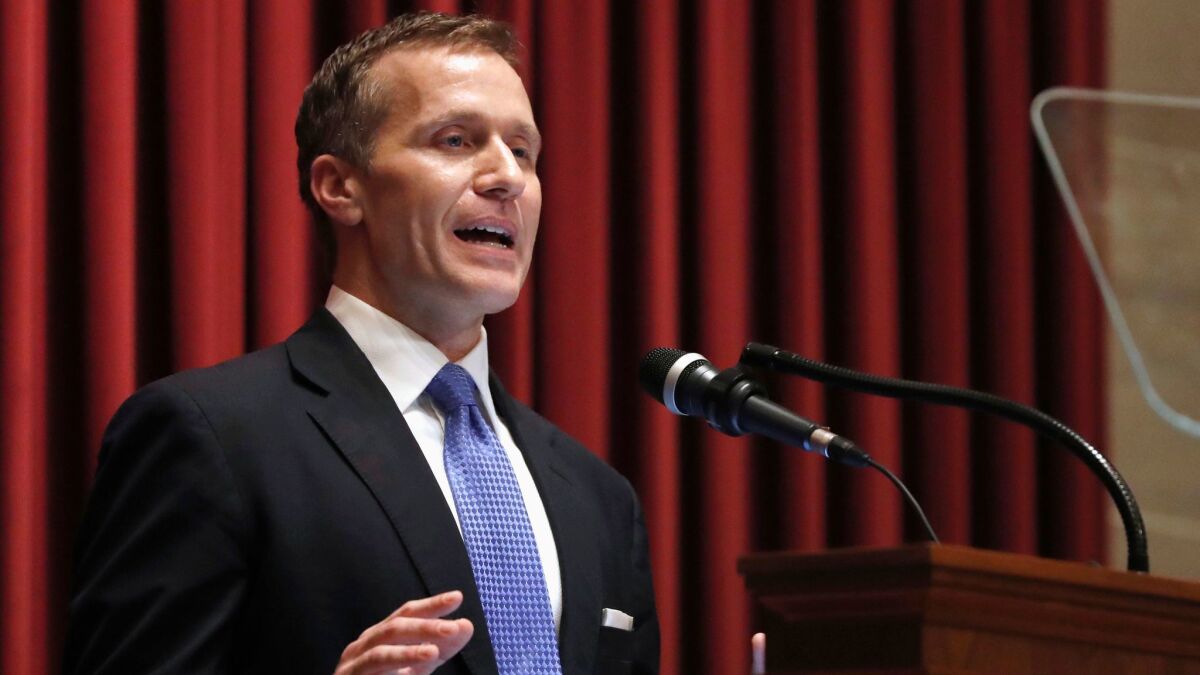 The Missouri political establishment seemed surprised when the story broke.
In an audio recording broadcast Wednesday by KMOV-TV in St. Louis, a hairstylist told her ex-husband that she'd had an affair in 2015 with Eric Greitens — then philanthropist, now governor — and that he had tied her to home exercise equipment, taken a photo of her naked and threatened to publicly release it if she ever told anyone about him. She said Greitens later apologized and said he'd deleted the photo.
Greitens, 43, who has been married since 2011, acknowledged having an affair but denied blackmailing or abusing the woman.
The news raced across the internet and through the state's halls of power. Several of Greitens' fellow Republicans expressed serious concern about the allegations and urged the governor to be honest about his conduct; some Democrats said he should resign. St. Louis Circuit Atty. Kimberly Gardner said Thursday that she was launching an investigation.
But maybe the biggest surprise is how long it took for the story to go public.
Behind the scenes, many state political figures and journalists had been aware of rumors about Greitens' affair with the woman, some of them for months and even more than a year.
"This is the worst-kept secret in the world," said St. Louis attorney Albert S. Watkins. He represents the woman's ex-husband, who made and released the recording.
"National media outlets, local media, local newspapers … political operatives calling," Watkins said. "It became clear that this was a story that was going to get out at some point."
Journalists had held back from publication for at least one significant reason: The woman had not recorded the conversation herself or released it to the media, and she repeatedly declined to be interviewed on the record.
In a national moment filled with women telling their stories — on their terms — she didn't want to tell hers.
But with the governor's acknowledgment of an affair, KMOV-TV plunged ahead, and the St. Louis Post-Dispatch quickly revealed that it, too, had been investigating the story for months.
The Times has learned the woman's identity, but, like other news outlets, is not naming her. She could not be reached for comment.
Greitens faces not just political but possible legal peril. Some experts wondered whether he had broken the state's criminal invasion-of-privacy or harassment laws.
"That's really why the story has interest to us," said Scott Diener, the news director of KMOV-TV. He said the blackmail allegations put to rest any hesitancy about proceeding, along with a "lengthy" off-the-record conversation with the woman.
Before broadcast, "we notified the woman and her attorney about the audiotape and its contents, and at no time did she or her attorney ask us not to use the audio on-air," Diener said. "I'll be very honest with you. We don't take this decision lightly by any means. There was a lot of discussion."
Diener added: "He is the governor of our state."
Rumors of an affair first got traction in the state's elite circles in September 2016 while Greitens, a bestselling author, former Navy SEAL and political novice, was running a maverick campaign for governor against Chris Koster, the state's Democratic attorney general.
Roy Temple, then the state's Democratic Party chair and an advisor to the Koster campaign, said he heard a rumor about the affair and then contacted a mutual friend to him and the ex-husband. Temple said that Koster was aware of the rumor but didn't dispatch him to look into it further.
Temple said he met with the ex-husband to see whether he'd be interested in publicly telling his story, which would have been a major development in the late stages of a competitive political campaign.
Temple heard the woman's allegations in a recording that the ex-husband had made — which, according to his attorney, was part of a therapeutic practice the couple were doing together.
But the man, a prominent St. Louis entertainer, declined to proceed. (The Times is not identifying him since it would reveal his ex-wife's identity. The man filed for divorce in 2015, a few months after the affair.)
As the 2016 campaign entered its closing stretch, the man signed up Watkins to be his attorney.
"My client pays me a chunk of change, because I'm a whore; that's the way I operate," Watkins said. "I contact the operative [Temple], find out he knows the story inside out, and he's spot on."
But Watkins and his client decided not to go the media, because the man was concerned about his two children learning about the affair.
Greitens proceeded to defeat Koster, 51.3% to 45.4%, in November 2016. When asked whether he regretted not being able to publicize a damaging story about a political opponent before the election, Temple paused for several moments.
"I certainly wish the voters had been able to factor this into their judgment," he said.
But the rumors didn't go away. In 2017, reporters began to pick up on the story and investigate. Watkins said his client decided to go to KMOV-TV after a national reporter at another outlet called his 15-year-old about the allegations.
"Republican operatives knew about it; Democratic operatives knew about it at some level of particularity," Temple said. "Forty-eight hours ago, I know for a fact that half the press corps in the capital knew a lot of detail about this. But they had an editor who said, 'Hmm, doesn't meet our standard.'"
Greitens' attorney, James F. Bennett, denied that the affair had been violent or that Greitens had taken the alleged photograph of her naked or said the things the woman alleged he said.
In a joint statement with his wife, Sheena, Greitens acknowledged that he had been "unfaithful" and called it "a deeply personal mistake and we dealt with this together honestly and privately."
"While we never would have wished for this pain in our marriage, or the pain that this has caused others, with God's mercy Sheena has forgiven and we have emerged stronger," the statement said. "We understand that there will be some people who cannot forgive — but for those who can find it in your heart, Eric asks for your forgiveness, and we are grateful for your love, your compassion, and your prayers."
Asked if more recordings might become public, Watkins said, "Possibly."
"He's not a party-affiliated guy and never has been," Watkins said of his client. "He doesn't care what happens to the governor, if the governor stays governor.… He wants this out so it's no longer something that's hanging over his head, or something he has to fear being disclosed to his kids in a way he can't control."
---
UPDATES:
6:05 p.m.: This article was updated with staff reporting.
This article was originally published at 7 a.m.
Must-read stories from the L.A. Times
Get the day's top news with our Today's Headlines newsletter, sent every weekday morning.
You may occasionally receive promotional content from the Los Angeles Times.