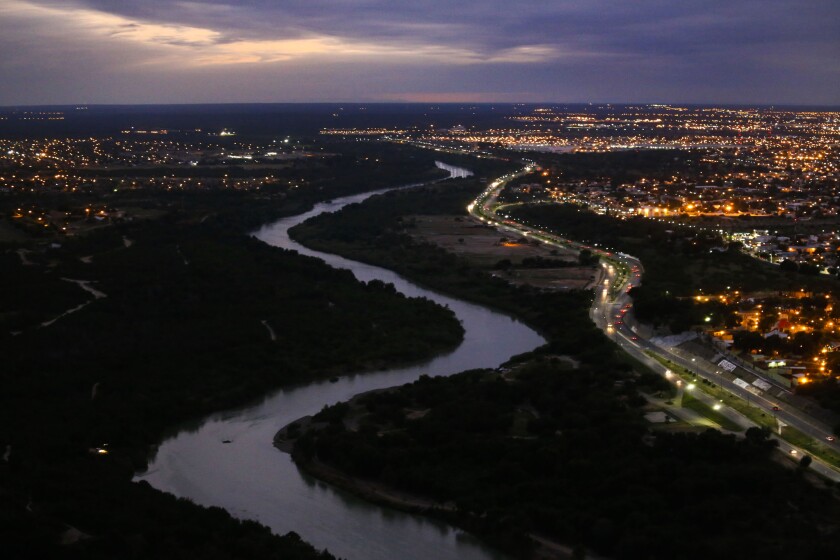 Reporting from Houston —
For the second time in a week a group of Syrian migrants presented themselves at a Texas border crossing to seek asylum, evidence some say that more will be making the journey from Europe as anti-Syrian sentiment spreads after the Paris attacks.
Five Syrians arrived at the busy Laredo crossing on Friday -- two men, a couple and their child, according to a Homeland Security statement released Saturday.
"Officers took the group into custody and as a standard procedure, checked their identities against numerous law enforcement and national security related databases," the statement said. "Records checks revealed no derogatory information about the individuals."
NEWSLETTER: Get the day's top headlines from Times Editor Davan Maharaj >>
Officials turned the Syrians over to U.S. Immigration and Customs Enforcement for processing and placement at detention centers, the statement said.
It's not uncommon for immigrants fleeing overseas war zones to be caught on the southern border. Immigration officials announced Thursday that they had seized half a dozen men from Afghanistan and Pakistan after they tripped a sensor while crossing the border in Arizona.
But Syrians arriving this week did not try to elude immigration officials, instead presenting themselves at the border, like other immigrants, seeking asylum.
On Tuesday, two Syrian families — two men, two women and four children — presented themselves at the Laredo crossing and were transferred to detention centers elsewhere in south Texas, according to another Homeland Security statement. "They surrendered at a port of entry and are seeking asylum. There's no evidence they tried to enter illegally," said Shawn Moran, San Diego-based spokesman for the National Border Patrol Council, the union that represents Border Patrol agents.
Moran and other union officials said they worry about Syrians showing up at the crossings.
"The fact that Syrians can reach our southern border is extremely concerning to us. This demonstrates that a clear pipeline exists that allows people from Syria to reach our southern border," said Hector Garza, president of the National Border Patrol Council's Local 2455 in Laredo.
Garza said Saturday night that the union has asked officials to hire more Border Patrol agents and put more in the field to secure the international boundary. But he said the agency also must ensure that the screening of Syrian migrants is "error-proof."
"Screening and processing systems can quickly become overwhelmed, as evidenced by the unaccompanied juvenile crisis in South Texas," said Garza, referring to a spike in the numbers of young migrants coming to the U.S. from Central America. "Corners cannot be cut and the proper resources need to be in place. The margin for error is small because it only takes a few to inflict great harm."
It's not clear how many Syrian asylum seekers have showed up at the southern border in recent months, as opposed to those attempting to enter the U.S. through other channels. While numerous congressional, state and local lawmakers announced that they would be rejecting Syrian refugees last week, they did not address Syrian asylum seekers.
The number of Syrians seeking asylum in the U.S. has risen in recent years. There were 104 asylum cases filed by Syrians this year as of June, almost twice as many as in 2010, according to immigration court records.
Last year, Syrians were among the top 25 groups granted asylum in the U.S. for the first time in recent years.
See the most-read stories this hour >>
Those who work with Syrian migrants said they are increasingly seeking to flee Europe to join family in the U.S. via Mexico and Central America, especially after the Paris attacks Nov. 13. Several days ago, they said a group of Syrian migrants was detained in Honduras with fake Greek passports.
Once they reach the U.S. border, Syrians are subject to the same asylum and screening process used for other immigrants, and it's been stepped up in recent years in response to a surge of migrants from Central America. Some are detained, while others are released with ankle bracelets.
ALSO
History reminds us we can do better on refugees
Belgium raises threat alert to highest level after Paris attacks
At refugee center in Malaysia, Obama calls on U.S. to welcome the 'forgotten'
---