White House steps up warnings about terrorism on U.S. soil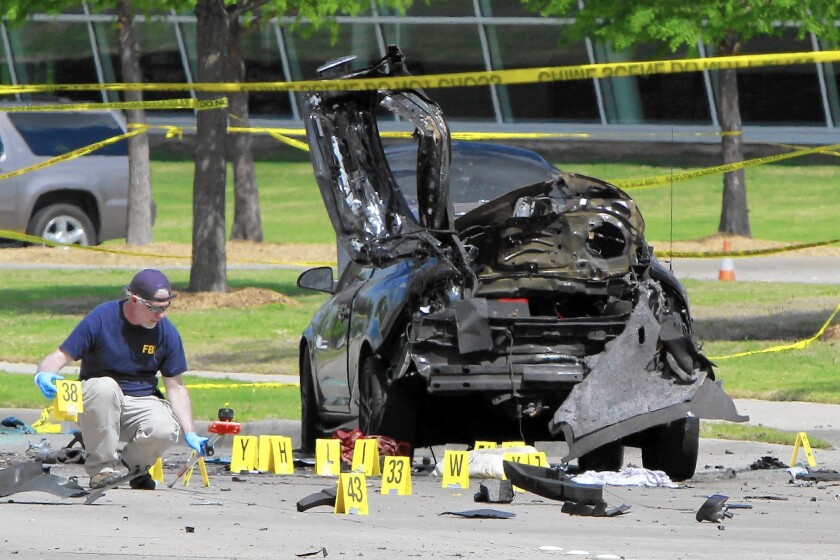 Reporting from WASHINGTON —
Alarmed about the growing threat from Islamic State, the Obama administration has dramatically stepped up warnings of potential terrorist attacks on American soil after several years of relative calm.
Behind the scenes, U.S. authorities have raised defenses at U.S. military bases, put local police forces on alert and increased surveillance at the nation's airports, railroads, shopping malls, energy plants and other potential targets.
Driving the unease are FBI arrests of at least 30 Americans on terrorism-related charges this year in an array of "lone wolf" plots, none successful, but nearly all purportedly inspired by Islamic State propaganda or appeals.
The group's leader, Abu Bakr Baghdadi, drove home the danger in a 34-minute audio recording released online Thursday. He urged Muslims everywhere to "migrate to the Islamic State or fight in his land, wherever that may be."
The audio was released with translations in English, French, German, Russian and Turkish, signaling the militants' increasingly ambitious attempts to draw new recruits — and to spark violence — around the world.
U.S. officials estimate the Sunni Muslim group has drawn 22,000 foreign fighters to Syria and Iraq, including about 3,700 from Western nations. About 180 Americans have gone, or tried to go.
U.S. counter-terrorism officials initially viewed Islamic State as primarily a regional security threat, focused on expanding and protecting its self-proclaimed Islamist caliphate in Syria and Iraq, rather than launching attacks abroad.
But the analysis has shifted sharply as gunmen inspired by the group, but not controlled or assisted by them, opened fire at the Parliament in Ottawa; at a cafe in Sydney, Australia; at a kosher grocery in Paris; and, on May 3, in Garland, Texas.
In the Texas case, two would-be terrorists apparently prompted by Islamic State social media messages tried to shoot their way into a provocative contest for caricatures of the prophet Muhammad. Both gunmen were shot to death, and no one else was killed. Islamic State later claimed responsibility for the assault, the first time it has done so for an attack on U.S. soil.
James B. Comey, the FBI director, warned this month that "hundreds, maybe thousands" of Americans are seeing recruitment pitches from Islamic State on Facebook, Twitter and other social media, as well as messages sent to smartphones of "disturbed people" who could be pushed to attack U.S. targets.
"It's like the devil sitting on their shoulders saying, 'Kill, kill, kill,'" Comey told reporters.
The United States has entered a "new phase, in my view, in the global terrorist threat," Jeh Johnson, director of Homeland Security, said Friday on MSNBC.
"We have to be concerned about the independent actor, and the independent actor who is here in the homeland who may strike with little or no warning," he said. "The nature of the global terrorist threat has evolved."
That poses a special challenge for U.S. intelligence and law enforcement agencies, which spent years desperately trying to penetrate and understand Al Qaeda's rigid hierarchy and top-down approach to terrorism.
Now they are struggling to detect and prevent lethal attacks by individuals — such as the April 2013 bombing of the Boston Marathon by two Russian-born brothers — with little or no outside communication or support.
The administration has sought to stiffen homeland defenses, and intelligence gathering, in response.
This month, U.S. Northern Command boosted security at all bases in the United States. Officials cited the May 3 shooting in Texas, specific threats against military personnel and the increasing number of Americans communicating with Islamic State supporters.
In March, a group calling itself "Islamic State Hacking Division" posted online the names, home addresses and photos of 100 U.S. troops. The group wrote on Twitter that it was posting the apparent hit list "so that our brothers residing in America can deal with you."
More armed guards have been deployed at federal buildings across the country, and Homeland Security officials have quietly urged more security at privately run facilities and infrastructure that could be targeted, including shopping malls, railroads, water treatment facilities and nuclear power generators.
"Since last summer we have ramped up security at federal installations across the country, and we have increased our outreach with critical infrastructure operators," a senior Homeland Security official said in an interview.
Authorities have urged companies to conduct more "active shooter" drills to "heighten awareness and make sure people are leaning forward with security protocols," he said. The official was not authorized to publicly discuss internal communications and security measures.
Defeating Islamic State will take not only the ongoing military operations in Iraq and Syria, U.S. officials said, but stronger international efforts to block foreign recruits from joining and to cut the group's financing networks. Officials acknowledge they also need better messaging to counter a barrage of polished videos, social media and Internet appeals from the militants.
"It's a long-term challenge," Brett McGurk, deputy assistant secretary of State for Near Eastern affairs, told CNN. "We have not seen this before. And it's going to take a very long time to defeat them."
Still, attacking Western targets is not the group's top priority, as it was for Osama bin Laden, according to Seth Jones, a former U.S. counter-terrorism official now with Rand Corp., the Santa Monica-based think tank. The group is far more focused on the battleground in Iraq and Syria, and establishing ties to terrorist groups in Libya, Yemen, Algeria and elsewhere.
Without a strong hand to help direct and organize attacks abroad, they are "likely to be less sophisticated," Jones said. "You actually need a lot of training to conduct a Madrid-style attack or a London-style attack. Those kinds of bombs are hard to put together."
Most of the 30 Americans arrested this year were suspected of aiding or trying to join Islamic State. Many were approached on social media or on chat programs designed for cellphones.
In March, for example, a 22-year-old Army National Guard specialist was arrested at Chicago Midway International Airport as he allegedly attempted to join Islamic State in Syria. The FBI said he had downloaded military training manuals to take with him and told an undercover agent he was prepared to "bring the flames of war" to the United States.
That same month, a retired Air Force avionics instrument specialist was indicted in Brooklyn, N.Y., on suspicion of trying to travel to Syria to join the group. Prosecutors in Brooklyn also have charged three other men with seeking to link up with the militants.
And on Thursday, the FBI arrested a former interpreter for the U.S. military in Iraq, now a naturalized American citizen, who had tried to travel to Syria from Texas. In June he had used Twitter to "pledge obedience" to Islamic State.
"As a numbers game, it is pretty easy for ISIS to reach out to a very large number of people using a very robust social media presence," said J.M. Berger, a nonresident fellow at the Brookings Institution, using a common acronym for Islamic State.
"I suspect we should see more plots going forward," he added.
Twitter: @ByBrianBennett
---
Must-read stories from the L.A. Times
Get the day's top news with our Today's Headlines newsletter, sent every weekday morning.
You may occasionally receive promotional content from the Los Angeles Times.