A 'Cajun Navy' of volunteers descends on Port Arthur, Texas, to rescue people
Reporting from Port Arthur, Texas —
In no other place in America would there be a traffic jam like this.
On U.S. 90 east of Houston on Wednesday morning, hundreds of trucks, many of them towing boats, were in bumper-to-bumper traffic fording 6 inches of floodwater — the remnants of Tropical Storm Harvey's second swing at south Texas.
These drivers weren't fleeing the still-swirling storm. They were headed straight for it.
The last five days of serial storm assaults have prompted Texas volunteers to mobilize what some are describing as their own Dunkirk — the epic World War II rescue in which an ad hoc civilian armada helped ferry the British army out of France. For days, amateur navies of boaters have flocked toward the center of Harvey's wrath from all over Texas and beyond, offering fishing boats, airboats, private catamarans and pleasure craft as boats of salvation.
Todd Terrell, a team leader for one of the groups loosely organized as the "Cajun Navy," said Wednesday that his group had mobilized 763 boats and more than 1,500 volunteers operating in different parts of Texas.
"There are people who haven't had food or water for three and four days," he said. "Right now, some of the water is so bad and so high, we're bringing them supplies until we can pick them up tomorrow. It's so widespread, we are just trying to stabilize everybody and rescue tomorrow."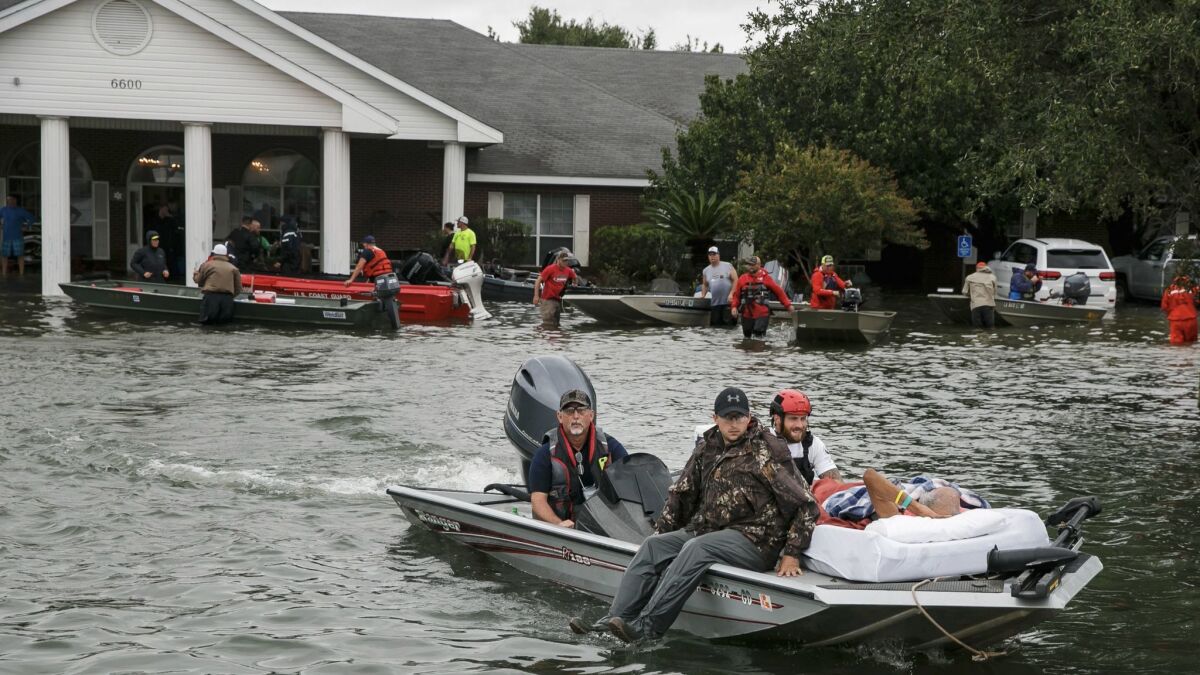 As Harvey's rains headed toward the Gulf Coast town of Port Arthur, so did the amateur flotilla that for the last several days has been working in and around Houston's flooded canals, rivers and fields.
But the floodwaters that seemed to cover nearly everything made Port Arthur difficult to drive into; boaters clogged the roads looking for a fully flooded area that could serve as a place to berth a boat.
Two airboat clubs from the Fort Worth area gathered in a Wal-Mart parking lot where emergency helicopters were making quick landings. The men got out of their trucks and gathered around Port Arthur's deputy police chief, Maj. Cory Cole. They didn't just come to listen. They came to take orders.
Cole directed the boaters to where a large number of residents had been stranded. "It's just so crazy down there," he said. "We can't get the trucks to get 'em."
But now, Port Arthur had its own navy.
"You see the area better than me," Cole told the boaters. "You're going to be my eyes and ears out there."
Then he sent them off. "Do what you can do, man," he said.
The boaters fanned back out to their trucks. A bright yellow fan boat painted with the words "SHO NUF" took the lead, with the rest of the boaters forming a column in their trucks down the flooded highway. When they could go no farther, they began sliding their boats into the water. The big fan engines on the shallow-draft airboats made an enormous roar as they ignited, and the rain-soaked roads were transformed into canals.
It was an impromptu effort. Brad Cowling, 38, a car dealership owner from Abilene, Texas, was volunteering as a crew member on another man's boat. "We just met today in Houston," he said. "We just drove four hours down here to do rescues."
As to why, Cowling didn't think it required much explanation. "We're Texans, dude. We're … crazy. We help each other."
Not all of them were Texans. Mike Ivancic, 48, a former Army medic, traveled from Kansas City, Mo.
"It's like an adrenaline thing," Ivancic said. But it was not only that, he said. "We're all of one mind," he said. "We all want the same thing."
By afternoon, the roads were filled with rescue boats.
They gathered outside the flooded Cypress Glen nursing home, where dozens of elderly residents had been trapped.
It was dark inside the facility, where rescuers had to slosh through flooded hallways. All over the building, residents lay in their beds in dark rooms — dry, but alone, and awaiting rescue. Some sat in wheelchairs with their feet steeped in water.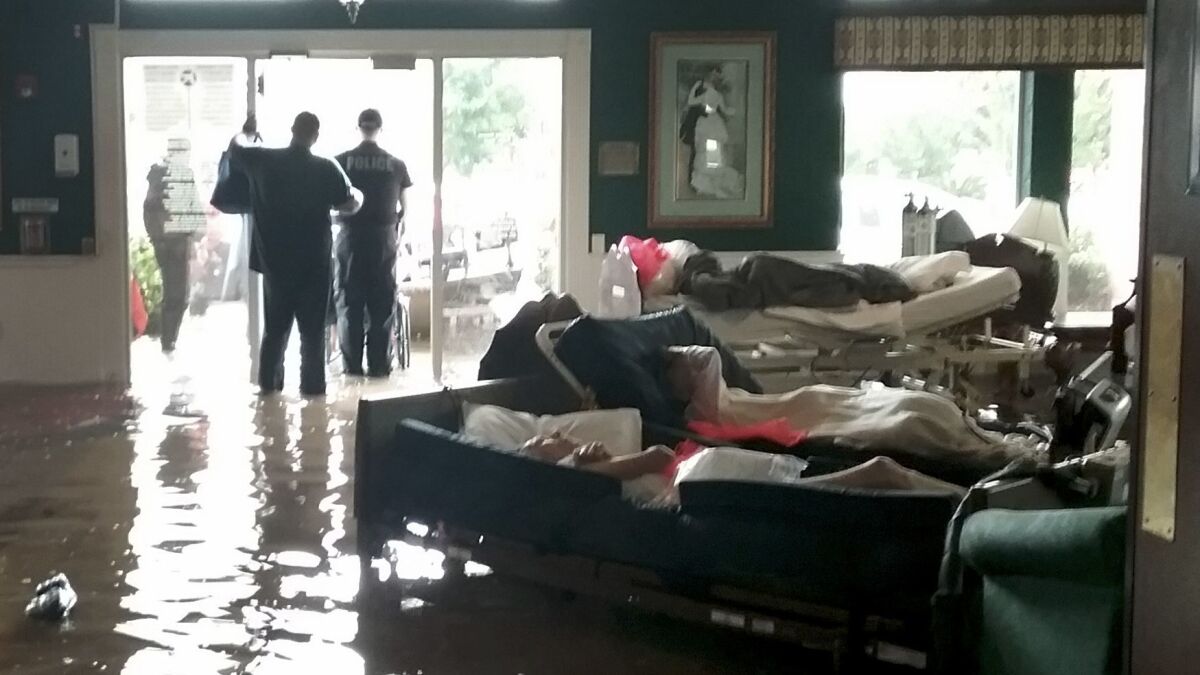 Aides and rescuers lined up more than half a dozen residents in wheelchairs at the front door, pushing them through the water toward the rescue boats queued up outside. Next, they began hauling dry mattresses to the boats so the residents would have something to rest on later. At least half a dozen residents lay waiting on gurneys.
"You ready to go?" one aide called to a resident who was sitting on the edge of her bed, her feet dangling in the water. The aide paused. "Where's your wheelchair?"
Another woman in a wheelchair shook with stress as she waited outside. She carried a small Tupperware container packed with her things, but her purse had been lost. A boater set off in search of it.
"How many people can you get?" one rescuer called to a pair of boaters. They would need to load on an emergency medical technician, he said. "We need someone to help stabilize them."
"Lift—lift—lift!" a group of six men chanted as they lifted one woman on her motorized wheelchair into a boat. Once it was done, a cheer erupted. The woman grinned, and gave one of the men a high-five.
"We're not going to charge you for this ride!" one man joked.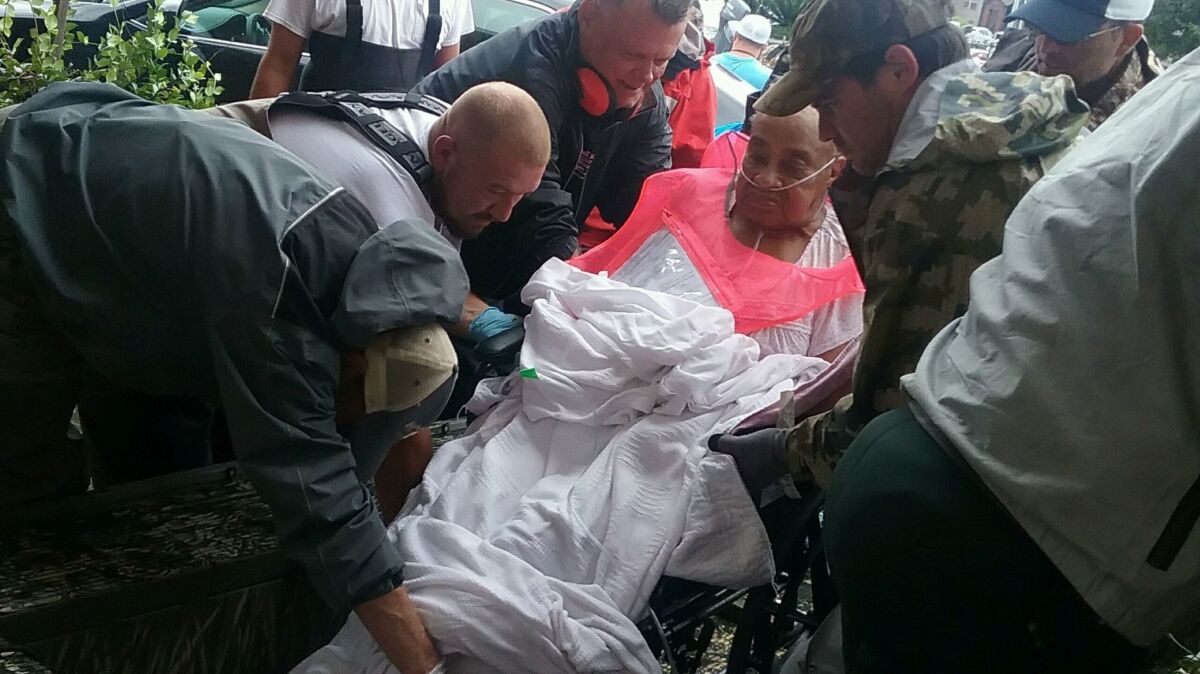 After a few hours, almost all the residents had been cleared. The volunteer navy outside the nursing home began to disperse and went looking for more survivors.
"I love them. It's great," said Alex Hall, 22, a local resident who volunteered to help with the rescue effort. "I didn't expect there to be this many people. Maybe in Houston."
But not in Port Arthur.
Louis Husser, a pastor from Robert, La., who joined the nursing home rescue with his 14-foot aluminum boat, said it wasn't hard to decide to come.
"I lived through Hurricane Katrina, and in some ways this is worse," he said. "It's going to take Texas a long time to come back from this. When we were in trouble 12 years ago, Texans came down to help, and so we are just loving our neighbor back."
Times staff writer Melissa Etehad in Los Angeles contributed to this report.
Matt Pearce is a national reporter for The Times. Follow him on Twitter at @mattdpearce.
ALSO
As Houston floodwaters recede, returning residents make some grim discoveries
Explosions reported at Houston chemical plant that lost power in the storm
'We're at God's mercy': Texas coast doused with new assault from Harvey's rain and winds
---
Must-read stories from the L.A. Times
Get the day's top news with our Today's Headlines newsletter, sent every weekday morning.
You may occasionally receive promotional content from the Los Angeles Times.