Must Reads: Texas school shooter killed girl who turned down his advances and embarrassed him in class, her mother says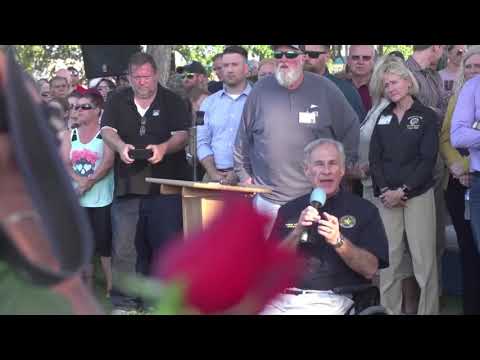 Hundreds gather for a May 18 vigil honoring victims of the Santa Fe High School shooting in Texas.
Reporting from Santa Fe, Texas —
As he heard the gunshots approaching down the hall Friday morning, Santa Fe High School student Abel San Miguel, 15, hid with a few classmates in the art class storage closet.
He wasn't sure if he was going to survive. Through the door, he could see the barrel of a shotgun. Then the shooter began shooting through the door, killing at least one student inside, and grazing Abel's back.
When the shooter left the room briefly, Abel and others left the closet and tried to barricade the door. But the shooter pushed it open, spotted a student he knew, and with anger said, "Surprise!" before shooting the student in the chest.
"I'm still trying to process everything," Abel said in an interview.
As more details emerged about the shooting that left 10 people dead and 13 injured at the Houston-area school, the student who authorities said confessed to the attack was being held in isolation Saturday as officials identified the victims.
The family of the 17-year-old suspect, junior Dimitrios Pagourtzis, is "as shocked and confused as anyone else by these events that occurred," according to a statement released to the media.
"We are gratified by the public comments made by other Santa Fe High School students that show Dimitri as we know him: a smart, quiet, sweet boy," the family statement said. "While we remain mostly in the dark about the specifics of yesterday's tragedy, what we have learned from media reports seems incompatible with the boy we love."
One of Pagourtzis' classmates who died in the attack, Shana Fisher, "had 4 months of problems from this boy," her mother, Sadie Rodriguez, wrote in a private message to the Los Angeles Times on Facebook. "He kept making advances on her and she repeatedly told him no."
Pagourtzis continued to get more aggressive, and she finally stood up to him and embarrassed him in class, Rodriguez said. "A week later he opens fire on everyone he didn't like," she wrote. "Shana being the first one." Rodriguez didn't say how she knew her daughter was the first victim.
Fisher's friends said they could not corroborate the mother's claims.
The gunman repeatedly taunted students during the attack, according to another harrowing account posted to Facebook by one survivor's mother.
After scrambling to escape the shooter's blasts in the art room, Isabelle Van Ness, covered in dust from rounds hitting her classroom walls, could hear the shooter in a next-door classroom yelling, "Woo hoo!" while shooting, according to her mother, Deedra Van Ness.
"The gunman then comes back into their room and they hear him saying … are you dead? Then more shots are fired," Deedra Van Ness wrote. "By this time, cell phones all over the classroom are ringing and he's taunting the kids in the closet asking them … do you think it's for you? do you want to come answer it? Then he proceeds to fire more bullets into the closet and tries to get in."
Police arrived within 10 minutes later as Isabelle hid among the bodies of her classmates, and she could hear the shooter reloading after an "exchange" with police, her mother wrote.
Soon after, the shooter surrendered. "She and her friends had been in the same room with the gunman the ENTIRE TIME," her mother wrote. "As the media announces the names of the confirmed dead, Isabelle falls apart. ... She had prayed that her friends lying around the school were just injured and the confirmation of their deaths was crushing."
The dead included two teachers, Glenda Perkins and Cynthia Tisdale, along with Shana Fisher and seven of her classmates: Kimberly Vaughan, Angelique Ramirez, Christian Riley Garcia, Jared Black, Christopher Jake Stone, Aaron Kyle McLeod and Sabika Sheikh, an exchange student from Pakistan.
Two bombs that Pagourtzis allegedly brought to the school Friday were "intended to be IEDs," improvised explosive devices, but turned out to be "nonfunctional," Galveston County Judge Mark Henry said Saturday.
Pagourtzis, a football player who had allegedly posted images of guns and a T-shirt with the words "Born to kill" on social media in the weeks before the shooting, is being held without bond while facing charges of capital murder and aggravated assault on a public servant.
His schoolmates were allowed to return to parts of the school Saturday to retrieve their abandoned belongings.
One student wrote on Twitter: "as i walked into the school today to grab my things all I felt was emptiness. the entire vibe of the school was sad. you could look at the doors and see where they had to use [sledge]hammers to get into the doors. … i never want to be there again."
After surrendering to police at the school, Pagourtzis waived his right to remain silent and confessed to the shooting, authorities said. According to a probable-cause statement, Pagourtzis said that "he did not shoot students he did like so he could have his story told."
The judge questioned the teenager at his initial court appearance Friday. Pagourtzis answered the questions, admitting to the shooting, but said little else, Henry said.
Nasir Shenwari holds his daughter as the casket of Santa Fe High School shooting victim Sabika Sheikh, 17, leaves a funeral in Stafford, Texas, two days after a gunman killed 10 people at the school.
(BRENDAN SMIALOWSKI / AFP/Getty Images)
People offer funeral prayers for Pakistani exchange student Sabika Sheikh at the Brand Lane Islamic Center in Stafford, Texas.
(David J. Phillip / Associated Press)
Pictures of victims of the Santa Fe High School shooting are displayed during a prayer vigil at Walter Hall Park in League City, Texas.
(Scott Olson / Getty Images)
Santa Fe High School graduates bow their heads in prayer during a Baccalaureate service in Santa Fe, Texas.
(David J. Phillip / Associated Press)
Chaplains from the Billy Graham Rapid Response Team pray outside Santa Fe High School in Santa Fe, Texas.
((Brendan Smialowski / AFP/Getty Images))
Residents attend a prayer vigil to remember the victims from the Santa Fe High School shooting at Walter Hall Park in League City, Texas.
(Scott Olson / Getty Images)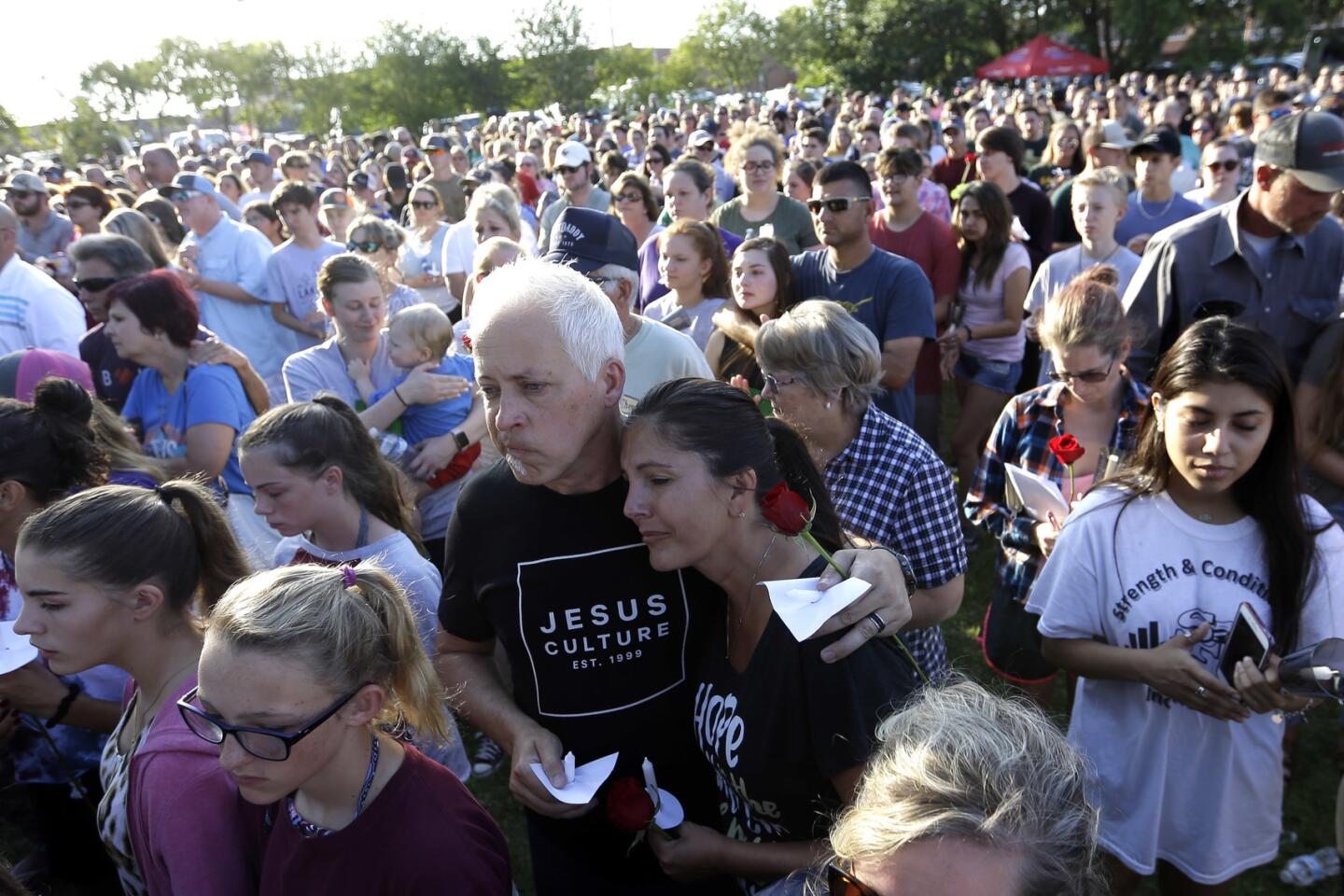 Mourners gather during a prayer vigil following a shooting at Santa Fe High School in Texas on Friday.
(David J. Phillip / Associated Press)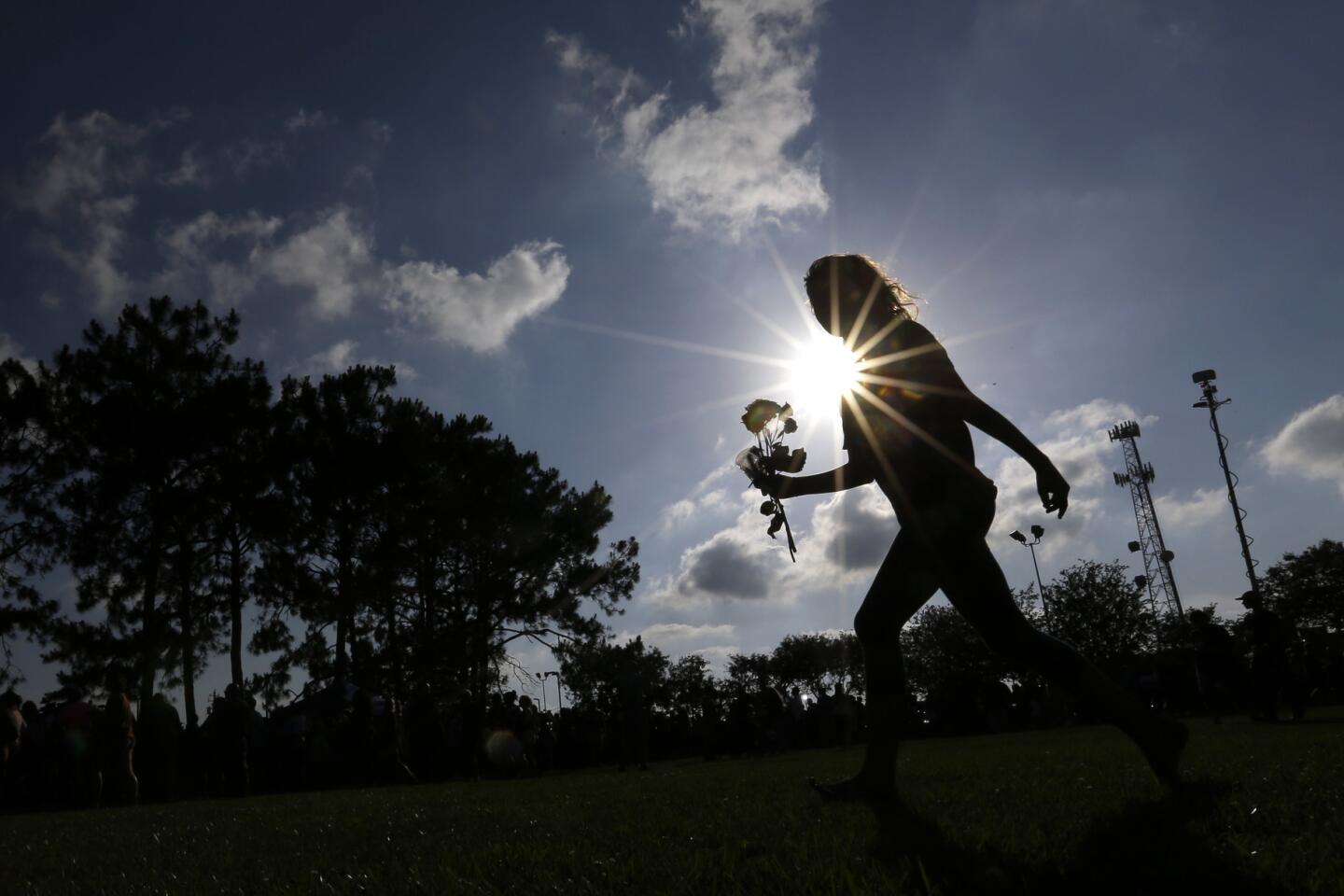 Hannah Harrison carries roses during a prayer vigil following a shooting at Santa Fe High School on Friday.
(David J. Phillip / Associated Press)
Law enforcement vehicles on the grounds of Sante Fe High School. where multiple fatalities were reported in a shooting Friday.
(KTRK-TV ABC13 / Associated Press)
Officials also upped the number of injured at Friday's shooting to 13 from 10. One of the wounded, school police Officer John Barnes, remained in critical but stable condition Saturday after nearly dying from blood loss, according to police officials.
"This guy ran toward danger. I can't thank him enough," Henry said in an interview. "He's a hero in my book."
A close friend, Capt. James Dale of the Houston Police Department, said Barnes might lose his right arm.
"We want to know exactly what went on in there," Dale said. "All we know is he was the first one in there and he was shot in both arms."
Walter Braun, chief of the Santa Fe Independent School District Police Department, declined to answer questions about the police response to the shooting or whether the department had seen any warning signs from Pagourtzis before the massacre.
"Our officers went in there and did what they could," Braun said at a news conference. "They did what they were trained for, and went in immediately."
Though the school is now believed to be free of explosives, all district schools will remain closed until at least Tuesday as officials sort through the crime scene.
Officers have been bringing in students 10 at a time to gather belongings from parts of the school that were not closed off, Braun said.
With assistance from the Red Cross, officials have set up an assistance center at a local Methodist church where affected families can receive emotional support, community services and food.
"This is the second time in eight months that we've gone through tragedy," Rep. Randy Weber, the area's Republican congressman, said at a news conference, noting Hurricane Harvey's assault on the area last summer.
"We will pull together," Weber said. "We will grieve together, we will love one another, we will work together. We did it after Harvey, still doing it after Harvey. We'll do it after this."
Times staff writers Hennessy-Fiske reported from Santa Fe and Pearce from Los Angeles. Special correspondent Jarvie reported from Atlanta.
Matt Pearce is a national reporter for The Times. Follow him on Twitter at @mattdpearce.
---
UPDATES:
May 20, 8:35 p.m.: This article was updated with a comment from Shana Fisher's friends.
5:15 p.m.: This article was updated with additional details that include the gunman making advances on a classmate, she rebuffing him in class in front of others and he later shooting the girl.
3:55 p.m.: This article was updated with additional details that include the gunman taunting his victims.
This article was originally published at 1:55 p.m.
Sign up for Essential California for the L.A. Times biggest news, features and recommendations in your inbox six days a week.
You may occasionally receive promotional content from the Los Angeles Times.