Dear Kim Jong Un: Sorry, it's just not working out. Trump's breakup letter leaves experts puzzled
Dear Kim Jong Un: It's just not working out between us. Sorry. Hope we don't have to nuke you. Please call.
On Thursday morning, President Trump canceled his upcoming peace summit in Singapore with North Korea's leader with an open letter that veered between sentimentality and threats of nuclear war, leaving experts to puzzle over what will happen next.
"We greatly appreciate your time, patience and effort with respect to our recent negotiations and discussions" about the upcoming meeting, Trump's missive began.
The summit had been scheduled for June 12, but appears to have been derailed as North Korean officials called Vice President Mike Pence a "political dummy" for suggesting North Korea might end up like Libya, whose ruler was overthrown in 2011 and ultimately killed after giving up on developing nuclear weapons.
"We were informed that the meeting was requested by North Korea, but that to us is totally irrelevant," Trump wrote of the summit. The problem, Trump continued, is that Kim's "tremendous anger and open hostility" in a recent statement made a summit "inappropriate."
So: summit canceled. Trump added a dramatic flourish: "You talk about your nuclear capabilities, but ours are so massive and powerful that I pray to God they will never have to be used."
And yet that rattle of the atomic saber was immediately followed by Trump's impression that things were going … well?
"I felt a wonderful dialogue was building up between you and me, and ultimately, it is only that dialogue that matters," Trump wrote, thanking Kim for recently releasing three American prisoners.
"Some day, I look very much forward to meeting you.... If you change your mind having to do with this most important summit, please do not hesitate to call me or write."
The letter didn't win any points for style among North Korea experts after its release.
"It sounds like a 13-year-old's stream of consciousness in a breakup letter sent from overnight camp," Wendy Sherman, a former undersecretary of State for political affairs in the Obama administration, said in an MSNBC appearance.
" 'By the way, call me. I loved you. We loved each other.' ... It is a very strange kind of diplomacy," she said.
Andrea Berger, senior research associate at the James Martin Center for Nonproliferation Studies, called the letter "cringeworthy" and poorly timed, given that foreign journalists, including Americans, were still on a trip to a supposed nuclear site in North Korea when the White House released the letter.
"It's like five or seven tweets put together," Sung-Yoon Lee, a professor of Korean studies at Tufts University, said in an interview. "In some ways it reads like a college rejection letter: 'We appreciate your interest, but we're sorry to inform you....' It's a bit condescending."
However, Lee thought Trump's letter showed maturity in his willingness to walk away from a summit where some experts thought the Trump administration might make more concessions to Kim than it would get in return.
"I have to say, Trump today, for a change, he acted presidential," Lee said. "It was the right move to walk away, because the U.S. really has gained nothing" from engaging in plans for a summit and was walking "into this elaborate trap that Kim had laid for him."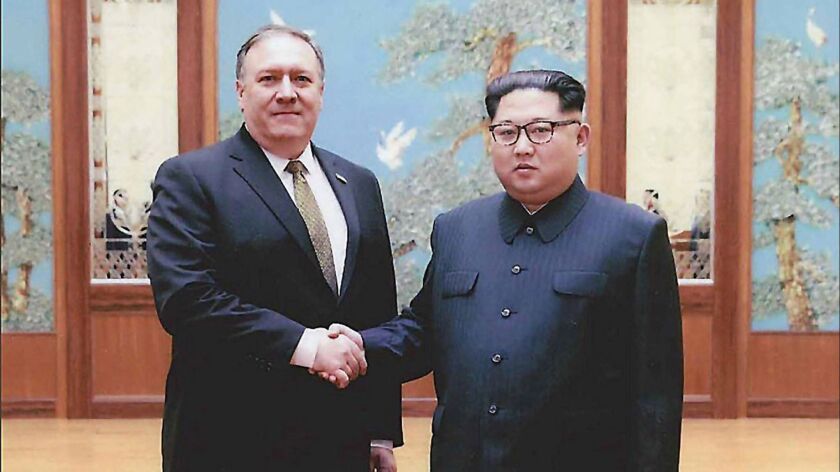 North Korea is typically the side to walk away from diplomatic engagements with the U.S., Lee said. Now, "for the first time ever — I'm totally serious — for the first time in the history [of U.S.-North Korean relations], Trump has set the stage for the North Korean leader to chase the United States."
But North Korea might not be the only ones caught off guard. A spokesman for South Korean President Moon Jae-in issued a statement suggesting that the Moon administration had been surprised by the Trump letter.
"We are trying to grasp what President Trump means exactly," said Kim Eui-kyeom, the spokesman.
Trump's letter was "clearly designed" to show that the United States is not picking a fight and that the door to a meeting is still open, said Duyeon Kim, a visiting senior fellow at the Korean Peninsula Future Forum in Seoul.
It would have been embarrassing for Trump to walk into a summit after Pyongyang insulted Pence, she said.
"A cancellation is unfortunate, but it actually isn't an inappropriate response in the wake of personal insults," she said. "It shows that the U.S. will not tolerate typical North Korean gambits of insults and threats before talks are held and failing to show up for a preparatory meeting."
She said it's likely that Moon will "hustle" to try and bring the two leaders together again. He still needs Washington and Pyongyang to get along for his own agenda: for inter-Korean peace to succeed.
Times staff writer Pearce reported from Los Angeles and special correspondent Stiles from Seoul.
Matt Pearce is a national reporter for The Times. Follow him on Twitter at @mattdpearce.
---
Must-read stories from the L.A. Times
Get the day's top news with our Today's Headlines newsletter, sent every weekday morning.
You may occasionally receive promotional content from the Los Angeles Times.