A secret recording captures the sounds of crying children separated from parents at the border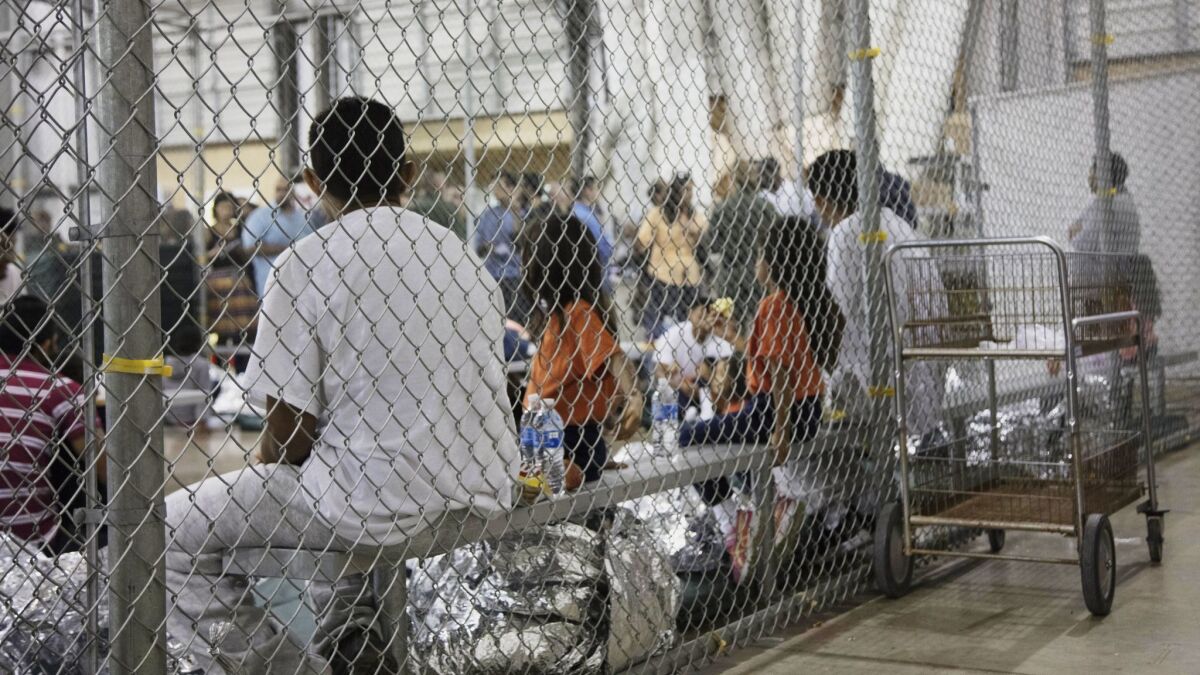 The Washington Post
The practice of separating children from their parents, a result of the Trump administration's new hard-line immigration enforcement policy, has unfolded largely in the dark, separated from the public and restricted to the media.
But on Monday, the nonprofit journalism organization ProPublica published what it said was a recording taken inside one of the facilities run by U.S. Customs and Border Protection where children taken from their parents are housed.
The audio includes the sounds of a chorus of children sobbing and asking for their parents, some in what sounds like significant levels of distress. They call out "Daddy!" and "Mommy!" — in Spanish — repeatedly. Others sob so hard it seems they are gasping for air.
In a country already driven by an emotional debate about immigration, the recording has landed with a thud, joining other reporting, photographs and documentation that have emerged in recent days showing how the hard right turn of federal immigration policy is playing out on a human scale along the border.
More than 2,300 children have been separated from their parents as a result of the Trump administration's decision to charge criminally every person caught crossing the border illegally, drawing criticism from people across the political spectrum.
RELATED: Backlash builds against Trump's policy splitting families at border, as he falsely blames Democrats »
The audio recording contains the sounds of 10 children from Central America who had been separated from their parents on one day last week, ProPublica reported. The children are estimated to be between 4 and 10 years old.
"Well, here we have an orchestra," a Border Patrol agent says in Spanish over the sounds of sobs. "What's missing is a conductor."
One child on the recording, identified by ProPublica as a 6-year-old from El Salvador, asks for help calling her aunt, whose number she has memorized.
"My mommy says I'll go with my aunt and that she'll come to pick me up there as quickly as possible," the girl says.
The Washington Post was not able to independently confirm the authenticity of the audio. Ginger Thompson, the Pulitzer-prize winning reporter and former New York Times bureau chief in Mexico City, who reported the piece, wrote that the audio was provided to her by Jennifer Harbury, a well-known civil rights attorney who has worked on border issues in Texas for decades.
In a brief interview, Harbury told the Post that the audio came from a whistle-blower who had approached her for legal advice. She declined to answer questions about the Customs and Border Protection facility where the audio recording came from, citing the client's privacy needs.
The Department of Homeland Security did not respond to an on-the-record request for comment about the audio recording, although Secretary Kirstjen Nielsen was asked during a briefing Monday about photos and documentation that have emerged in recent days showing some of the effects of the family separations.
"I think that they reflect the focus of those who post such pictures and narratives," Nielsen said. "We don't have a balanced view of what's happening, but what's happening at the border is the border is being overrun by those who have no right to cross it."
Stephen Engelberg, the editor in chief of ProPublica, told the Post that publishing the tape was a "straightforward decision."
"This is a matter of enormous public interest and access to these facilities has been very limited and we felt that people needed to know as much as possible what's going on in there," he said.
Must-read stories from the L.A. Times
Get the day's top news with our Today's Headlines newsletter, sent every weekday morning.
You may occasionally receive promotional content from the Los Angeles Times.