Newsletter: Essential California: Businesses vow to take the lead on fighting climate change
Good morning, and welcome to the Essential California newsletter. It's Friday, Sept. 14, and here's what's happening across California:
TOP STORIES
Industry is the leading contributor to global warming. Yet at the Global Climate Action Summit in San Francisco this week, industry leaders are pledging to take charge and reign in planet-warming emissions. Are these promises merely branding, or do they constitute a meaningful shift? Los Angeles Times
— Pushing the boundaries of what a single state can do. The Atlantic
— Gov. Jerry Brown was hailed as a climate-change hero in San Francisco. Still, protesters demanded that Brown take a stronger stand against the expansion of oil production in California. Many were part of a group that has challenged Brown throughout the year for what they see as having too close a relationship with the oil industry. Los Angeles Times
— Climate scientists warn that global emissions need to peak by 2020 if the planet is to dodge catastrophic warming. At the summit Thursday, 27 cities announced they have already met that goal, and their emissions are on the decline even as their economies are growing. Los Angeles Times
— A conservative view: California is going to pay a price for this. Wall Street Journal
A mystery
In 2010, the coroner needed dental records to identify Lorenzen Wright, whom the Clippers had picked in the first round of the 1996 NBA draft. Five gunshot wounds were visible in the withered corpse. Two in the head. Two in the torso. One in the right forearm. The killing remained unsolved, but by last December a long-dormant police investigation had taken on new life. And a task force of federal marshals and Riverside County sheriff's deputies was tracking a Cadillac on the 15 Freeway near Norco. Los Angeles Times
The red zone
Bird has asked riders not to park or ride their newly ubiquitous rental scooters at more than 40 locations across Los Angeles County. The restricted zones, sometimes called "no-ride zones" or "no-go zones," are shown in the Bird app's interactive map as translucent red squares. Los Angeles Times
Get the Essential California newsletter »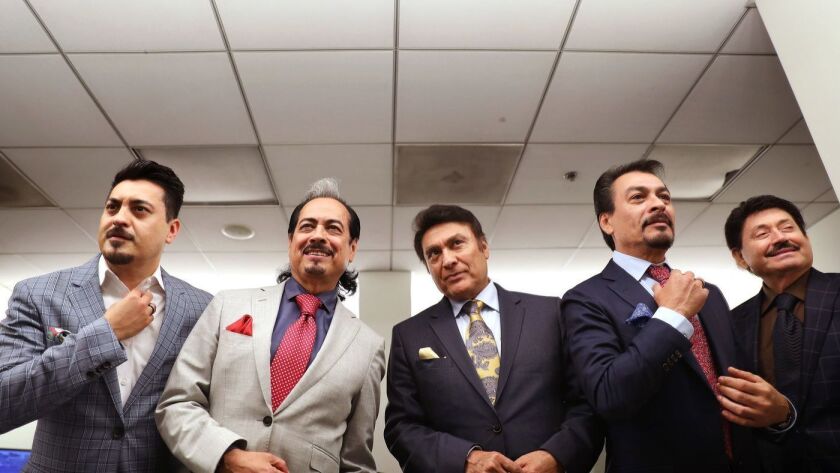 L.A. STORIES
Crossroads Hollywood: The latest mega-development for Hollywood is moving forward. Los Angeles Times
Milestone: On Saturday, Los Tigres del Norte will become the first norteño act to play at the Hollywood Bowl. Los Angeles Times
Defaced: A pristine pink wall that attracts hundreds of selfie-snapping visitors to a corner of Melrose Avenue every day became somewhat less Instagramable after vandals spray-painted an obscenity on the structure. Los Angeles Times
Feeling blue: Why the Dodgers are reaching the depths of baseball, and earning comparisons to the Mets. Wall Street Journal
Uphill fight: The struggle to renovate the once-thriving Irvine Lake. Orange County Register
Drink to this: Can L.A. become California's next wine country? These women are trying to make it happen. Los Angeles Daily News
CALIFORNIA FIRES
Delta fire update: California's latest monster fire destroyed 17 homes. Record Searchlight
Fanning the flames: Amid the devastation in Santa Rosa, a call from officials to address fossil fuels, which they say is a cause of wildfires. Press Democrat
CRIME AND COURTS
Not happening: Gov. Brown has vetoed a bill that would have set mandatory minimum penalties for California pot shops that sell to minors, including revocation of the state license for a third violation in three years. Los Angeles Times
Bring the popcorn: The ugly legal battle over Warren Beatty's flop "Rules Don't Apply" might be more interesting than the movie itself. Variety
POLITICS AND GOVERNMENT
Under review: A letter reportedly alleging a decades-old incident involving Brett Kavanaugh has been referred to the FBI for review, according to two Democrats on the Senate Judiciary Committee that is considering President Trump's nominee for the Supreme Court. The letter originally was given to Sen. Dianne Feinstein (D-Calif.), the senior Democrat on the committee. She declined to release it publicly, and its details remain unclear. It's the latest drama involving Feinstein and the hearings as she battles for reelection. Los Angeles Times
Key endorsement: Former Secretary of State Condoleezza Rice endorsed Republican John Cox for California governor on Thursday, saying he has the vision to address the state's most vexing problems. Los Angeles Times
— Gavin Newsom, meanwhile, is acting like he doesn't have an opponent. Sacramento Bee
Perspective: Californians like to say they are ahead of the curve. But how much is the Golden State really a role model? New York Times
Changing times: It might sound outlandish. But some Democrats hope former President Barack Obama can help turn Orange County blue. The New Yorker
On the move: The San Fernando Valley is about to get a significant bus boost. Curbed Los Angeles
CALIFORNIA CULTURE
Not what they expected: The post-Les Moonves CBS is taking shape, for better and worse. Los Angeles Times
A familiar punching bag: When Sen. Ted Cruz said, "they want us to be just like California, right down to tofu and silicon and dyed hair," it was part of a larger assault by GOP candidates. Politico
Sounds familiar: In Silicon Valley and beyond, a new push to use technology for social change. Will it be different this time? The New Yorker
Yikes: Tech workers say they are delaying having kids because of soaring housing costs. Mercury News
Yellow tag alert: San Francisco is threatening serious action against owners of the infamous leaning skyscraper. San Francisco Chronicle
Did you know … ? How In-n-Out was a fast-food technical innovator. SF Gate
CALIFORNIA ALMANAC
Los Angeles area: sunny, 88, Friday; sunny, 83, Saturday. San Diego: sunny, 81, Friday; sunny, 78, Saturday. San Francisco area: partly cloudy, 65, Friday; sunny, 63, Saturday. San Jose: partly cloudy, 73, Friday; partly cloudy, 71, Saturday. Sacramento: mostly sunny, 81, Friday; sunny, 78, Saturday. More weather is here.
AND FINALLY
Today's California memory comes from John T. (Tom) Dunn:
"I arrived in Santa Maria as a 9-year old in 1960. The backyard of our tract home opened on a sandy field with pine trees and eucalyptus lining old Highway 101, which was only two lanes there and ran through the center of town. The slight hill in the back of the house was planted in ice plant, and potato bugs and horny toads left their distinctive tracks across the sand beyond the ice plant. To me it was magic to be eight miles inland with frequent fog; it felt like we were living on the beach."
If you have a memory or story about the Golden State, share it with us. Send us an email to let us know what you love or fondly remember about our state. (Please keep your story to 100 words.)
Please let us know what we can do to make this newsletter more useful to you. Send comments, complaints and ideas to Benjamin Oreskes and Shelby Grad. Also follow them on Twitter @boreskes and @shelbygrad.
---