Somebody sprayed graffiti on that wildly popular pink selfie wall off Melrose Avenue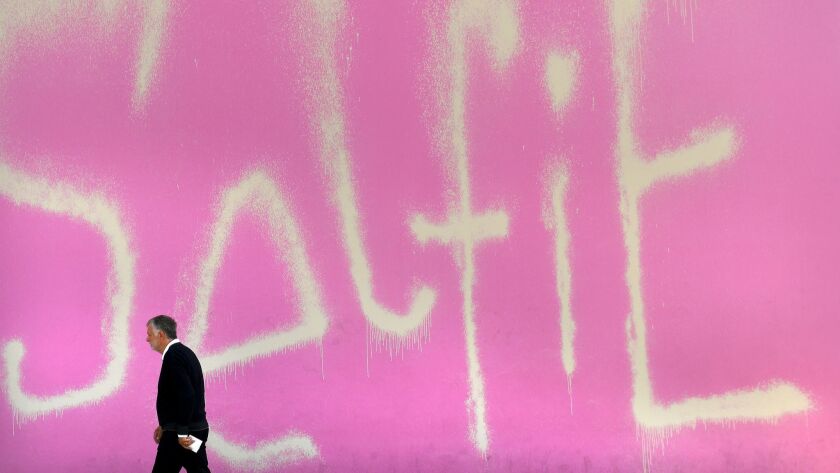 A pristine pink wall that attracts hundreds of selfie-snapping visitors to a corner of Melrose Avenue every day was somewhat less Instagramable on Wednesday after vandals spray-painted an obscenity on the structure.
The wall, which belongs to the high-end clothing store Paul Smith, was tagged with the words "Go [expletive] ur selfie" and "thrash" in enormous white letters. The Pepto-Bismol colored wall at the corner of Melrose and North Harper Avenue has become a bucket-list item of sorts for L.A. tourists and serves as a major draw for Paul Smith and surrounding businesses.
Although social media lit up with comments about the vandalism Wednesday morning, Paul Smith has not filed a police report.
"It's not good publicity for us," said store associate Gregory Lusane. It was unclear when the graffiti would be painted over.
The vandalism is not being investigated by the Los Angeles Police Department, officials said Wednesday morning.
"If they don't make a report, we don't touch it," an LAPD officer said.
An employee for Carrera Cafe, a coffee shop across the street that has windows facing the pink wall, said she saw the graffiti as early as 7:30 a.m. when she opened up shop. There was chatter among patrons about the vandalism, but not much activity, she said.
Passersby found the graffiti amusing. One Twitter user seemed to celebrate the vandalism, saying the wall increases local traffic.
"Whoever defaced the #pinkwall is the hero #WeHo needs but not the one it deserves," wrote one Twitter user.
Email Reyes-Velarde at alejandra.reyesvelarde@latimes.com or tweet her at @r_valejandra.
---
The stories shaping California
Get up to speed with our Essential California newsletter, sent six days a week.
You may occasionally receive promotional content from the Los Angeles Times.