Not the fall CBS expected: 'Murphy Brown' returns as Les Moonves exits
Television Critic
It's no coincidence we're witnessing the fall of CBS Chief Executive Les Moonves and the resurrection of the network's groundbreaking "Murphy Brown" in the same month.
Moonves, who exited the company on Sunday amid a flood of sexual misconduct allegations, took with him a reputation for championing two decades' worth of macho series starring white, male leads. His reign had effectively reversed CBS' long history of shows that broke gender and color barriers — "The Mary Tyler Moore Show," "Maude," "Good Times."
"Designing Women" creator Linda Bloodworth Thomason, who was a network favorite through the early 1990s, said her fortunes at the network reversed with Moonves' arrival. "He especially hated 'Designing Women' and their loud-mouthed speeches," she wrote in a column after the Moonves news broke. "People asked me for years, 'Where have you been? What happened to you?' Les Moonves happened to me."
Moonves did green-light the "Murphy Brown" reboot before he exited, so there was a sea-change happening at the network, but it was likely due to the pressure CBS was getting as the last major network to diversify its lineup. At this time last year, CBS was under fire about the casting of its six new fall shows — just one, "S.W.A.T.," featured a minority lead. None featured a woman in a leading role.
The resurrection of "Murphy Brown," along with a slate of diverse new shows, was supposed to represent a significant reversal for CBS — a sharp departure from the usual Moonves formula.
Back to the future
"Murphy Brown" challenged stereotypes back in the day as a mom who had her son out of wedlock. In the reboot, Murphy is returning to today's world of journalism: cable news networks, fake news, YouTube and social media, so expect plenty of jokes about alternate truths and reporters as enemies of the state. Recurring characters include Corky Sherwood (Faith Ford), and the show's creator, Diane English, returns as a writer and executive producer.
"Murphy Brown" isn't the only show signaling change at CBS.
The hour-long drama "God Friended Me" follows podcast host Miles Finer (Brandon Micheal Hall), the son of respected Harlem preacher the Rev. Reverend Arthur Finer (Joe Morton). He's also a die-hard atheist. But Miles begins to question his own beliefs and purpose when he's friended by God on Facebook. Spiritual uplift ensues.
"Happy Together" with Damon Wayans Jr., Amber Stevens West, Felix Mallard and Chris Parnell is a comedy about a white British pop star (think Harry Styles of "One Direction," who is an executive producer), moving in with his black agent's family. 24/7 culture clash.
CBS' reboot of "Magnum P.I." now stars Jay Hernandez, a fourth-generation Mexican American actor who does not sport a Tom Selleck mustache.
"FBI," from Dick Wolf of the "Law & Order" franchise, is a procedural starring Missy Peregrym and Zeeko Zaki as unconventional New York agents working with "mind-blowing" technology to keep the city safe.
Gentrification, meanwhile, is satirized in "The Neighborhood," a comedy starring Cedric the Entertainer that looks at what happens when a white family moves into a historically black Los Angeles neighborhood. Created by "Big Bang" writer Jim Reynolds and based on his own experience, the show co-starring Max Greenfield and Tichina Arnold explores and then lampoons racial tension and stereotypes through the neighbors' preconceptions of one another, and their awkward interactions.
"The Neighborhood," also, is a microcosm of where television is now — some networks, like some people, are just more evolved.
Growing pains
Hollywood's efforts, or at least lip service, toward diversifying its productions and shows is hardly breaking news at this point. Even so, the fact that CBS finally flipped the switch should not only be making news, but should be an element that executives would be eager to highlight.
That narrative, however, has been eclipsed by the off-screen Moonves drama.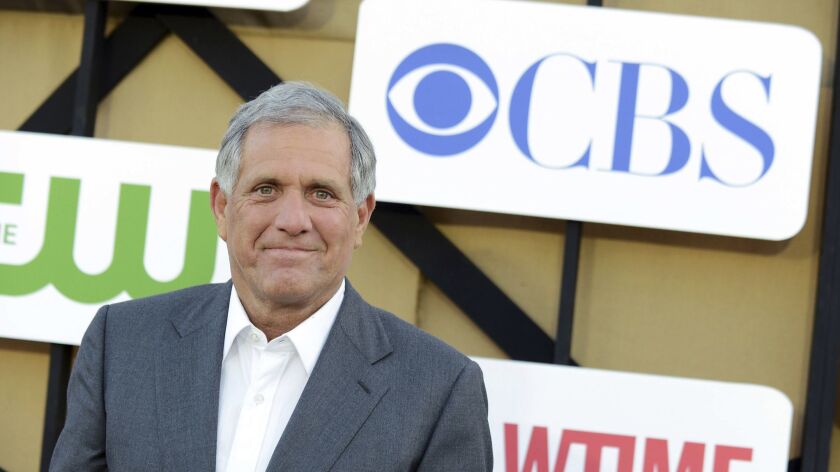 RELATED: CEO Leslie Moonves exits CBS without severance package; company says $20 million will be donated to women's groups »
The ousted exec, who has denied accusations of assault and wrongdoing, was one of the media's highest-paid CEOs. CBS said it and Moonves will donate $20 million to organizations that support the #MeToo movement and other groups fighting for workplace equity.
Although CBS and the industry as a whole are being pushed toward a more equitable world in its fictional programming, the Moonves news revealed the reality behind the camera is one of an industry that doesn't practice what it preaches.
It's the sort of hypocrisy that makes for great comedy, and the #MeToo movement is low-hanging fruit for "Murphy Brown." We'll likely get plenty of jokes throughout the season inspired by the fall of moguls like Moonves and "60 Minutes" executive producer Jeff Fager, who also stepped down this week after misconduct allegations.
The fun in the original "Murphy Brown" was watching Candace Bergen as an outspoken female journalist making mincemeat of bullies like the Moonves described by Bloodworth.
And lucky for the new "Murphy Brown" (but not the women who work for them), 20th century sexists are still part of 21st century office life.
The steps CBS is taking toward updating an old model are indicative of growing pains across all networks. The platforms, like the audience, keep changing, and those shifts seem to be happening at warp speed compared to when "Knots Landing" landed in the 1979.
For example, some of this fall's more promising comedies across all networks feature casts well over 70.
Netflix's "The Kominsky Method" stars Michael Douglas and Alan Arkin as a Hollywood actor and agent, respectively, who are trying to stay relevant and working in a city that worships youth and beauty. The comedy series comes from Chuck Lorre of "The Big Bang Theory" and "Two and a Half Men."
Fox's "Cool Kids" is another example of the Centrum Silver crowd stealing the show. The sitcom stars David Alan Grier, Martin Mull, Vicki Lawrence and Leslie Jordan. They reside in a retirement community with a social pecking order not all that different from the one in high school. There are cool kids and followers, but hilarity ensues when a new arrival topples the social pyramid.
In short, veteran newswoman "Murphy Brown" isn't the only old kid on the block.
And no doubt all the aforementioned shows and their 70-something actors will riff mercilessly about technology, culturally-sensitive labels and all the hashtag movements that have replaced the civil rights marches and Vietnam protests of their youth.
Progress is hard, both on and offscreen. Luckily we have an enlightened series that debuted back in 1989 to guide the way.
---
UPDATES:
Sept. 13, 12:45 a.m.: This article has been updated to incorporate additional developments at CBS following the exit of CEO Les Moonves, including the firing of Jeff Fager, executive producer of "60 Minutes." The story was originally published Sept. 12 at 4:40 a.m.
---
The complete guide to home viewing
Get Screen Gab for weekly recommendations, analysis, interviews and irreverent discussion of the TV and streaming movies everyone's talking about.
You may occasionally receive promotional content from the Los Angeles Times.