Editorial: America clearly has a long way to go to reach Martin Luther King Jr.'s promised land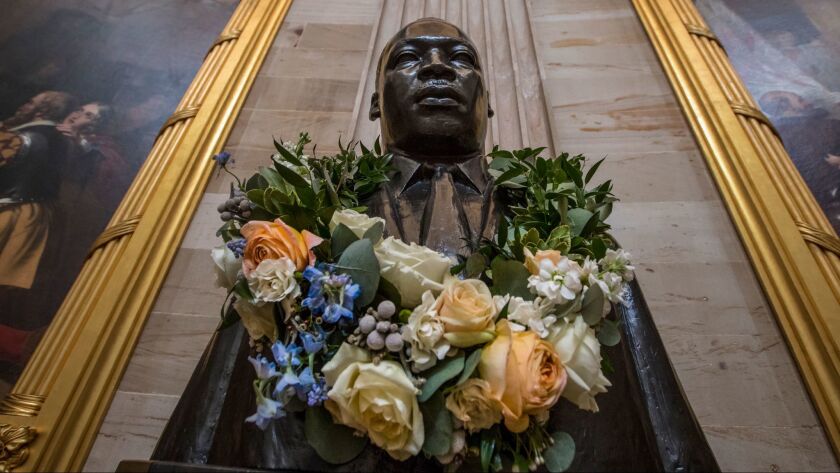 Nearly 50 years ago, the Rev. Martin Luther King Jr. went to the mountaintop and looked out over the promised land. In a powerful and prophetic speech on April 3, 1968, he told a crowd at the Mason Temple in Memphis that while there would certainly be difficult days ahead, he had no doubt that the struggle for racial justice would be successful.
"I may not get there with you," he said. "But I want you to know tonight, that we, as a people, will get to the promised land. And so I am happy tonight. I'm not worried about anything. I'm not fearing any man."
The following day, he was assassinated.
The intervening years have been full of steps forward and steps backward, of extraordinary changes as well as awful reminders of what has not changed. What would King have made of our first black president? What would he have thought had he seen neo-Nazis marching through the streets of Charlottesville, Va., so many years after his death? How would he have viewed the shooting by police of unarmed black men in cities around the country — or the rise of the Black Lives Matter movement? He would surely have heard the assertions that we have become a "post-racial" society because we elected (and reelected) Barack Obama. But would he have believed it?
This past year was not terribly heartening on the civil rights front.
This past year was not terribly heartening on the civil rights front. It was appalling enough that racist white nationalists marched in Charlottesville in August. But it was even more shocking that President Trump seemed incapable of making the most basic moral judgment about that march, saying that there were some "very fine people" at the rally of neo-Nazis and white supremacists.
Racial injustices that bedeviled the country in King's day — voter suppression, segregated schools, hate crimes — have not gone away. A report released last week by the U.S. Commission on Civil Rights on inequities in the funding of public schools concludes — and this should surprise no one — that students of color living in poor, segregated neighborhoods are often relegated to low-quality schools simply due to where they live.
States continued in 2017 to pass laws that make it harder, rather than easier, for people of color to vote.
The Trump administration also seems determined to undo two decades of Justice Department civil rights work, cutting back on investigations into the excessive use of force and racial bias by police departments. Atty. Gen. Jeff Sessions in March ordered a review of all existing federal consent decrees with local police departments with the possibility of dismantling them — a move that could set back police reform by many years. Justice Department officials tried — unsuccessfully — to scuttle a consent decree recommended for the Baltimore police department in the wake of the 2015 death of Freddie Gray, a black man, as he was transported in police custody.
Here in Los Angeles County, this statistic is telling: 40% of the estimated 57,000 homeless people — the most desperate and destitute residents of the county — are black. Yet black residents make up only 9% of the L.A. County population.
But despite bad news on several fronts, what have been heartening over the last year are the objections raised by so many people across the country.
Consider the statues of Confederate generals and slave owners that were brought down across the country. Schools and other institutions rebranded buildings that were formerly named after racists.
The Black Lives Matter movement has grown from a small street and cyber-protest group into a more potent civil rights organization focusing on changing institutions that have traditionally marginalized black people.
When football quarterback Colin Kaepernick took a knee during the national anthem to protest, as he said, a country that oppresses black people, he was denounced by many (including Trump) but emulated by others. Kaepernick has been effectively banished from professional football but he started a movement.
Roy Moore was defeated for a Senate seat in Alabama by a surge of black voters, particularly black women. (But no sooner did he lose than Joe Arpaio — the disgraced, vehemently anti-immigrant former Arizona sheriff — announced that he is running for Senate there.)
So on what would have been King's 89th birthday, it is clear that the United States is not yet the promised land he envisioned in the last great speech of his life. But we agree with him that it's still possible to get there.
Follow the Opinion section on Twitter @latimesopinion or Facebook
---
A cure for the common opinion
Get thought-provoking perspectives with our weekly newsletter.
You may occasionally receive promotional content from the Los Angeles Times.