Op-Ed: H&M's woes mean fast fashion is getting worse, not better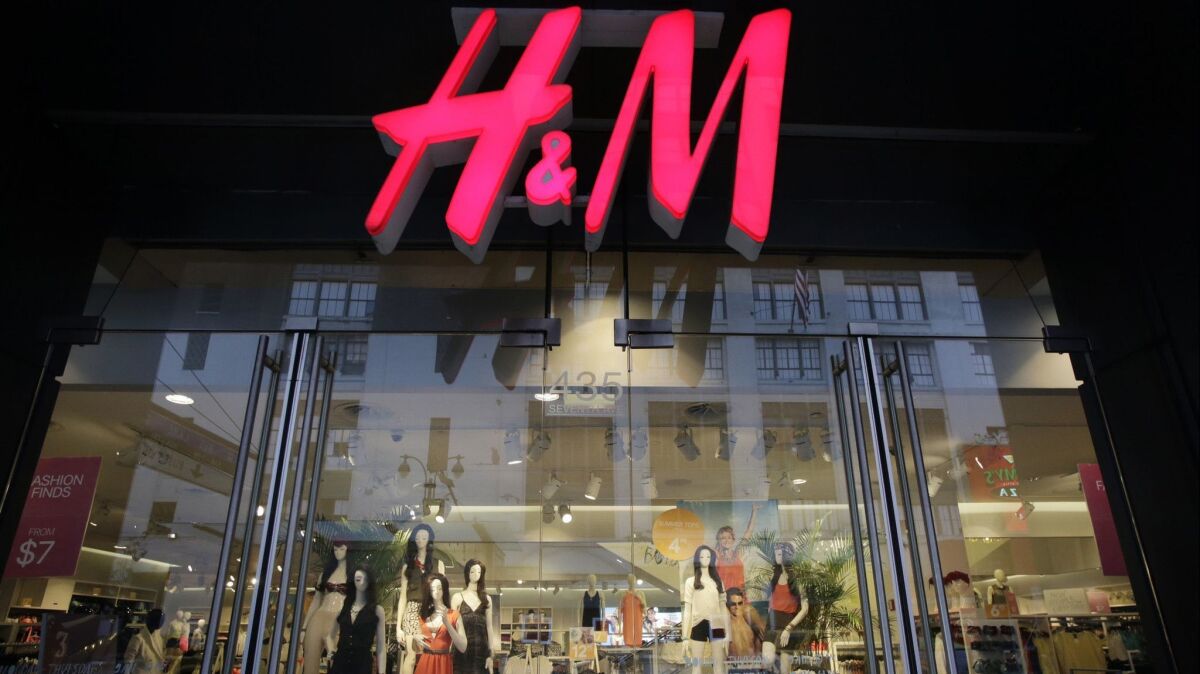 Fast fashion giant H&M has lost its luster. Its stock price dropped more than 40% in the last six months. It will close 170 stores this year, more than it has in two decades. It suffered a string of PR missteps, including launching an ad campaign viewed as racist and getting caught incinerating tons of leftover goods. Then last week the news broke that the company is sitting on a staggering $4.3 billion in unsold apparel.
The internet is flooded with schadenfreude over H&M's woes, and proponents of a more sustainable fashion industry are projecting victory into the chain's decline. But do H&M's troubles reflect the fact that shoppers are buying fewer pre-ripped jeans or jumping ship for more ethical and sustainable clothing brands?
Hardly. The chain is becoming irrelevant because warp-speed, low-priced clothing is now ubiquitous and sales have moved online. H&M, the founder of fast fashion, is now too slow.
Cheap fashion lovers are instead buying from digitally savvy, 21st-century-born chains like Boohoo, Missguided, and Asos. Another universe of smaller trendy brands and wholesalers revolves around eBay and Instagram, and young shoppers know how to find them. Then there's Amazon.com, which, having already rewritten the e-commerce rules on price and speed, will become America's largest clothing retailer, surpassing Macy's.
Books on minimalism and living on less keep popping up on national bestseller lists. Millennials are supposedly a generation of conscious shoppers. We want to believe that American consumer culture has turned a corner and that we are shopping more modestly and responsibly. Yet fast fashion is as popular as ever.
H&M, the founder of fast fashion, is now too slow.
Clothing purchases dipped during the Great Recession, but by 2015 U.S. shoppers had returned to almost pre-recession peak. That year we bought on average more than 68 garments and eight pairs of shoes — more than any other nation. (The average price? Just $19.) Retail industry analysts lament that this number of purchases isn't growing, but perhaps we have nowhere left to stuff another sweater. Our closets, charity shops and landfills are overflowing with last season's fads.
Meanwhile, a record number of apparel retailers — such as Macy's, J.C. Penney and teen brands Aéropostale and The Limited — were forced to close locations or file bankruptcy last year. These older chains have been battered by the decline of malls and the rise of online shopping, to be sure. But they also represent a dying mid-market. There's no longer a place for a retailer trying to sell a reasonable amount of clothes at healthy margins.
Fast fashion continues to warp our shopping culture too. We're increasingly willing to disregard the quality of an article of clothing if we're getting a deal. According to research firm NPD, two-thirds of consumers shop at off-price outlets. While the rest of retail suffers, brands like T.J. Maxx, Ross and Marshalls have grown. (H&M's response to these market dynamics is to launch an even cheaper off-price brand.)
Overconsumption of cheap clothes has devastating effects on the global environment and millions of workers in the supply chain, effects that are only intensifying. The fashion industry is now a leading driver of climate change. In 2015, greenhouse gas emissions from global textile production outstripped those of all international flights. And clothing waste generated in the United States has doubled in 15 years.
In Bangladesh, five years after the notorious factory collapse that killed 1,130 people, new research shows that in many ways things have gotten worse for garment workers too. While safety is improving, real wages are in decline and forced overtime is on the rise according to the report by Penn State's Center for Global Workers' Rights. Factories are under increasing pressure by brands to speed up production and lower prices.
Though H&M is still synonymous with fast fashion, it is actually among the least bad of the major fashion companies. It nears the top of most rankings on worker rights and sustainability issues. One advantage for activists has been that H&M's huge brick-and-mortar empire made their efforts to hold it accountable on labor and environmental issues highly visible. As fast fashion moves online, bad actors will become harder to pin down and bad behavior more hidden from view.
Don't be fooled into thinking that if H&M fails, fast fashion will soon follow. The fashion industry isn't slowing down. Alas, it's still speeding up and its toll on workers and the environment grows by the day.
Elizabeth L. Cline is the New York-based author of "Overdressed: The Shockingly High Cost of Cheap Fashion."
Follow the Opinion section on Twitter @latimesopinionand Facebook
Our six-week newsletter will help you make the right decision for you and your property.
You may occasionally receive promotional content from the Los Angeles Times.