Bankruptcy judge hits Michael Avenatti's firm with restraining order to freeze legal fees in 54 cases
A federal bankruptcy judge issued a restraining order late Wednesday to block the firm of Michael Avenatti, the lawyer for porn star Stormy Daniels, from spending any fees it collects while it owes more than $10 million in unpaid debts and back taxes.
The move by Judge Catherine Bauer of U.S. Bankruptcy Court in Santa Ana was a severe blow to Avenatti, whose personal financial troubles have deepened as his star has risen on cable news.
"I don't want him going out and buying a new house," Bauer said at a court hearing a few hours before she signed the restraining order.
Bauer's order covers fees from 54 court cases, including the suit that Daniels filed against President Trump to void the nondisclosure pact that bars her from talking about their alleged 2006 sexual encounter.
Daniels, whose real name is Stephanie Clifford, has set up a crowdfunding account to cover her legal bills and other costs stemming from the Trump case. It's unclear whether Avenatti has received any of the $582,000 in donations that she has collected.
His Newport Beach firm, Eagan Avenatti, emerged from Chapter 11 bankruptcy protection in March after reaching agreements to pay its creditors.
But Avenatti soon broke his promise that the firm would meet a May deadline to pay the Internal Revenue Service $440,291 in back taxes, penalties and interest. The firm also missed a $2-million payment, personally guaranteed by Avenatti, to Jason Frank, a lawyer who used to work there. As a result, Frank won a $10-million judgment against Eagan Avenatti.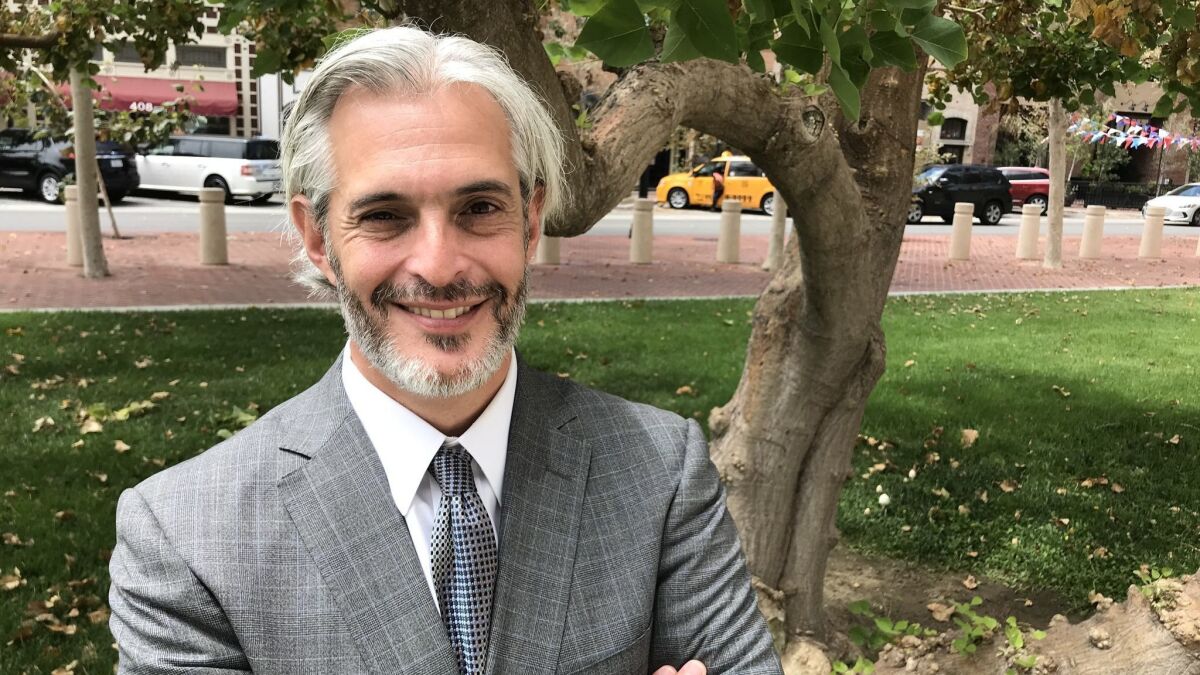 Frank says the firm cheated him out of more than $15 million in pay. Avenatti denies the charge.
Hamid Rafatjoo, an attorney for Avenatti, urged Bauer on Wednesday to deny Frank's request for the restraining order.
"Yes, he has not been paid, but a secured creditor has ways of getting paid that are short of destroying" Avenatti's firm, Rafatjoo said. "There is ways of doing things that are proper for recovering your money, and then there is personal vendettas and taking actions that are frankly just unnecessary."
Rafatjoo also asked the judge to reject Frank's request that all legal fees collected by the firm in the 54 cases be automatically transferred to Frank until the full $10-million judgment is paid.
Bauer declined to order any automatic transfers to Frank.
"We fully support the order," Avenatti said in an email, "and are pleased the court agreed with us as opposed to Mr. Frank. This is what we wanted."
Frank's lawyer, Sara Chenetz, told the judge that Avenatti would find ways to dodge paying Eagan Avenatti's creditors in the absence of a restraining order. The day after the bankruptcy case was settled, Chenetz told the judge, he started practicing law under the name Avenatti and Associates rather than Eagan Avenatti.
Avenatti and Associates, owned entirely by Avenatti, holds 75% of the equity in Eagan Avenatti; the remaining share belongs to San Francisco lawyer Michael Eagan.
At the hearing, Bauer voiced concerns that Avenatti would find ways to collect legal fees without moving the money through Eagan Avenatti, thus evading obligations to the firm's creditors. "Maybe he's tried to make it complex on purpose for years," she said.
The restraining order requires the firm to notify the IRS, Frank and other creditors every time legal fees are received in any of the 54 court cases, regardless of whether the payments are made to Eagan Avenatti, Avenatti and Associates, Avenatti or Eagan personally, or any entity under their control.
Frank lawyer Eric George said the order would "enable us to keep track of every dollar Michael Avenatti and his firm receives in the future so we will be able to fully collect our $10-million judgment."
Twitter: @finneganLAT
---
UPDATES:
11:55 p.m.: This article was updated to add the judge's rejection of Jason Frank's request for automatic diversion of Eagen Avenatti's legal fees, along with clarification on the restraining order.
This article was originally published at 8:10 p.m.
Life is stressful. Our weekly mental wellness newsletter can help.
You may occasionally receive promotional content from the Los Angeles Times.