Can Trump cut budget deal with 'Chuck and Nancy' to fund his border wall?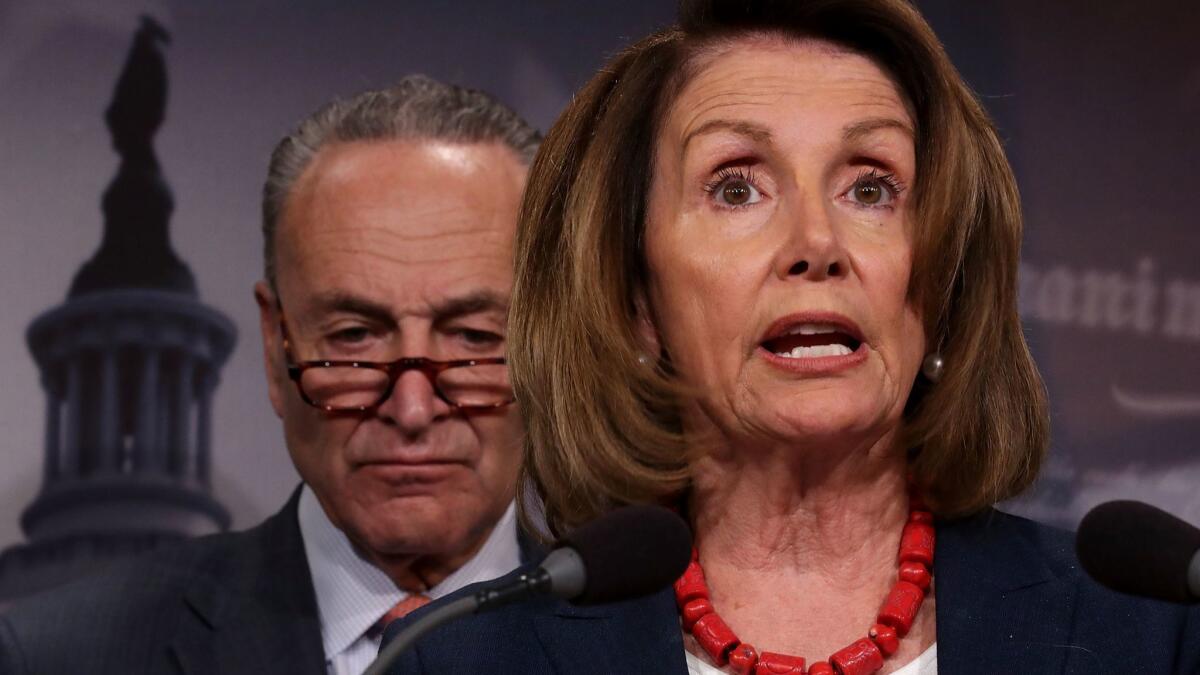 Reporting from Washington —
Sen. Charles E. Schumer (D-N.Y.) and House Minority Leader Nancy Pelosi (D-San Francisco) will meet with President Trump at the White House on Tuesday, the kickoff of up to 10 days of political posturing and negotiations over whether the president's border wall should be funded as part of a year-end spending bill that needs to pass by Dec. 21.
The bill, which funds a portion of the government, represents Trump's last chance to get taxpayer funding for the border wall while the House and Senate are both controlled by Republicans. Trump campaigned heavily on the issue, though he originally promised Mexico would pay for the wall.
Schumer and Pelosi, the top two Democrats in Congress, say there is no way their members will support funding for the wall, especially after flipping 40 House seats in last month's midterm election.
If they can't come to an agreement, a portion of the government could shut down Dec. 22, just days before Christmas. The deadline, originally set to Dec. 7, was pushed back two weeks following the death of former President George H.W. Bush.
Democrats have put two offers on the table, neither of which has wall funding: $1.6 billion in "fencing" along the southern border or a continuation of last year's spending levels for the Department of Homeland Security, about $1.3 billion.
The $1.6 billion that Democrats are proposing is the same amount already approved by the Senate. The House version of the spending bill would provide $5 billion for the wall.
Democrats act as though they have little to lose. They're pinning responsibility to fund the government on the GOP, which currently controls both chambers of Congress and the White House.
"If President Trump wants to throw a temper tantrum and shut down the government over Christmas over the wall, that's his decision," Schumer said last week in the Capitol.
Trump has been uncharacteristically silent in public about the prospects of a holiday funding deal or shutdown. Nor has he tried in recent days to shore up support among his base for the need to include border wall funding in the spending bill, as might be expected if he were considering a partial shutdown over the issue.
His GOP allies in Congress acknowledge that he has a lot at stake and are awaiting his cues.
John Cornyn, the No. 2 Republican in the Senate, said lawmakers could approve funding at last year's levels in order to avoid the border wall dispute, but they still aren't clear whether Trump would sign it.
"Will the president accept that?" the Texas senator said. "It would represent a failure of what he has asked for, which is more money for border security. And so it would surprise me if he would somehow all of a sudden accept that."
Republicans had hoped they could get some Democratic support by pairing the wall with something Democrats want: long-term security for immigrants brought to the country illegally who grew up in the United States, also known as "Dreamers."
But even Pelosi — an advocate for Dreamers — shot down that idea last week. "They're two different subjects," she said at a news conference Thursday.
Trump and Democrats have a slim record of working together. In September of last year, the president undercut his GOP allies on Capitol Hill by striking a deal with "Chuck and Nancy" to raise the country's debt limit.
But days later, another attempt at a deal fell apart. Schumer and Pelosi left a White House meeting declaring they had an agreement with the president to extend protections to Dreamers and fund border security, not including the wall. But by the next morning, the president said no deal had been agreed to.
A few months later, Schumer and Pelosi bailed on a scheduled meeting with the president to discuss a government funding bill because he'd tweeted earlier that day that he didn't see a possible deal.
That history has made Democrats deeply skeptical of cutting deals with Trump, which could undermine Tuesday's meeting at the White House. It is the first time the trio have met in a year.
Tuesday's meeting could be a harbinger of how Washington may operate for the next two years, when Trump will need House Democrats to get any legislative priority through Congress. For Pelosi, the meeting could serve as the first opportunity to prove to her newly elected colleagues how she will represent them in negotiations with the president if she wins the speaker's gavel in January, as expected.
Top Republicans in Congress had put off a battle over Trump's border wall until after the 2018 midterm elections. But now, the spending bill is the president's last shot to get Congress to pay for the wall before Democrats take over the House next year.
GOP lawmakers in both the House and Senate have introduced legislation to give Trump the full $25 billion he is seeking for the wall, but it has not been brought up for a vote and has little chance of being passed.
Republicans say the decision of whether to shut down the government rests with Democrats.
"The number is $5 billion," House Majority Whip Steve Scalise said Monday morning on "Fox and Friends." "If there is a better way to get there than what the president has laid out, then [Democrats] need to come with an alternative."
"From my view of the negotiation, they're holding this up right now," said Alabama Sen. Richard C. Shelby, the top Republican on the Senate Appropriations Committee.
Shelby said he and Senate Majority Leader Mitch McConnell hope to meet with the president again after he meets with the Democratic leaders.
But even some Republicans acknowledge that Trump needs to decide how badly he wants the border wall — and if he is willing to shut down the government to do so.
"It doesn't matter how much appetite there is for a shutdown [in Congress], if he is willing to have a shutdown over this issue," Sen. Roy Blunt (R-Mo.) said. "And he's given every indication that he would."
jennifer.haberkorn@latimes.com
Twitter: @jenhab
Get our Essential Politics newsletter
The latest news, analysis and insights from our politics team.
You may occasionally receive promotional content from the Los Angeles Times.