Beaten and raped in El Salvador, a domestic violence survivor finds little hope for asylum in U.S.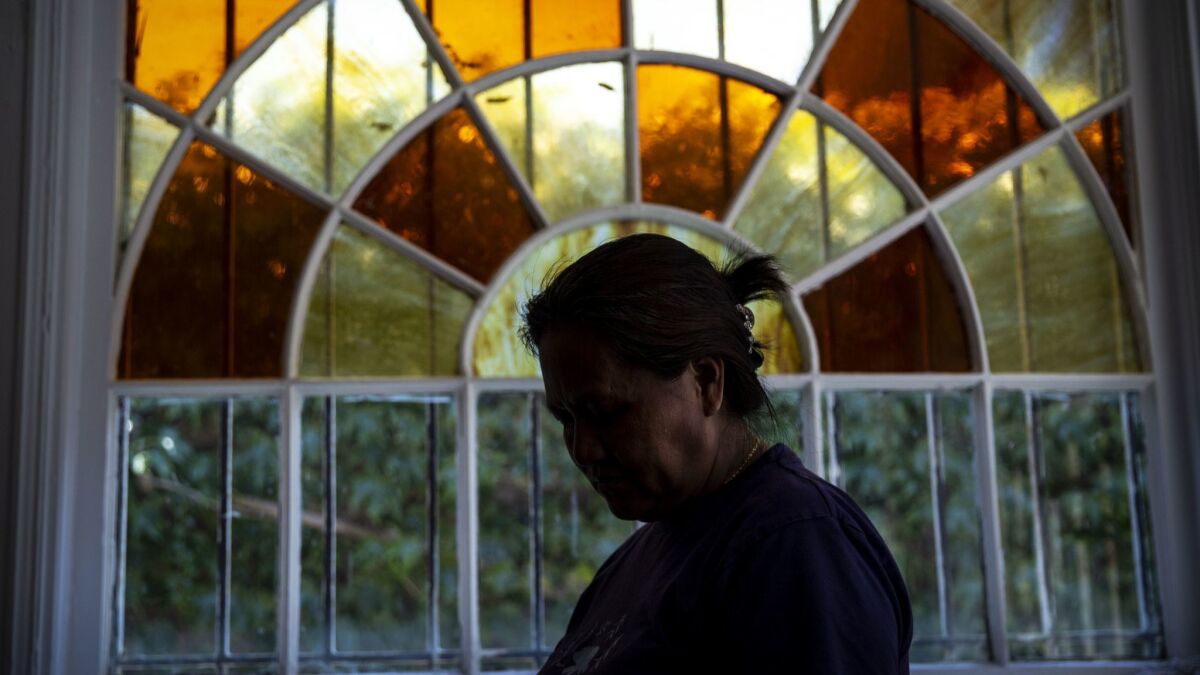 Reporting from Washington —
Xiomara started dating him when she was 17. He was different then, not yet the man who pushed drugs and ran with a gang. Not the man who she says berated and raped her, who roused her out of bed some mornings only to beat her.
Not the man who choked her with an electrical cord, or put a gun to her head while she screamed, then begged, "'Please, please don't kill me — I love you.'"
Fleeing El Salvador with their daughter, then 4, the 23-year-old mother pleaded for help at a port of entry in El Paso on a chilly day in December 2016.
After nearly two years, her petition for asylum remains caught in a backlog of more than 310,000 other claims. But while she has waited for a ruling, her chance of success has plunged.
Atty. Gen. Jeff Sessions in June issued a decision meant to block most victims of domestic abuse and gang violence from winning asylum, saying that "private criminal acts" generally are not grounds to seek refuge in the U.S. Already, that ruling has narrowed the path for legal refuge for tens of thousands of people attempting to flee strife and poverty in El Salvador, Honduras and Guatemala.
"You can tell there is something happening," said longtime immigration attorney Carlos A. Garcia, who in mid-July spoke to more than 70 women in one cell block at a family detention center in Texas. Most had received denials of their claims that they have what the law deems a "credible fear of persecution."
"More than I've ever seen before," he said.
In North Carolina, where federal immigration agents sparked criticism last month when they arrested two domestic-violence survivors at a courthouse, some immigration judges are refusing to hear any asylum claims based on allegations of domestic abuse. Other immigration judges are asking for more detailed evidence of abuse at the outset of a case, a problem for victims who often leave their homes with few written records.
Under the Refugee Act of 1980, judges can only grant asylum, which allows a person to stay in the U.S. legally, to people escaping persecution based on religion, race, nationality, political opinion or membership in "a particular social group."
As drug-war violence escalated over the last two decades in Mexico and Central America, fueled by a U.S. demand for drugs and waged by gangs partly grown on American streets, human rights lawyers pushed to have victims of domestic violence or gang crime considered part of such a social group when their governments don't protect them.
After years of argument, they won a major victory in 2014 when the country's highest immigration court, the Board of Immigration Appeals, ruled in favor of a woman from Guatemala who fled a husband who had beaten and raped her with impunity.
Sessions, in June, used his legal authority over the immigration system to reverse that decision, deciding a case brought by a woman identified in court as A.B.
"Asylum was never meant to alleviate all problems — even all serious problems — that people face every day all over the world," he said, ruling that in most cases asylum should be limited to those who can show they were directly persecuted by the government, not victims of "private violence."
Immigration advocates reacted with outrage.
Karen Musalo, a co-counsel for A.B. and a professor at the University of California Hastings College of Law, called the decision "a return to the dark ages of refugee law," a move inconsistent with a steadily evolving principle "that women's rights are human rights."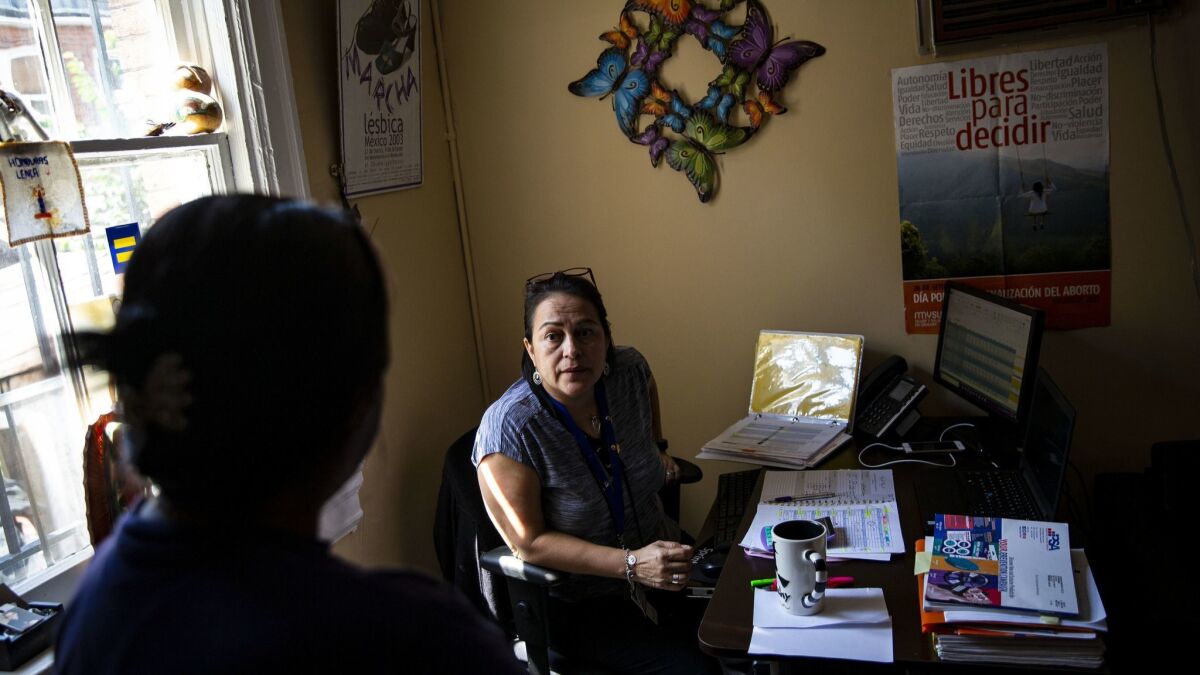 Neither the government, nor the police, could help Xiomara in her rural town, where gangs were deeply embedded. "Are you kidding?" she said, asking to be identified by only her first name out of concern about possible retaliation. "I would go to the police department and wouldn't come back alive — if I came back at all."
Within a year of when they started dating, she said, her boyfriend took up drinking and drugs, making friends with the wrong crowd. He grew meaner, more violent.
One day he put a gun to her head, her asylum claim says. On another evening, on the roof of his home after another fight, she had been weeping in the dark, when she felt a cord tighten around her neck.
"He would have killed me if his family hadn't appeared," she said.
Other women offer similar stories.
Candelaria, 49, who also asked that her last name not be used, said she left an abusive husband of 20 years in Honduras after his drinking became more severe. And always the criminal bands of men roamed.
"My children sent me a photo of me in those days and I look so old, so sad," said Candelaria, whose asylum case has been pending for four years.
For more than two decades, U.N. officials and human rights lawyers have argued that women victimized by domestic violence in societies where police refuse to help are being persecuted because of their gender and should be treated as refugees entitled to asylum.
But Sessions and other administration officials have a very different view, and they have made a broad effort to curb the path to asylum. The number of people entering the U.S. by claiming asylum has risen sharply in recent years, and administration officials have portrayed the process as a "loophole" in the nation's immigration laws.
In October, Sessions labeled asylum an "easy ticket to illegal entry into the United States" and called on immigration judges to elevate "the threshold standard of proof in credible fear interviews." In March, he restricted who was entitled to full hearings. From May to June, federal officials limited asylum seekers from gaining access through ports of entry, with people waiting for weeks at some of the busiest crossings in Southern California.
The government does not keep precise data on how many domestic-violence survivors claim asylum, but figures released last month give a glimpse of the effect that Sessions' decision has begun to have at one of the earliest stages of the asylum process.
People claiming asylum when they reach the border typically have an early interview with an immigration official to determine if they have enough of a case to proceed to a full hearing. Since January, immigration judges found asylum seekers had provided enough evidence in those credible fear interviews, as they are known, in only 14.7% of cases — about half as often as the same period in 2017, according to the Transactional Records Access Clearinghouse at Syracuse University. The denials can lead to swift deportation.
The effect has been most drastic along the Southwest border and in Texas, where at a detention center in Hutto, immigration attorney Whitney Drake of American Gateways, an immigrant advocacy group, has seen a tripling in some week of the number of people asking her legal aid.
"Women are terrified and confused," said Drake. "They come and tell us: 'I don't understand the decision. I don't understand why he [the judge] didn't believe me.'"
The American Civil Liberties Union on Wednesday filed a lawsuit on behalf of 12 parents and children it says were wrongly found not to have a credible fear of return. U.S. District Judge Emmet G. Sullivan on Thursday stopped the deportation of a mother and her daughter in the case, threatening to hold Sessions in contempt.
At his law office in Arlington, Va., Joseph M. Perez, an immigration attorney, said Sessions hadn't been wrong to limit some asylum claims based on domestic violence, which can fall on a wide spectrum of abuse, from brutal attacks to only verbal threats. But he said he found the approach cruel.
He has been calling all of his clients to warn them their cases could be denied. He recalls the hard conversations with a deep pause.
"We are only buying them time," he said, fighting back tears. "Sometimes, I can't sleep."
For domestic-abuse survivors waiting for hearings, the uncertainty has been excruciating. Candelaria wants to go home, but her older children back in Honduras tell her to have hope.
"'You've endured enough,' they tell me," she said.
Dilcia Molina, a program director at the Clinica del Pueblo in Washington and once an asylum seeker herself, said the decision has been especially tough on LGBTQ asylum seekers.
"They think, 'Why even bother to apply?'" she said. "Some don't even come for mental health counseling anymore."
Outside an immigration courtroom in Virginia, Ingrid, 29, said she made her way across the border illegally in November 2016, about a month after her now 13-year-old son came home beaten up by gang members at school.
She couldn't afford a lawyer before and can't find one now. "My friend was abused by her husband, and three lawyers have refused to take her case," she said. "I don't think I'll have any luck."
Xiomara, now 25, won't have her asylum hearing for another year. For months, she scraped by on meager wages, babysitting and waiting on tables. She was relieved to find a job at a factory that pays $10 an hour. The American dream is "one big lie," she now says.
But at least here, she said, she and her daughter are alive.
More stories from Jazmine Ulloa »
Life is stressful. Our weekly mental wellness newsletter can help.
You may occasionally receive promotional content from the Los Angeles Times.