Supreme Court, citing racial bias, reopens the case of Texas death row inmate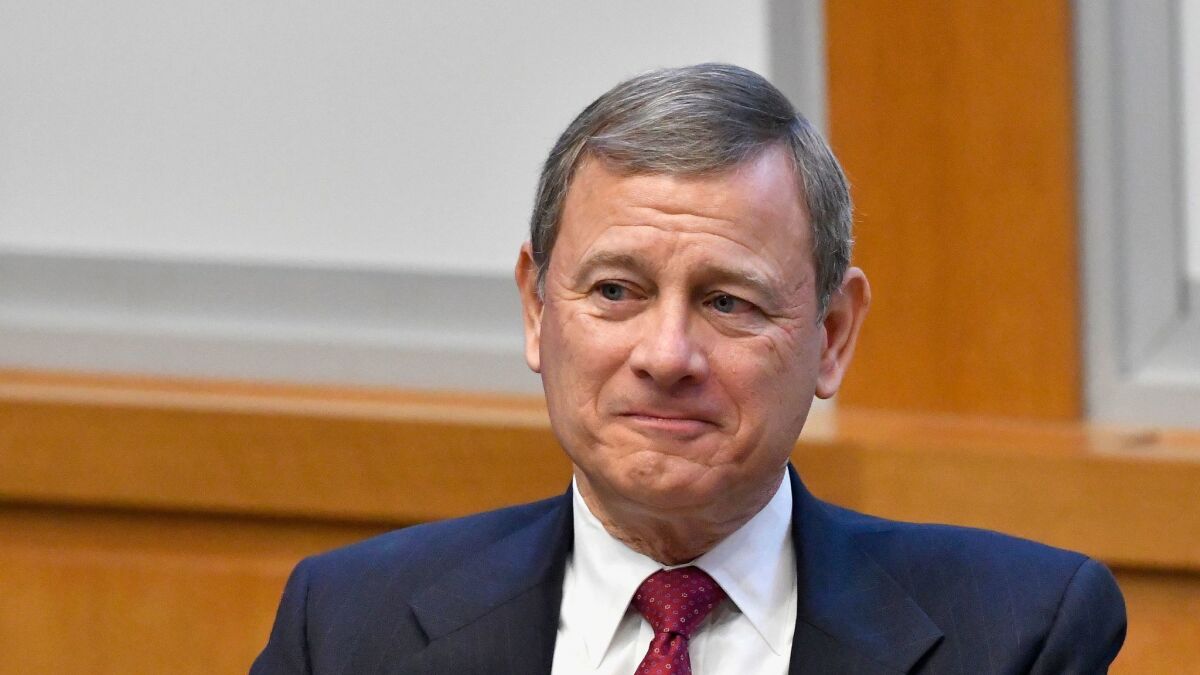 Reporting from Washington —
The Supreme Court on Wednesday firmly rejected the use of racial stereotypes when deciding the proper sentence for a convicted criminal, reopening the case of a black man who was condemned to death after his Texas jury was told African Americans are statistically more likely than whites to commit violent crimes.
"Our laws punish people for what they do, not for who they are," Chief Justice John G. Roberts Jr. said in the courtroom.
Providing the jury with such crime statistics appealed "to a particularly noxious strain of racial prejudice," he wrote in the decision.
"Some toxins can be deadly in small doses."
The 6-2 decision faulted Texas authorities and judges for refusing to give a new sentencing hearing to Duane Buck, a Houston man convicted of shooting and killing his ex-girlfriend and her new boyfriend in 1995.
As jurors were hearing testimony during the punishment phase, a court-appointed defense attorney called an expert witness to testify that Buck's violent outburst was a psychological reaction to his breakup. But the expert also ended up citing controversial statistics suggesting that blacks are more likely than whites to commit more crimes.
The jury then decided Buck posed a "future danger" and sentenced him to death rather than life in prison.
Years later, Texas state attorneys reopened the cases of five other black defendants who were sentenced to death based partly on that same testimony about the statistics.
However they refused to reopen Buck's case because it was his own court-appointed lawyer, not the prosecutor, who had called the expert to the witness stand.
Civil rights advocates hailed Wednesday's ruling.
"Today's decision sends a powerful message that no court can turn a blind eye to racial bias in the administration of criminal justice," said Christina Swarns, an attorney for the NAACP Legal Defense Fund who represented Buck. "Given the persistence of racialized fears, stereotypes and discrimination, this decision is as important to the country as it is to Duane Buck."
It also reflects the chief justice's steady view that race should play no role in government decisions, whether it is in schools, colleges or courtrooms. At times, this aligns him with the court's conservatives and other times with its liberals.
Last year, Roberts spoke for the court in giving a new trial to black man on death row in Georgia after new evidence revealed white prosecutors had conspired to keep blacks off the jury. Roberts dismissed the prosecutor's shifting explanations as "nonsense." Dismissing just two potential black jurors because of their race is "two more than the Constitution allows," he said. Only Justice Clarence Thomas dissented.
At the same time, Roberts has rejected the use of race in deciding on college admissions, school assignment plans and the drawing of electoral districts. Last year, for example, he dissented when the court in a 5-3 decision upheld an affirmative action policy at the University of Texas.
"The way to stop discrimination on the basis of race is to stop discriminating on the basis of race," he wrote in 2007 in rejecting a race-based plan for integrating schools in Seattle.
In Wednesday's decision, Roberts said it was clear that race played a role in Buck's sentencing. "Discrimination on the basis of race, odious in all aspects, is especially pernicious in the administration of justice," he wrote, quoting a court decision from 1979.
Roberts described the performance of Buck's defense attorney as "incompetent" and sent the case back to the courts in Texas to reconsider the death sentence.
Thomas dissented and was joined by Justice Samuel A. Alito Jr.
Thomas described the murders as "premeditated and cruel," and said Buck had shown no remorse. He said Buck's behavior, not the racial crime data, probably persuaded jurors to impose a death sentence.
He also faulted Roberts and the majority for reopening the case. "Having settled on a desired outcome, the court bulldozes procedural obstacles and misapplies settled law to justify it," he wrote.
On Twitter: DavidGSavage
ALSO
Trump administration poised to rescind guidelines on protections for transgender students
Loud and angry, protesters turn congressional town halls into must-see political TV
Authorities close in on Dakota Access protest camp; some activists vow to stay and fight
---
Life is stressful. Our weekly mental wellness newsletter can help.
You may occasionally receive promotional content from the Los Angeles Times.