A list of the accusations of sexual misconduct that Trump dismisses as 'all fiction'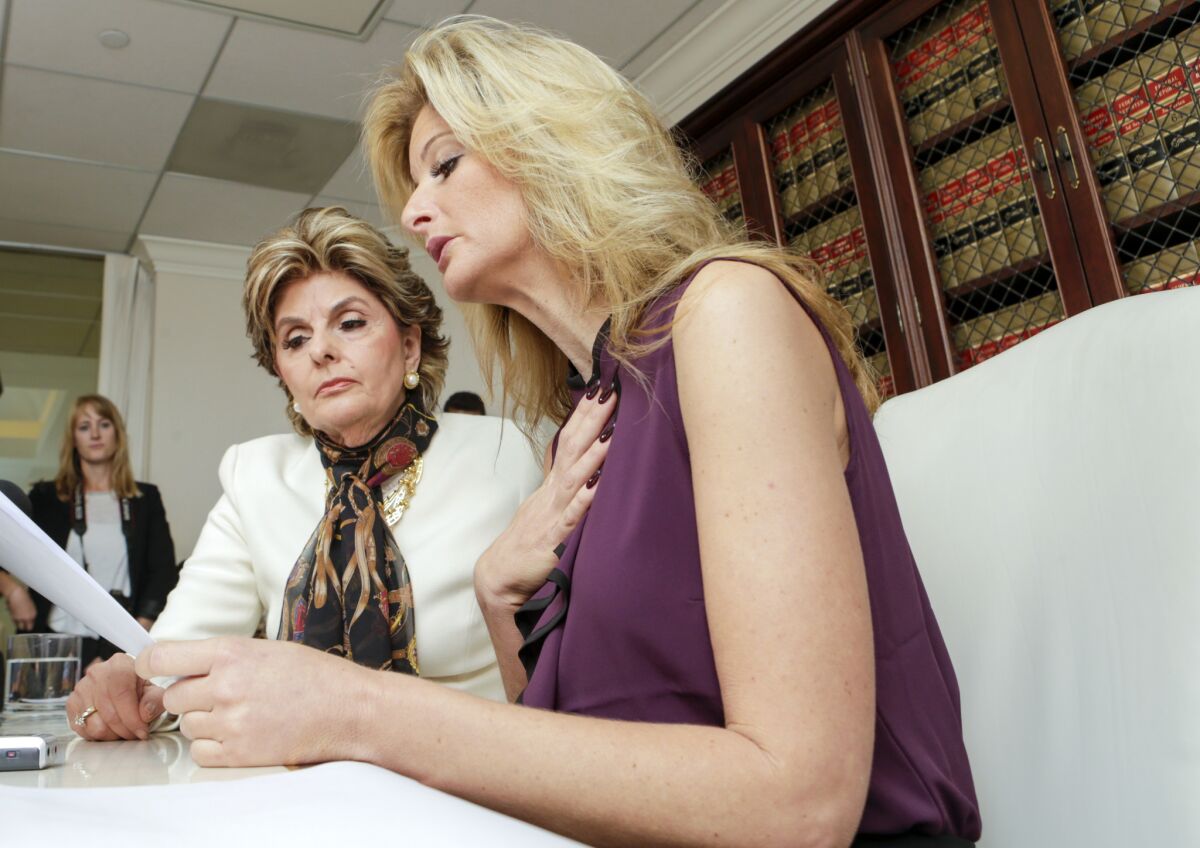 Donald Trump, asked in the debate on Wednesday about the multiple women who have accused him in the last week of unwanted sexual advances and inappropriate touching, dismissed such allegations as "all fiction" and said their stories have "largely been debunked."
But while the Trump campaign has offered some rebuttals to a few of the allegations, the allegations — some of which center on events that occurred decades ago — have hardly been settled.
The women's stories came in the wake of a leaked recording from 2005 in which Trump, then starring on NBC's "The Apprentice," boasted about groping women. He apologized for those comments, labeling them "locker-room talk," but said in the second presidential debate he never acted in such a manner.
Days after the second debate, Trump was hit with accusations that he did behave in ways that mirrored his remarks. The GOP presidential nominee has denied all the allegations, asserting that his accusers were seeking fame and that the news media, colluding with Hillary Clinton's campaign, was unduly publicizing their accounts.
Here's a look at the accusations Trump has faced.
Groping on an airplane
Jessica Leeds, a 74-year-old from Manhattan, told the New York Times that Trump groped her without consent when the two were seated next to each other in first class on an airplane in the early 1980s.
"He was like an octopus," Leeds said. "His hands were everywhere."
Leeds recounted the incident to friends and family, including her son and nephew, in the last year as Trump's presidential campaign began to take off. She decided to go public with her story after Trump denied such actions in the presidential debate.
Trump strongly denied the accusation, and his lawyer called on the New York Times to retract the story, which the newspaper refused to do. Trump has threatened to sue the paper for libel, but so far no lawsuit has been filed.
The GOP presidential nominee has since mocked Leeds' story on the stump. He implied last week he did not find Leeds attractive enough to make moves on her.
"Believe me, she would not be my first choice. That I can tell you," he said at a rally in Greensboro, N.C.
The Trump campaign has also put forth a witness who said he was on the flight in question and saw no inappropriate behavior. Anthony Gilberthorpe said it was Leeds, not Trump, who was acting flirtatiously.
Gilberthorpe said he had no evidence to back up his claim. He himself is no stranger to salacious news stories. In 2014, he claimed that as a 17-year-old, he found underage boys to participate in sex parties with high-ranking British politicians.
An encounter with a People magazine writer
Natasha Stoynoff, a staff writer for People, covered Trump for the magazine in the early 2000s. In 2005, she went to Trump's Florida estate, Mar-a-Lago, to interview Trump and his wife, Melania.
In an article written last week, Stoynoff said that while she was touring the property, Trump pushed her against a wall and forcibly kissed her.
Trump disputed her story, telling supporters at a rally last week, "the area was a public area, people all over the place."
"Look at her. Look at her words," Trump said, encouraging the audience to evaluate her believability. "You tell me. I don't think so."
Melania Trump demanded a partial retraction of the story, saying that an interaction Stoynoff claimed to have with her after the incident never occurred.
On Tuesday, People published a story in which six friends and colleagues of Stoynoff corroborated the writer's account, including a friend who said she was present for the interaction with Melania Trump.
'Apprentice' accusations
Summer Zervos, a former contestant on Trump's hit reality show, said Trump repeatedly tried to kiss and grope her in a hotel bungalow in 2007.
Before going public with the accusation last week, Zervos said she was typically complimentary of Trump when asked about him during his presidential run. But she said she had felt internally anguished and had tried to contact Trump via email earlier this spring.
Trump said he never met her at a hotel or made inappropriate contact. His campaign issued a statement by John Barry, Zervos' cousin, who said she had "nothing but glowing things to say" about Trump and accused his cousin of seeking the spotlight.
Zervos' attorney, Gloria Allred, responded with a witness, Ann Russo, who said she recalled Zervos, her friend, discussing the encounter long before Trump's presidential run.
More allegations of unwanted kisses and gropes
Several other women have come forward with their own accounts of unwanted sexual advances from Trump.
Rachel Crooks said Trump kissed her without her consent in 2005. Temple Taggart, a contestant in Miss USA, a beauty pageant Trump owned, asserted that he kissed her on the mouth as a greeting. Another woman, Kristin Anderson, said Trump groped her under her skirt at a nightclub in the early 1990s.
Two other women have accused Trump of making unwanted advances at Mar-a-Lago. Jill Harth, who was then trying to cement a business deal with Trump, said he cornered and groped her in 1997. Cathy Heller said Trump forcibly tried to kiss her at a Mother's Day brunch at the estate that same year.
Trump or a spokesperson for the campaign has denied all of these accusations.
Unannounced dressing-room visits
A number of contestants of the Miss USA and Miss Teen USA pageants have said that Trump would walk into their dressing area without warning when he owned the pageant.
Tasha Dixon, who was Miss Arizona in 2001, said Trump had a habit of "waltzing in" to their dressing room while contestants were partially undressed. Mariah Billado, a former Miss Teen Vermont, said contestants would hurry to cover themselves up when Trump would enter the changing room during the 1997 Miss Teen USA pageant.
Other contestants in the teen pageant contacted by BuzzFeed said they did not recall Trump being in the dressing area.
Trump himself described similar behavior when appearing on Howard Stern's radio show in 2005.
Trump, who also owned the Miss Universe franchise, told Stern he would "go backstage and everyone's getting dressed, and everything else, and you know, no men are anywhere, and I'm allowed to go in because I'm the owner of the pageant and therefore I'm inspecting it."
In response to the allegation that Trump would enter contestants' dressing room in the teen beauty pageant, the campaign said the accusations "have no merit and have already been disproven by many other individuals who were present."
ALSO
More women accuse Trump: 'You do not have a right to treat women as sexual objects just because you are a star'
Michelle Obama delivers what may be a defining moment in the presidential campaign
Some of the times in the past 24 hours that Donald Trump has publicly insulted a woman's looks
Life is stressful. Our weekly mental wellness newsletter can help.
You may occasionally receive promotional content from the Los Angeles Times.