On a day when Pelosi gets the spotlight, Trump tries to get it back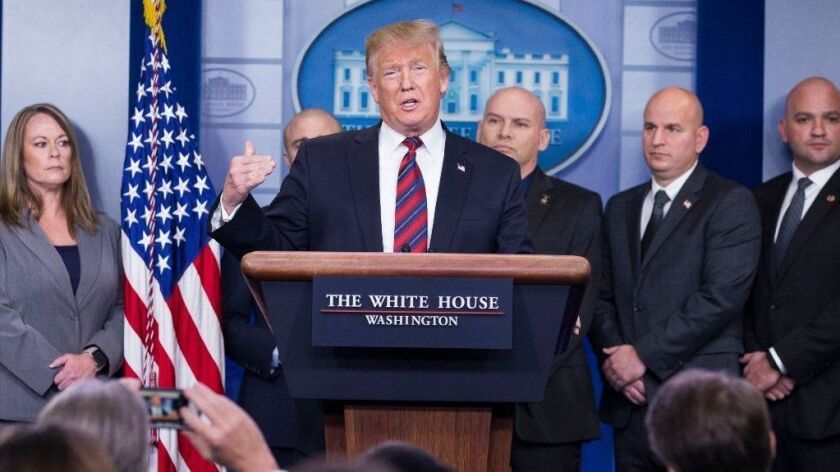 Reporting from Washington —
On a day when most media attention was on Democrats' takeover of the House and new Speaker Nancy Pelosi, President Trump abruptly came to the White House briefing room Thursday for the first time since taking office, to restate his pitch for a border wall before the cameras there.
White House Press Secretary Sarah Huckabee Sanders, who has rarely held briefings in recent months, gave no explanation when she tweeted at 4:07 p.m. that one would be held at 4:10. Trump, who has made suspense and televised drama a hallmark of his presidency, walked into the room 20 minutes later with a phalanx of seven men and one woman, mostly leaders of the National Border Patrol Council, the union for about 18,000 border agents.
The president began by congratulating Pelosi on winning the speaker's gavel on the new Congress' first day. Immediately, however, he segued to his purpose: arguing that he has strong support for his demand for $5.6 billion more for a southern border wall, a stand that provoked a partial government shutdown now in its 13th day, by blocking agreement with Congress on funding for about a quarter of the government.
Nancy Pelosi regains the House speaker's gavel as Democrats confront Trump over partial shutdown »
Trump played down the role of drones and other technology at the border — "Nobody knows much more about technology, this type of technology certainly, than I do," he said — and dismissed experts who cast doubt on the effectiveness of a wall.
"Call it what you will, but without a wall you cannot have border security," Trump said. Lately he has used words including "fence" and "slat barriers" interchangeably with "wall" after insisting during his campaign that he'd build a solid concrete barrier along the entire southern border.
Trump introduced three of the men, who applauded his stand. "We are all affected by the shutdown," said Art Del Cueto, vice president of the union. "We have skin in the game. However, it comes down to border security."
Within minutes, Trump left the room along with his guests, ignoring reporters who shouted questions of the sort the briefing room is intended for.
Follow the latest news of the Trump administration on Essential Washington »
Twitter: @noahbierman
---
Get our Essential Politics newsletter
The latest news, analysis and insights from our politics teams from Sacramento to D.C.
You may occasionally receive promotional content from the Los Angeles Times.