Nancy Pelosi regains the House speaker's gavel as Democrats confront Trump over partial shutdown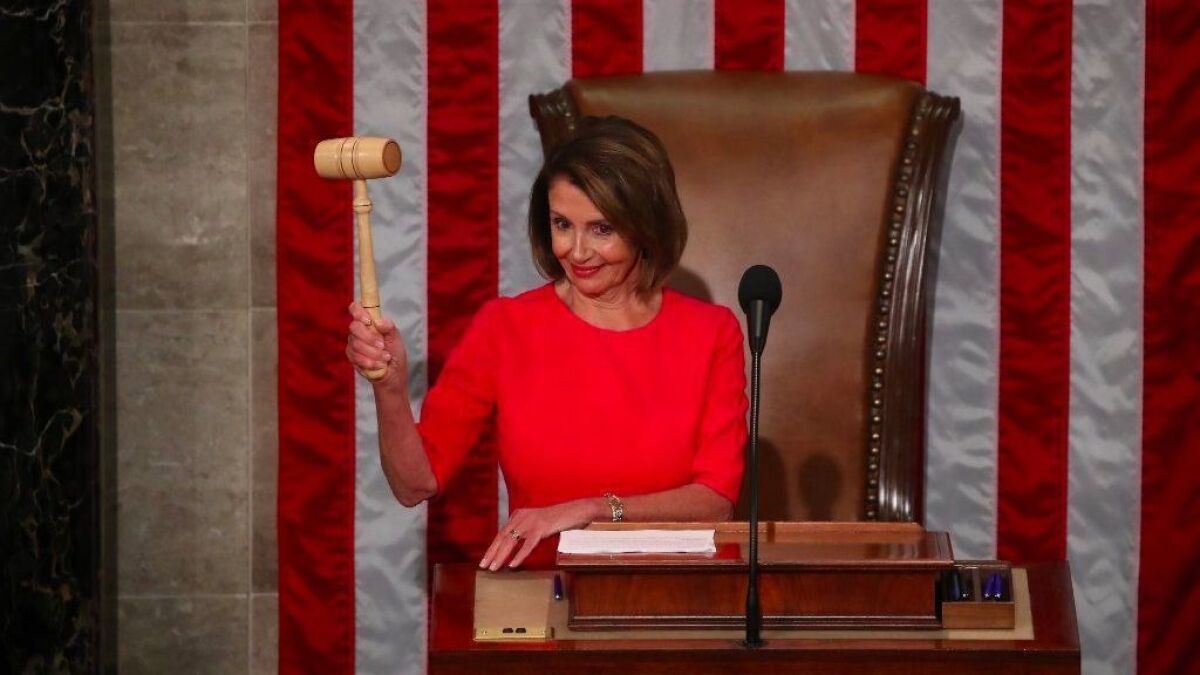 Reporting from Washington —
San Francisco Rep. Nancy Pelosi was elected speaker Thursday and will lead Democrats as they take over the House amid a partial government shutdown.
Already the first female House speaker in history, Pelosi now becomes the first woman to hold the job twice and the first person in nearly six decades to regain the post. Only five others have been picked as speaker more than once.
"Our nation is at an historic moment. Two months ago, the American people spoke and demanded a new dawn," Pelosi said after taking the gavel. She was referring to the midterm election, which brought a divided government for the remainder of President Trump's term.
"I am particularly proud to be the woman speaker of the House of this Congress, which marks 100 years of women having the right to vote, as we have the honor and the ability to serve with more than 100 women in the House of Representatives — the highest number in history."
Though Pelosi faced some initial resistance to her resuming the top spot, she effectively sidelined or won over opposition weeks ago. The vote was 220-192, with most Republicans voting for House Minority Leader Kevin McCarthy (R-Bakersfield). Fifteen Democrats did not vote for Pelosi.
For the veteran Democratic leader, this stint will be markedly different from her first as speaker during the Obama administration. Now there is a divided government, a Republican president and an emboldened progressive wing of her own party that promised voters a new way of operating in Washington.
On a day when Pelosi gets the spotlight, Trump tries to get it back »
Pelosi will preside over the most diverse Congress ever assembled, with historic numbers of Democratic women, minorities and LGBT members being sworn in Thursday.
That contrast was apparent during the swearing-in, as cameras panned from a sea of mostly white men in dark suits on the Republican side to a Democratic caucus including more people of color and women wearing bold hues.
From the gallery, Pelosi's husband, Paul Pelosi, watched alongside their five children. Several of Pelosi's nine grandchildren joined her on the House floor. Like when she first became speaker, Pelosi invited her grandchildren and the children of members of Congress onto the dais to take the oath of office with her.
"I now call the House to order on behalf of all of America's children," said Pelosi, surrounded by kids.
Pelosi faced a robust but brief uprising over returning to the speaker's chair, with more than a dozen Democrats agitating for new leadership. But no other candidate stepped forward as an alternative. Pelosi quelled the discord weeks ago by agreeing to some House rules changes and to new leadership term limits that would permit her to serve only four more years as speaker.
Thursday also marked the first time that the two most powerful House leaders have represented the same state.
"Even when we disagree ... it is important to remember that we are bound together by common cause, our love for America," McCarthy said before handing Pelosi the gavel.
Elected to Congress in 1987, Pelosi rose through the ranks in the House, serving on the powerful House Intelligence and Appropriations committees before being elected to leadership in 2001. She was speaker from 2007 until 2011, when Republicans took control of the House, and served as minority leader since.
Longtime friend and confidante Rep. Anna Eshoo (D-Menlo Park) said Pelosi wouldn't have sought the speaker's chair a second time if she didn't have confidence that she was the best person to confront Trump.
"She's one of a kind," Eshoo said. "We won't see her likes again."
More stories from Sarah D. Wire »
Follow @sarahdwire on Twitter
---
Life is stressful. Our weekly mental wellness newsletter can help.
You may occasionally receive promotional content from the Los Angeles Times.