This group is putting women at the center of the battle to fix California's bail system
As a public defender in New York City, Gina Clayton realized the cash bail system used in most state courts across the country was placing a heavy burden on women. The grandmothers and mothers who visited her office bailed relatives out so often that they knew several bond agents by name.
Often the women navigated complicated contracts and paid high fees alone, she said. Many ended up swimming in debt. Some lost their homes.
Frustrated with the daily churn of cases, she moved back to her hometown, Los Angeles, four years ago. She had a mission.
"I wanted to know what mass incarceration was doing to women in this country," Clayton, 34, recalled at her grandmother's home in Venice. And she wanted to find a more meaningful way to help, she said.
So she founded the Essie Justice Group, a support network for women whose loved ones are in prison. The organization has been one of several civil rights and advocacy nonprofits that have pushed a hotly debated state legislative package to overhaul how courts grant offenders bail before trial in California. After one those bills stalled in the Assembly, Gov. Jerry Brown on Friday delayed action on a second, identical bill until next year, but pledged to continue working on the issue with members from all three branches of government.
Until then, at group sessions in Los Angeles and the Bay Area, the nonprofit is continuing to train its members to share their personal experiences with incarceration and bail. They hope to persuade lawmakers to oppose a cash bail system they say adversely and disproportionately affects black women and Latinas.
As California has grappled to reduce its prison population, a network of foundations and grassroots organizations has emerged to push for changes on crime and imprisonment. Many, like Essie Justice, are putting the people they believe are most affected by sentencing policies at the center of political debate.
In Sacramento, former youth offenders are holding news conferences and testifying before legislative committees in support of bills that would ease punishment for juveniles and ensure their rights are protected during arrests. And former inmates are serving on a state board tasked with awarding grants to counties and cities for rehabilitation programs.
Essie Justice is focused on challenging the bail industry, which is valued at $2 billion and has spent more than $170,000 on lobbying efforts this fiscal year to oppose changes to the state's bail system, according to state finance reports. The pending legislative package would require courts to move away from fixed fees and assess offenders based on the threats they pose to communities.
But bail agents and lobbyists who oppose the bills say the real drivers behind the calls for change are major philanthropic organizations and donors to criminal justice advocacy nonprofits including New York billionaire financier George Soros. They argue the proposals are half-cooked, could cost counties millions of dollars and would hurt small and family-owned businesses.
The confrontations at the state Capitol have been tense, with bail agents and Essie Justice members packing legislative meetings and clashing in the hallways. Clayton said her group won't budge.
"We are in this for as long as it will take," she said.
---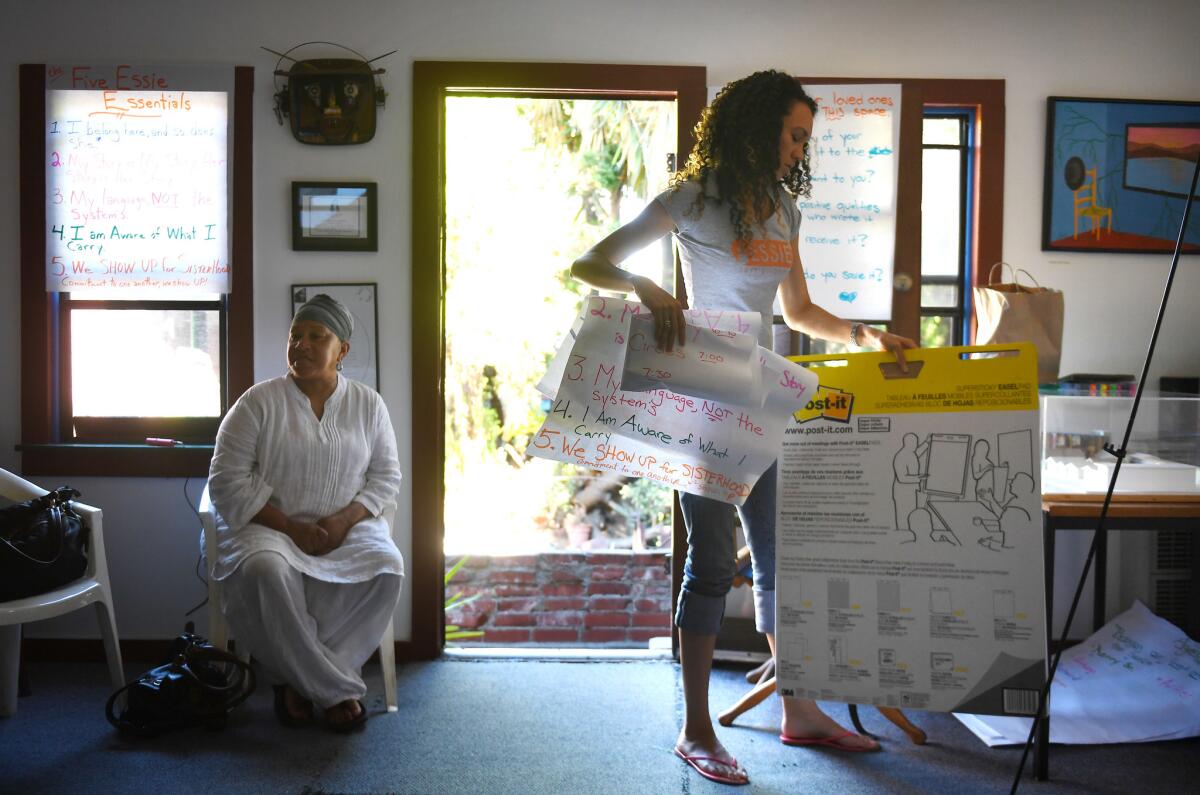 Clayton named the Essie Justice Group after her great-grandmother, Essie Bailey, who arrived in Los Angeles in the late 1930s to escape Louisiana's Jim Crow segregation laws. Clayton said her great-grandparents had to give up their sharecropping farm when the postman refused to deliver the deed to the land.
"The land loss has been huge for many black families," she said. "When we talk about the bail campaign, and how many women are putting their homes up for collateral and then losing them, it is a straight line for me to this."
When a person is arrested or booked into jail, a court usually sets a bail amount according to fixed fee schedules that vary widely by county. Offenders must post the amount upfront, or pay a 10% fee to a bond company before they are released. Those who can't afford to do so may remain incarcerated up to an additional 48 hours before they are formally charged and arraigned.
Clayton spent a year studying the impact of the bail system on poor women and families in California. She initially sought to start her own nonprofit bond company, with low fees that could be poured back into social services for women. But she did not want to create a market alternative, she said.
She wanted to upend the system, she said. She realized the women who dealt with its consequences knew it better than anyone else and should be the ones envisioning new approaches to crime and public safety.
Clayton founded Essie Justice Group in late 2014, with the help of a Soros fellowship. The organization is based on the principle that developing strong bonds among women, or "building sisterhood," can serve as a social justice strategy to empower female leaders.
"Mass incarceration has isolated millions of women," Clayton said. "Women who look just like my grandmother and my great-grandmother and who face very similar challenges, but who also have so much of the same reserves of strength, same wisdom, same inherent dedication to family."
Qualities, she said, that make successful organizers.
---
On a sweltering June afternoon, more than a dozen Essie Justice sisters, as the group calls its members, settled into plastic chairs in a bungalow at St. Elmo Village, a Los Angeles art community lined with succulent gardens and multicolored sidewalks.
At these sessions, the group provides free childcare and dinner. The room is a space where members say they feel comfortable enough to talk about painful issues they often don't share — even with those they are closest to.
Among the participants were Mercedes Brown, whose brother had been in prison for 43 years; group leader Anita Willis, whose son is serving 40 years for second-degree murder; and Khadijah Shabazz, whose two late husbands both served time in prison.
"Everyone focuses on the person incarcerated and not our needs," Shabazz said. "I didn't know I had so much baggage until we started talking. I found out there was a need of a healing."
Their conversations allow them to discuss their fears. They talk about concerns over racial profiling by police and the challenges of having loved ones behind bars, including the difficulties of visiting them in prison and serving as the sole head of their household.
But while the meetings help provide group therapy, Clayton said they also train women to become leaders who meet with their district representatives, speak at public forums and advocate for state legislation and initiatives. Some Essie Justice members first jumped into community organizing to support Proposition 47, the 2014 ballot measure that has reduced some theft and drug crimes to misdemeanors.
This year, their talks have centered on bail reform.
The bills, authored by Assemblyman Rob Bonta (D-Alameda) and state Sen. Bob Hertzberg (D-Van Nuys), would eliminate the use of bail fee systems and require counties to establish their own pretrial services agencies, which ensure defendants make their court dates and prepare cases for trial. The agencies would develop "risk-assessment tools," or model analyses to evaluate people booked into jail based on the threats they pose to public safety and their likelihood to come back to court.
The latest amendments to the bills included a two-year phase-in to allow counties more time to plan and manage their funding.
To raise support for the legislation, Essie Justice members have hosted news conferences, met with lawmakers and partnered with a national campaign to raise $60,000 to bail two women out of Los Angeles County Jail on Mother's Day.
But some police and prosecutors say they still have concerns about the burden it will place on their agencies to implement bail reform, and Essie Justice members are coming head to head with bail agents whose lobbying efforts have helped kill similar legislation in the past. This year, bail agents have handed out fliers pointing to what they say have been failures of similar reform efforts in New Jersey.
Among the most vocal opponents have been celebrity bounty hunters Beth and Duane "Dog" Chapman, who argue the legislation could set free dangerous criminals.
"The jails are not full of minorities who can't get out," he testified in April at a legislative committee meeting. "Because guess what? The bail bondsmen will get together and get them out. All this bail bill will do is put burden on police and sheriffs."
---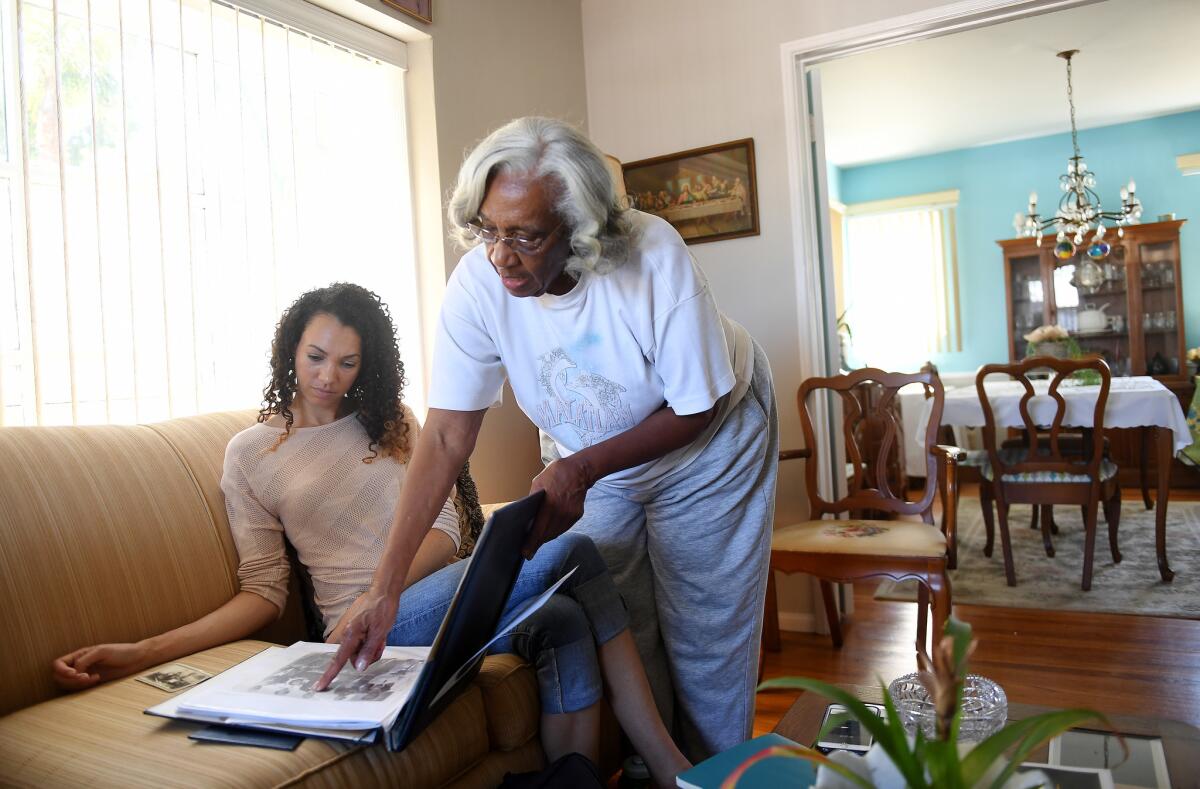 Some of the women with Essie Justice said they have been unprepared for the level of animosity they have received in Sacramento. Willis, who went through a six-week training course and became a co-facilitator who can help lead group sessions, said the constant clashes have made her more determined to share other women's experiences with the bail system.
"The courts are saying, 'You are not getting out of here — we are going to use the bail system to keep you in here,'" Willis said. "That needs to change."
At Clayton's grandmother's home in Venice, the place she sees as her family's foundation and where her parents were married under a plum tree in the backyard, she said she gets her resolve from stories about her great-grandmother.
Essie Bailey raised three children and took on jobs as a domestic worker, a caterer and an aircraft factory worker before she owned three rental properties in Los Angeles.
When Clayton asked how her great-grandmother could accomplish everything she did, her grandmother, Velma Halliburton, had a simple answer.
"Baby, she had sisters."
'Dog the Bounty Hunter' joins opponents of bail reform in California »
ALSO:
Some say California's bail system is broken. Here's how two legislators plan to help fix it
State Senate bill to change California bail system advances — with concerns over costs
Sweeping reform of California's bail system would come with a hefty price tag, says new analysis
Get our Essential Politics newsletter
The latest news, analysis and insights from our politics team.
You may occasionally receive promotional content from the Los Angeles Times.