In races to replace lawmakers felled by sexual harassment claims, one group aims to send women to Sacramento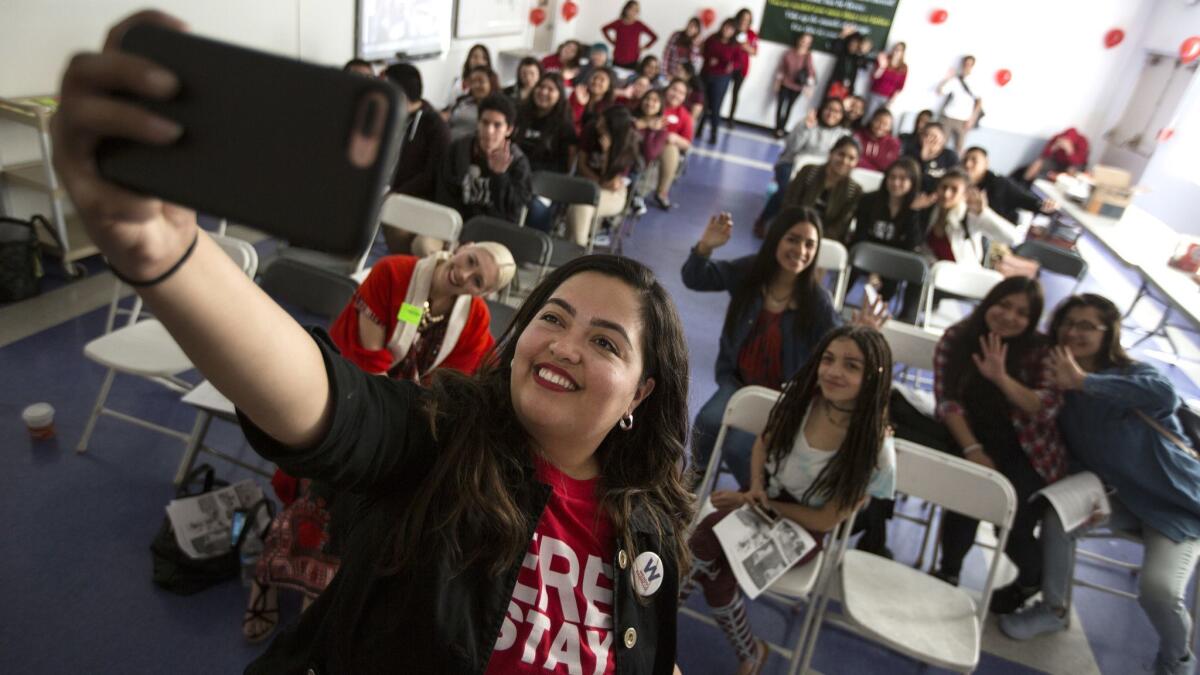 Reporting from Sacramento —
Civil rights lawyer Valerie McGinty founded a political action committee late last year to help boost the low numbers of women serving in the California Legislature. It launched in Los Angeles with an additional objective: backing women pursuing the seats left empty by men whose careers were ended by sexual harassment accusations.
Women in California and nationwide have jumped into political races in high numbers since the election of President Trump, and still more female candidates have been inspired to run as the national #MeToo movement brought attention to the need to reverse a culture of sexual misconduct in the political world. The overall mission is to reach gender parity in state representation by 2028, and with the new momentum, McGinty says, that is more within reach than ever.
"These aren't just seat gains," McGinty said of the latest endorsements from her group, called Fund Her. "This is an opportunity to come out of the gate with a strong statement."
Fund Her, which held its official launch event Thursday in Beverly Hills, is focused on promoting progressive women. McGinty said it is the first political action committee with a mission of its kind and will collaborate with Emerge California and Close the Gap California, two other political organizations with the same goal in mind to train and recruit women to run for office.
"We know politics is about building the bench," McGinty said. "We might be famous for our diversity at the federal level. But then you lift up the hood and look at the state level and think, 'Oh my God.'"
The group was formed in a year that saw the number of women in the California Legislature drop lower than it has been in two decades, even as both its chambers became slightly more racially and ethnically diverse.
Of the 89 members in office, the total number of female legislators dropped by four and stood at 27 at the end of 2016, according to an analysis of preliminary election results from the California Research Bureau. There had not been fewer women in office since 1991-92, and only in 1997-98 had the figure been equally low, the report found.
In the state's 53-member congressional delegation, three of the 19 female representatives left office in 2016. Two were replaced by men. (Both of California's U.S. senators are female.)
This spring, Fund Her is supporting Luz Rivas, an electrical engineer and nonprofit leader, in the race to replace former state Assemblyman Raul Bocanegra (D-Pacoima), who resigned in November amid a sexual misconduct investigation after multiple women accused him of making unwanted sexual advances. The Assembly probe found that he likely acted inappropriately toward subordinates as chief of staff to then-Assemblyman Felipe Fuentes. There are six Democrats and one Republican running in the race for the San Fernando Valley district.
Fund Her also is endorsing Tricia Robbins Kasson, an urban planner and economic development director who is vying for the former state Assembly seat of Matt Dababneh. Dababneh (D-Woodland Hills) resigned in December after multiple women accused him of sexual misconduct, including nonconsensual sex and masturbating in front of a lobbyist. The former Assemblyman has denied any inappropriate behavior. Eight candidates are now vying to replace him, most of them Democrats, in a district that covers the west San Fernando Valley, including the affluent communities of Encino, Tarzana and Woodland Hills.
In these races, female candidates could benefit from women motivated to head to the polls and vote for other women in the #MeToo era. Instead of making the campaigns about the harassment investigations, women running have centered their campaigns on their qualifications and the issues they care about — such as school safety and education — not their gender.
And not all of this year's sexual misconduct cases have been against men. Assemblywoman Cristina Garcia has denied accusations against her but voluntarily went on unpaid leave in February while an investigation takes place. She faces seven Democrats and one Republican in her district, which spans from Montebello to Cerritos in the south.
The new political action committee has not taken a position in Garcia's case, and not all of its efforts are related to recent sexual harassment claims at the Capitol. Its third endorsement this year is for Sydney Kamlager, a trustee for the Los Angeles Community College District who seeks to replace former state Assemblyman Sebastian Ridley-Thomas (D-Los Angeles) after he abruptly resigned in December, citing health reasons.
Fund Her is not getting involved in congressional efforts.
The California Legislature ranks 32nd in the nation in gender parity, according to the Eagleton Institute of Politics, a research division at Rutgers University in New Jersey.
State officials said the number of women in elected positions dropped because more than a third of the Legislature's 30 female members left at the end of 2016 due to term limits or personal reasons. The only demographic group not to see a decrease in the number of women were Latinas, which doubled their ranks from five to 10 lawmakers. Latino legislative leaders have said that was due in part to a coordinated effort to promote female candidates and close the gender gap.
Other women faced the typical barriers. Many do not have the financial resources or knowledge to build strong ground campaigns, or the ability to raise money for campaign mailers, television and social media ads or neighborhood walkouts.
"It's not that women can't do it, they just haven't necessarily been exposed to it," said state Sen. Connie M. Leyva (D-Chino), vice chair of the California Legislative Women's Caucus.
Then there's the confidence factor. "We always question, 'Can I do the job? Will I be good at the job?' " Leyva said. "I don't think men ask themselves that."
California Assemblyman Raul Bocanegra speeds up his resignation to 'immediately' following harassment allegations »
Female lawmakers and political consultants say the tides appear to be shifting. This week, Toni Atkins made history in taking the oath as president pro tempore of the California Senate, two years after serving as speaker of the Assembly. She's the first legislator to hold both leadership posts since 1871.
Fund Her also supported its first winning candidate last year: state Assemblywoman Wendy Carrillo, the daughter of immigrants and a former radio show host who won a special election in Los Angeles in December. She will serve out the term of former Assemblyman Jimmy Gomez, who was elected to Congress last year in his own special election to replace Xavier Becerra, now state attorney general.
Assemblywoman Susan Talamantes Eggman (D-Stockton), interim chair of the state women's caucus, said she hopes the changes will mark the next generation.
"We have been serving in all kinds of ways, often behind the scenes," she said. "But more and more, women need to be at the table."
Twitter: @jazmineullo
ALSO:
With late nights and booze a staple of political conventions, they have evolved after #MeToo
California lawmakers have fought sexual misconduct on military bases, farms and college campuses. Will they police their own house?
Group that first raised sexual harassment issues in Sacramento now has an app to report misconduct
Get our Essential Politics newsletter
The latest news, analysis and insights from our politics team.
You may occasionally receive promotional content from the Los Angeles Times.