With late nights and booze a staple of political conventions, they have evolved after #MeToo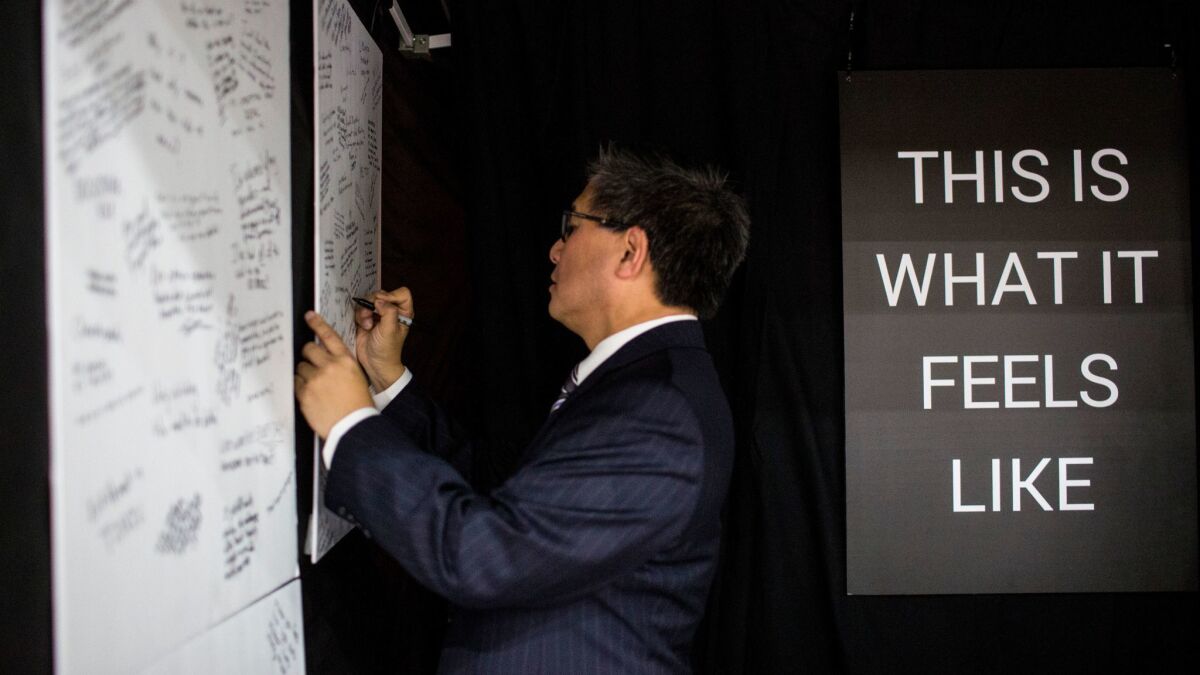 Reporting from San Diego —
Standing in a darkened room, California's most powerful politicians were peppered with catcalls. "Hey beautiful! Why aren't you smiling?" "You're too fine to be walking out here alone!" Those were the mild ones. Many more were sexually explicit or profane.
Welcome to a political convention, #MeToo-style, where the sexual harassment reckoning that continues to rattle the California political world permeated the weekend's festivities — sometimes overtly, sometimes subtly.

For the record:
10:00 a.m. Feb. 27, 2018This article originally quoted Assemblyman Rob Bonta (D-Alameda) as saying men need "to stand in solidarity with men." He said men need "to stand in solidarity with women."
The catcalling came from a traveling art installation sponsored by Planned Parenthood, set up in an exhibition hall of the San Diego Convention Center, part of the California Democrats' annual confab that attracts thousands of delegates, politicians, lobbyists and activists. Nearly 1,000 men — including the top candidates for governor — walked through the interactive auditory exhibit meant to flip the script on the harassment women endure.
"We need to let government officials know this is happening," said the artist, Terra Lopez. "It happens every single day. It even happens in, especially in, the realm of government."
This was the first time Democrats gathered for a convention since an open letter signed by more than 140 women in California politics was published last fall, pushing the issue of sexual harassment into the foreground and upending the careers of multiple legislators.
The annual convention is the political party scene on steroids, a weekend with every flavor of fete — themed hospitality suites and glitzy bashes with high-profile performers, exclusive private dinners and college dorm-style hotel room hangouts.
That can uncomfortably mesh with the current climate, particularly since a recent investigation found a legislator "likely" had engaged in unwanted flirtatious behavior and had supplied alcohol to a 19-year-old intern at the party's 2008 convention. Among the tense moments over the weekend was hand-wringing over the endorsement of an assemblywoman who has been accused of harassment, forcing an awkward discussion on the convention floor.
California Democrats' snub of party icon Dianne Feinstein could be a speed bump — or a signal »
The men — and one woman — running for governor each paid homage to the movement during speeches seeking support from the state party. From the official podium to speeches before smaller caucus groups, the issue of harassment was a near-universal talking point.
"I will stand with you in the fight against all who engage in sexual assault and sexual harassment," Insurance Commissioner Dave Jones, candidate for attorney general, told female delegates.
Rob Bonta, an assemblyman from Alameda, said his backing of the MeToo movement included "the need for men to be true male allies, to stand in solidarity with women, to believe women."
Conventions are just as much about that official business on the floor as they are about the after-hours revelry. But this year, there seemed to be less debauchery.
"It was definitely more sedate as a convention than in the past," said Charu Khopkar, a Democratic consultant. "Most of the elected officials in tough seats that I spoke with… said a variation of the same thing: 'I know I haven't done anything wrong, and I intend to keep it that way.'"
In just the last few months, three lawmakers have resigned as a result of sexual misconduct allegations, which they all deny. Several others have faced investigations into their behavior, and one is on an unpaid leave of absence. The revelations have inspired legislation, increased disclosure about incidents to the public and prompted soul-searching about the state's political culture, particularly the alcohol-heavy fundraisers and social events, where some of the harassment incidents were alleged to have occurred.
The man accused of giving alcohol to an intern, Tony Mendoza of Artesia, abruptly stepped down from his state Senate seat last week, but stunned convention-goers by arriving in San Diego days later, affirming his intention to seek election for the seat in 2018. Mendoza, still wearing his Senate lapel pin, appeared at a meeting Saturday where constituents debated whether to give him a party endorsement. He did not address the controversy in brief comments to delegates. In a 35-10 vote, party activists opted against backing him.
Full coverage of the convention on the California politics news feed »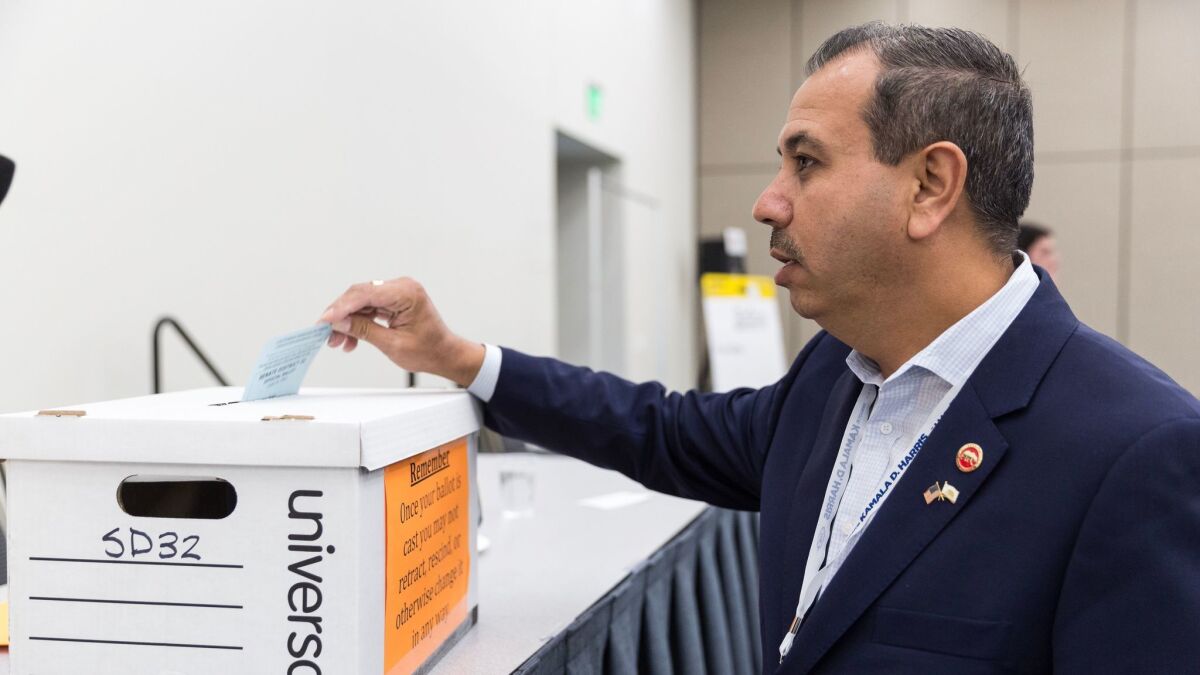 Party support for Assemblywoman Cristina Garcia (D-Bell Gardens), who is on leave amid a harassment probe, sparked tension on the floor.
Garcia, who has denied any wrongdoing, was not at the convention. Democrats in her district voted at January caucuses to endorse her before accusations surfaced that she made unwanted advances on two men. The official party blessing couldn't be undone at the convention thanks to party rules governing the caucus votes, despite a behind-the-scenes effort to convince Garcia to withdraw herself from endorsement consideration.
Acknowledging "the elephant in the room" in a speech Sunday morning, Eric Bauman, the state party chairman, explained the process. The rules "cause some dyspepsia," Bauman said with a grimace. The audience responded with a mix of scattered applause and jeers. He vowed to "fix this going forward."
It is still up to the discretion of the party and legislative leaders if they will spend money to help Garcia's candidacy.
The harassment issue was not contained to the endorsement kerfuffles. It was tightly woven into the weekend's official program and, less conspicuously, its social scene.
Attendees were given fliers proclaiming, "We value your safety," explaining this year's convention had increased security and a 24-hour hotline to report sexual assault and harassment.
At the women's caucus meeting Saturday morning, the authors of the open letter against harassment were given a standing ovation.
A Friday evening fundraiser for a women's political group advertised "An Update from CA's Leading Reformer on Sexual Harassment." People packed into the offices of a local law firm to hear Assemblywoman Laura Friedman (D-Glendale), who has been leading the Legislature's examination of its own harassment policy, give a progress report on her committee's work.
A second art installation, next to the catcall booth, featured a makeshift "convenience store" selling tongue-in-cheek wares such as "Don't Tell Me to Smile" mouthwash and "Back Off Harasser Repellent" aerosol spray.
Artist Dorian Lynde said female attendees joked they'd need the repellent in their offices. She noted that when all four prospective candidates for governor came by, "[We] put this in their faces and say hey, what are you going to do about harassment in the government?"
California Sen. Tony Mendoza abruptly resigns, was facing expulsion after sexual harassment investigation »
The impact of the heightened harassment awareness on the weekend's socializing was ambiguous.
There were fewer bashes with marquee names this time around. At the convention in 2017, dueling shindigs featured rapper Common and Cypress Hill. One party boasted a performance by celebrity DJ Samantha Ronson.
Still, there were plenty of party options in San Diego for delegates — a glowstick-laden "silent disco" in a hotel ballroom; a dance music DJ, Kaskade, performing at a club in the Gaslamp Quarter; a gantlet of hospitality-suite receptions in the convention center.
Kim Bernice Nguyen, a state party delegate and councilwoman from Garden Grove, observed on Friday that she didn't see a dampened mood at a reception hosted by state Sen. Ed Hernandez of Azusa, a candidate for lieutenant governor.
But others said the carousing seemed tempered. Mingling on a rooftop deck Saturday evening as part of a VIP reception, Sarah Kerber said she's noticed a change from conventions she's attended in the past five years.
"The parties have been more muted than they have been in past, which isn't necessarily a bad thing," said Kerber, 30.
Some more subdued events — such as a brightly lit ice cream social hosted by Insurance Commissioner Jones — also proved popular with delegates.
Shawnee Badger, 24, said she loved that the Friday event was not centered around alcohol and hoped to see more parties like it. Her experience was different later that night, when she was hopping between receptions.
While she was walking from party to party, she said several men who were not part of the convention harassed her with unwanted advances. The contrast with the sensitivity about harassment at the convention was jarring, and she wished the state party had considered ways for delegates to move safely between events outside the convention hall.
"We have all these powerful stances against sexual harassment and physical and emotional abuse, but then they're not even implemented at convention," said Badger, a delegate from Santa Clarita. "This is a perfect place where we can put those values into action."
Her friend Melissa Garcia, a 25-year-old delegate from Chatsworth, said she saw "a mixed bag" in people's party behavior.
"Even though we're having this conversation on a national level, the problem still exists," she said. "We can't just assume that because everybody's hashtagging it up, that this problem doesn't exist anymore."
Times staff writers Christine Mai-Duc and Seema Mehta contributed to this report.
Follow @melmason on Twitter for the latest on California politics.
---
Life is stressful. Our weekly mental wellness newsletter can help.
You may occasionally receive promotional content from the Los Angeles Times.