Two Democrats will face off for California's U.S. Senate seat, marking first time a Republican will not be in contention
California voters made history on Tuesday in the race for the U.S. Senate, sending two Democrats to a November runoff and denying a Republican a spot on the fall ballot for the first time since the state's first direct election of senators in 1914.
State Atty. Gen. Kamala Harris won the largest share of the vote and the title of winner in the primary. By the end of the night, Harris led Orange County Rep. Loretta Sanchez by more than 800,000 votes, a margin of 23 percentage points.
Under California's relatively new top-two primary rules, the two Democratic women will square off on Nov. 8 – a contest that pits Harris' strength as the party favorite against Sanchez's potential appeal to Republicans, unaffiliated voters and Latinos.
"Our unity is our strength. Our diversity is our power," Harris told a boisterous crowd at the Delancey Street Foundation clubhouse in San Francisco on election night. "We understand that we have so many challenges as a country and we are prepared to lead."
The fact that no Republican could muster enough statewide support to advance to the general election could be a reflection of how an ever-shrinking GOP suffered when its voters were scattered among a large field of relatively unknown candidates.
"If there had been a particular candidate who had been the anointed one, they would have had a better chance at getting that second spot," said Kimberly Nalder, a political science professor at Cal State Sacramento.
Members of the U.S. Senate were appointed by state legislatures until the early 20th century. Since that time, a Republican has always appeared on the general election ballot in California.
That streak ended on Tuesday night, the third election held under the rules of the top-two primary, in which voters choose a candidate regardless of political party.
Sanchez, who mingled with supporters gathered at an Anaheim brewpub, celebrated her second-place standing.
"We've looked at the numbers. We know we're going to be there," she told the crowd.
Republicans continue to lose ground in voter registration to Democrats and have failed to win a single statewide election for a decade.
The Republican field was led by a small crop of experienced political players, none with any experience holding elected office.
Duf Sundheim, a former chairman of the California Republican Party, was in third place as returns came in, with a cluster of three Republicans – attorney Phil Wyman, former state GOP Chairman Tom Del Beccaro and businessman Greg Conlon – following behind.
"As a first-time candidate, you run into the challenge of being recognized," Sundheim said in a phone interview Tuesday night.
In all, 34 candidates were on the primary ballot in the race to replace retiring Sen. Barbara Boxer. The four-term Democrat announced in January 2015 that she would not run for reelection, sparking an early frenzy of interest among prominent Democrats in seeking the seat. Boxer and fellow California Sen. Dianne Feinstein have been in office since 1992.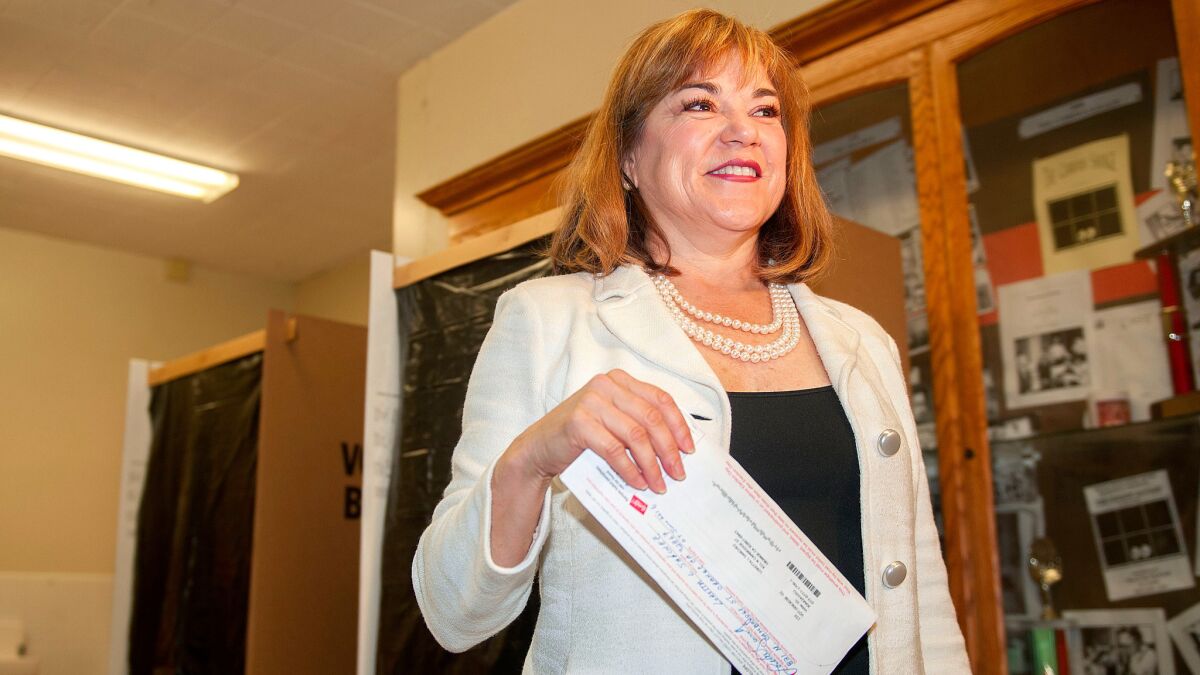 But it was Harris, 51, who pounced first by declaring her candidacy five days after Boxer's announcement. Her decision may have frozen out others who were rumored to be considering the race. No other prominent Democrats stepped up until Sanchez, 56, launched her Senate bid four months later in May 2015.
At first blush, the Senate race had the markings of a highly visible and hotly contested campaign.
"People were excited about all of the possibilities," Nalder said. "But it never happened."
Part of that may have been the intoxicating nature of the presidential primary battle. Voters heard little or nothing about the Senate race as Sanchez tended to her duties in Congress and Harris to hers as attorney general.
Even so, Harris consistently maintained the appearance of the front-runner, raising $10.3 million for her campaign through the first five months of 2016. A career prosecutor who was once presumed to have an eye on a race for governor in 2018, she overwhelmingly won the endorsement of the California Democratic Party at its state convention in February.
Harris lives in Los Angeles with her husband, attorney Douglas Emhoff, but ended election day in San Francisco, the launching pad for her career in politics. She served seven years as the city's district attorney before being elected attorney general in 2010. Harris has since touted her role in the national settlement with banks on wrongful foreclosures during the economic crisis and efforts at fighting gang crime that has flowed across the border with Mexico.
That impressed some voters Tuesday, like Patty Tucker in the Yolo County town of Woodland.
"I think she's accomplished a lot in a short time," Tucker said, who is retired. "She's tough and smart."
Sanchez, a onetime financial advisor who unseated former Rep. Robert Dornan in an upset race in 1996, touts her foreign policy experience serving in the House. She voted against the invasion of Iraq and the adoption of the Patriot Act in the wake of the Sept. 11 terrorist attacks, both of which she attempted to remind voters during two televised Senate debates this spring.
Greg Gillett, a 38-year-old attorney in San Luis Obispo, said Tuesday that he voted for Sanchez because he trusted her judgment after her years on Capitol Hill and her "overt" support for veterans.
Sanchez also talked at length about her Southern California roots as the daughter of Mexican immigrants and her experience on federal immigration issues.
But even while being named one of the most influential women in Congress by CQ Roll Call in 2015, Sanchez has been criticized for what many have called a string of missteps in the public eye. Last year, she said in an interview that as many as 20% of Muslims support the establishment of a strict Islamic state.
Her Senate campaign has reported raising almost $2.3 million this year, although much of that cash was already on hand from her long congressional career.
Either woman, should she be elected in November to replace Boxer, would make history in bringing diversity to the Senate – Sanchez as a prominent Latina, Harris as the daughter of parents who immigrated from Jamaica and India.
Neither made much mention of the other in campaign events across California or in the two debates. And it may not be a factor in the months to come as Harris seeks to maximize her support from liberal Democrats and Sanchez seeks crossover support.
"Sanchez will have the opportunity, at least, to attract business interests, Republicans and independents," Nalder said.
Harris acknowledged on Tuesday night that the race is far from over.
"We have five more months and we have a lot of work to do," she told supporters.
And part of that work is reaching out to voters who seemed to know very little about the women when casting a primary election ballot.
Bradley Davidson, a 28-year-old National Guardsman from Sacramento, voted for Sen. Bernie Sanders in the Democratic presidential primary but struggled to pick a Senate candidate while taking Snapchats in the voting booth.
"I was Googling the candidates," Davidson said.
Times staff writers Phil Willon in San Francisco, Christine Mai-Duc in Anaheim, Liam Dillon in Sacramento and Ileana Najarro in Los Angeles contributed to this report.
Follow @johnmyers on Twitter, sign up for our daily Essential Politics newsletter and listen to the weekly California Politics Podcast
ALSO:
10 things you need to know about California's U.S. Senate primary
Voter registration hits an all-time high for the June 7 statewide primary
Updates on California politics
---
UPDATES:
12:16 a.m.: This story was updated with new figures as results were counted.
It was originally published at 9:22 p.m.
Get our Essential Politics newsletter
The latest news, analysis and insights from our politics team.
You may occasionally receive promotional content from the Los Angeles Times.