Shohei Ohtani was nearly perfect in his home pitching debut; Angels win 6-1 over Athletics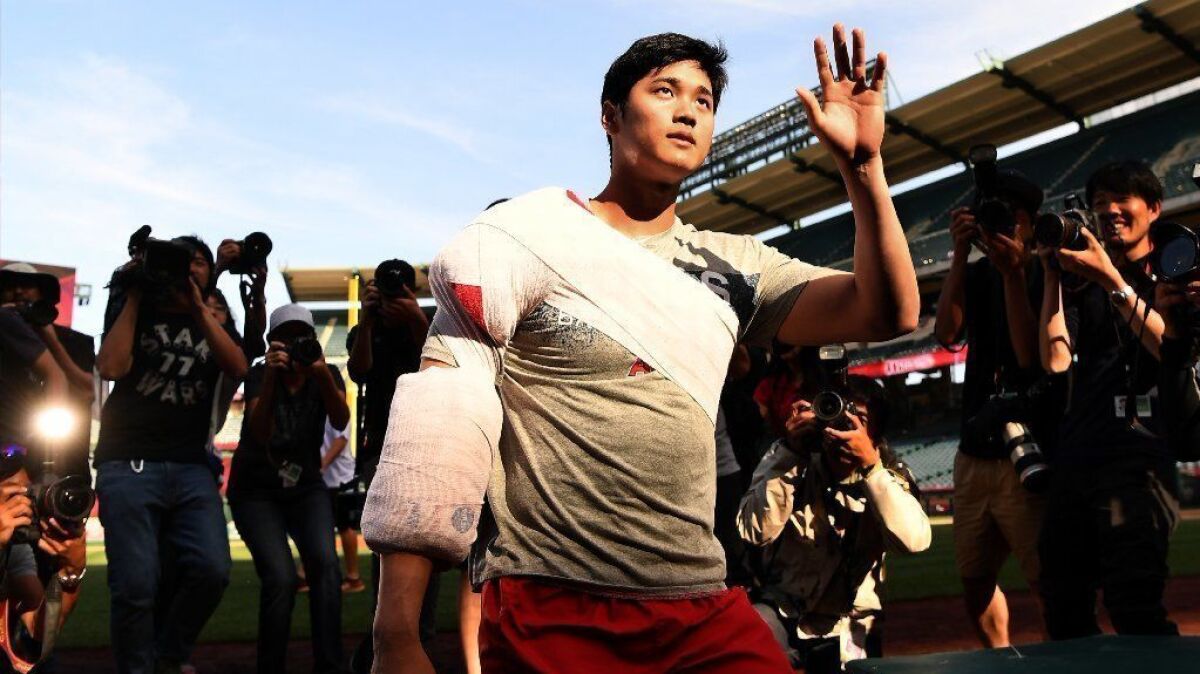 It was not even 10 o'clock on Sunday morning. The Angels would play the Oakland Athletics, but not for another three hours.
At that hour, the players usually speed right on into the parking lot. Not on this day.
"There's a carnival going on out there," one of the players said as he walked into the clubhouse.
The player spoke not out of jealousy, but out of wonderment. The concept that traffic would be so clogged so many hours before a game in Anaheim is something new, something different, something amazing.
So is Shohei Ohtani.
The Angels sold out. They sold 44,742 tickets, more than for opening day, more than for any regular-season day game since they downsized their stadium 20 years ago.
What could be more dramatic than Ohtani hitting a home run in his first at-bat at Angel Stadium? How about pitching a perfect game in his first start at Angel Stadium?
Ohtani very nearly did, nearly enough to get the crowd cheering in anticipation of third strikes in the fifth and sixth innings. With one out in the seventh, when Marcus Semien ended the perfect game by slapping a 96-mph fastball into left field, the crowd rose and rewarded Ohtani with a warm ovation.
In response, he flashed a thumbs-up sign.
He struck out the side in the first inning, and 12 in all. He gave up one hit, in seven innings. In an on-field interview after the game, Mike Trout joked that he was kind of bored while minding the outfield.
Ohtani's fastball ran as fast as 99.6 mph. His last fastball – on his next-to-last pitch, his 90th – hit 98 mph. He got strikeouts with his wicked splitter. He dropped in a curve at 68.5 mph, just for the heck of it, to a stunned Matt Joyce.
"That's as good as game as you could ever see pitched," said Angels manager Mike Scioscia, a man who does not traffic in hyperbole.
Ohtani never pitched a no-hitter in Japan. If this was not his best game, then what was?
"Probably my best outing ever was when I was in elementary school," he said, smiling as the answer was translated into English.
Ohtani became the first player in 99 years to win two games and hit three home runs within the first 10 games of a season. The last: Jim Shaw, he of the "Grunting Jim" nickname, for the 1919 Washington Senators.
In those first 10 games, Ohtani has a 2.08 earned-run average and a .389 batting average. He leads the team in wins, and he is tied with Trout and Justin Upton for the team lead in home runs.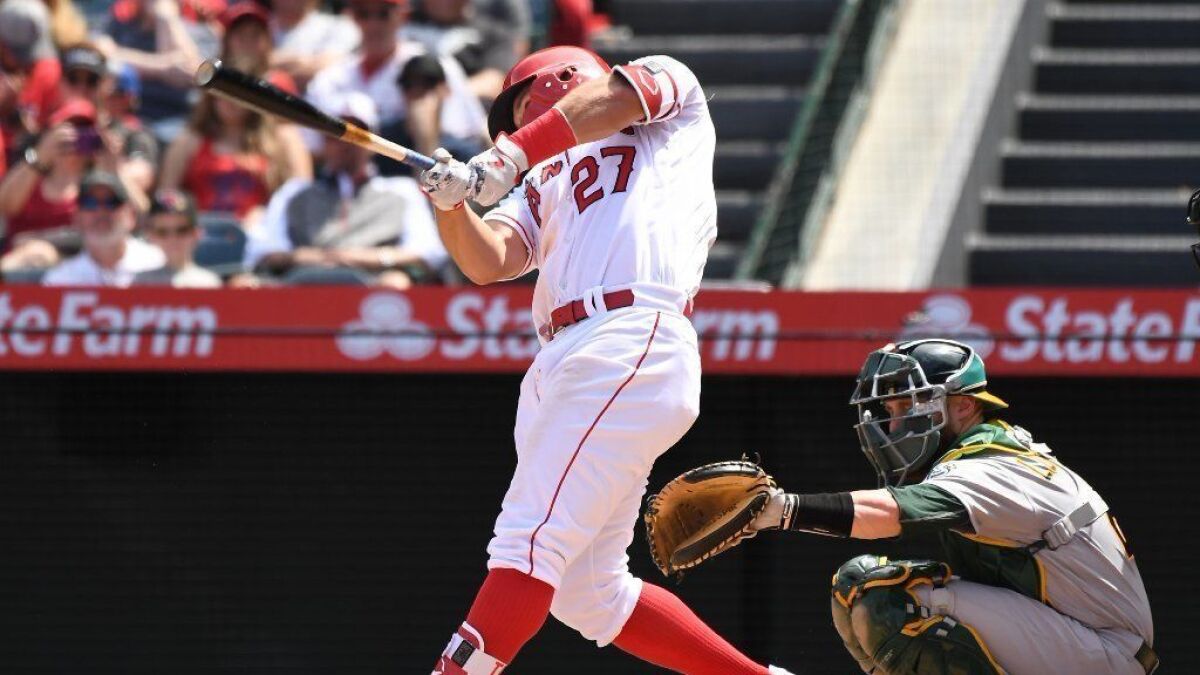 There was little suspense about whether Ohtani would win. After he struck out the side in the first inning, Albert Pujols doubled in a run in the bottom of the inning. The Angels scored twice in the first, Trout homered in the third, and the Angels were well on their way to a 6-1 victory.
There was plenty of suspense as Ohtani flirted with a perfect game. The Angels, born in 1961, have one perfect game – by Mike Witt, not Nolan Ryan.
Ohtani said he had not imagined pitching this well, this soon, based on his poor results in spring training. As the innings passed, and perfection appeared increasingly attainable, what thought was running through the head of Angels catcher Martin Maldonado?
"Don't (bleep) it up," Maldonado said.
Ohtani induced 25 swinging strikes, the most by any major league pitcher this season. Of the 20 splitters he threw, the A's swung and missed at 15.
He was so dominant that Scioscia was asked whether he might have had to make a decision about whether to let the pursuit of a perfect game override the concern about Ohtani's pitch count.
"Possibly," Scioscia said.
Where might that have been?
"We'll never know," Scioscia said.
Trade secrets, you know. The Angels wouldn't want the enemy to know how far beyond 91 pitches Ohtani might go.
Ohtani's feats inspired a walk through baseball history.
He became the third player in major league history with a double-digit strikeout game and a home run in three consecutive games, joining Babe Ruth (1916) and Ken Brett (1973).
Ohtani tied an Angels record with 18 strikeouts in his first two games. He tied the American League record with 12 strikeouts in one of his first two starts.
And he accomplished all these feats with a world watching, including a live broadcast on NHK that started at 5 a.m. in Japan.
The baseball world is watching, too. Ohtani has more home runs than either Kris Bryant or Aaron Judge, more strikeouts than either Chris Sale or Max Scherzer.
Miguel Rojas, the former Dodgers infielder now with the Miami Marlins, hit the Marlins' third home run of the season Sunday.
"At least," Rojas jokingly said to reporters, "we have as many as Ohtani now."
Follow Bill Shaikin on Twitter @BillShaikin
---
Get the latest on L.A.'s teams in the daily Sports Report newsletter.
You may occasionally receive promotional content from the Los Angeles Times.