Angels' Jered Weaver is not up to speed in spring-training outing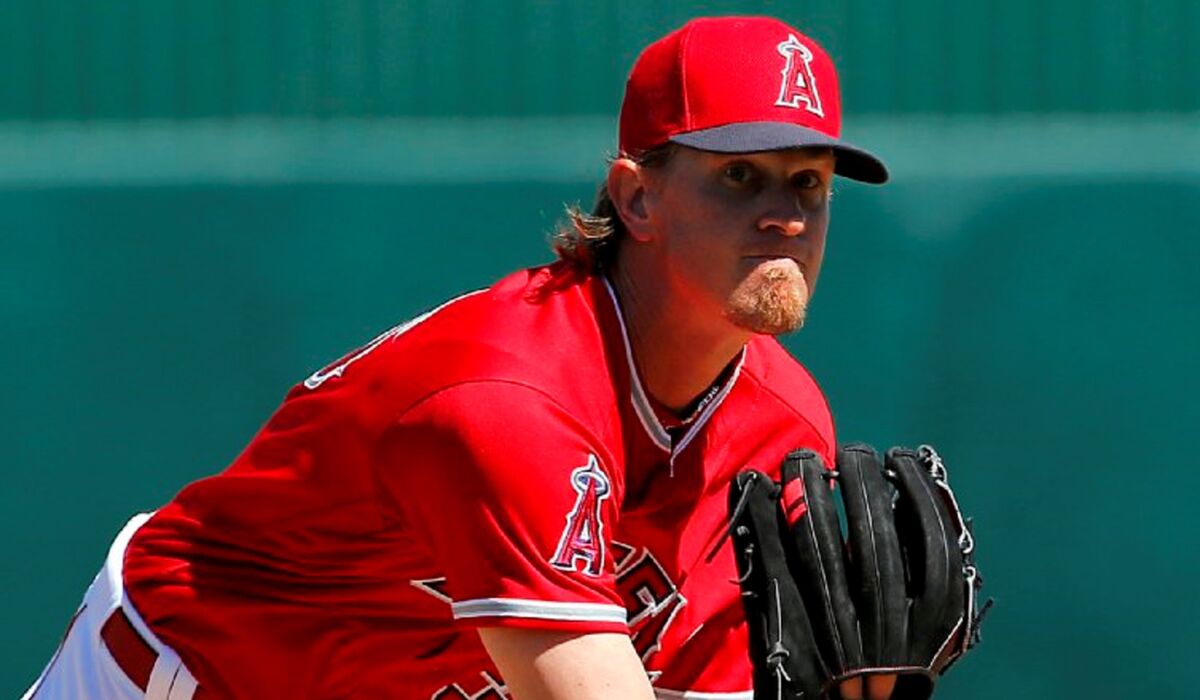 Reporting from TEMPE, Ariz. —
The first fastball Angels right-hander Jered Weaver threw Wednesday afternoon against the Dodgers was clocked at 79 mph. The second, 78. The third, 80.
Over 2 2/3 innings, Weaver's fastball never surpassed 81 mph and averaged about 79, according to scouts in attendance. He gave up six hits, including three home runs, in a spring-training game that ended tied, 13-13.
Weaver, 33, sat hunched over at his locker. He joked that he was unscathed because his arm remained attached but was otherwise expressionless.
"I wake up every day hoping this is the day that it's going to click," he said, "and it just hasn't happened yet."
After a 7-12 record and 4.64 earned-run average in 2015 prompted him to change his preparation plan for this year, Weaver was pleased with his first spring start last week. He hit 83 mph several times against the Chicago Cubs and struck out three batters over two innings. He didn't strike out any Dodger.
"I didn't feel as good as I did last time," Weaver said. "I feel like I'm on the right track, though. I just gotta keep grinding and trust that what I am doing is gonna get back to where I need to be."
He is stretching more and has said the added flexibility should increase the chances of his body remaining sound in the final season of his contract.
"I know I'm not throwing the ball as good as I can be," he said. "But it's not gonna stop me from working and going out there and taking the ball every fifth day. My body feels better each and every day. It's just, through this process of breaking everything up and getting everything settled down where it needs to be, you have good days and bad days."
Weaver said Wednesday was a bad day because of where he threw his pitches, not how hard he threw them.
"If I can locate, I can get people out at 60 mph," he said. "It doesn't really matter to me."
Said Manager Mike Scioscia: "He's proved he can go out there and compete with velocity that's not what you're used to seeing."
Weaver has never averaged less than 82 mph with his fastball in a regular-season game. In the last 10 seasons, the slowest average fastball on record from a nonknuckleball-throwing right-hander was 81.6 mph, by Brian Lawrence of the New York Mets in 2007.
"A lot's being made of his velocity," Scioscia said. "Not that you don't need velocity or it doesn't make some things easier when you have velocity, but I think he showed he can do this. It's just going to be more command sensitive."
Last season, Weaver's average fastball was 84 mph. But he wasn't able to increase the velocity later in games. His best first-inning fastball last season was nearly 3 mph faster than his fastest pitch in a seventh inning.
Scioscia said he was interested in seeing whether Weaver could hold his velocity into the 90-pitch range later this spring. Weaver could make as many as four more starts in Cactus League play.
"Moving forward with Jered, his challenge is still in front of him," Scioscia said.
Short hops
Left-hander C.J. Wilson, recovering from shoulder tendinitis, is planning to throw a bullpen session Thursday and one Saturday. … Left-hander Andrew Heaney will make his spring debut, starting Thursday's game after bypassing his first scheduled start because of illness.
---
Get the latest on L.A.'s teams in the daily Sports Report newsletter.
You may occasionally receive promotional content from the Los Angeles Times.