Column: Achieving perfection doesn't seem out of the question for Angels' Shohei Ohtani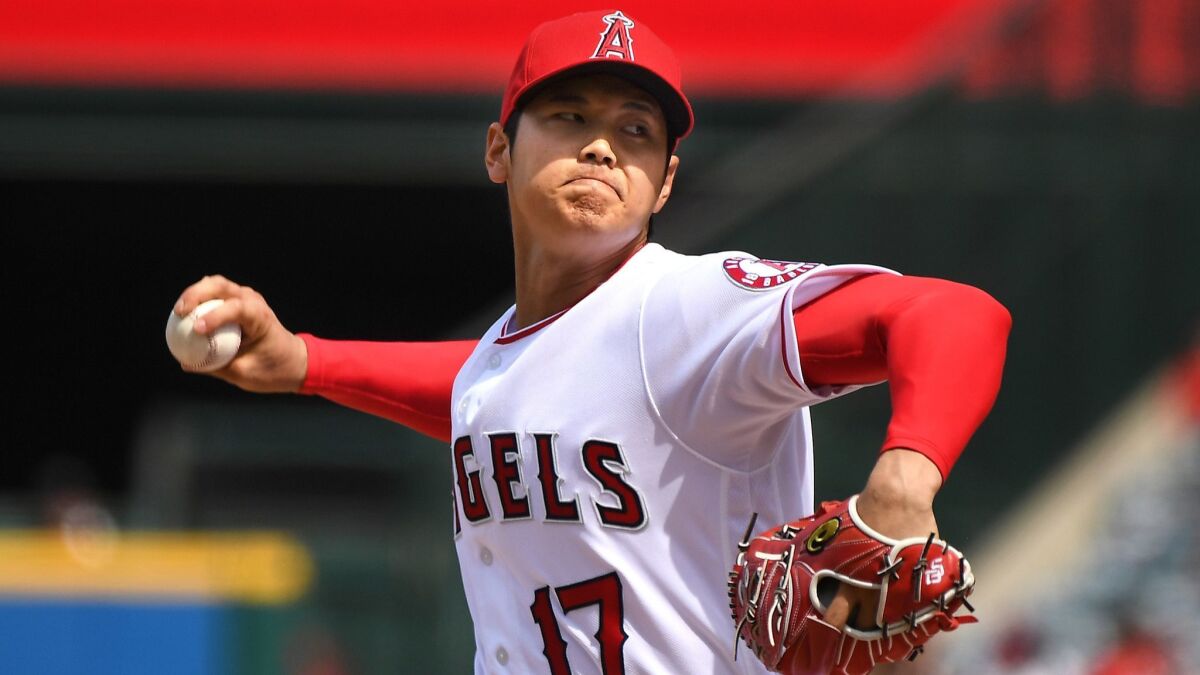 The anticipation increased with every zero that was posted on the Angel Stadium scoreboard.
This was going to happen. Shohei Ohtani was going to pitch a perfect game.
Marcus Semien ruined the fantasy, but only for the day. The seventh-inning single by the Oakland Athletics shortstop felt more like a delay of the inevitable than a death of a dream.
So the expectation remained when the Angels' 6-1 victory was complete, only in a slightly altered form.
This will happen. Ohtani will pitch a perfect game.
It's silly to predict any pitcher will do something that has happened only 23 times in major league history, but that speaks to how dominant Ohtani was in his first start at Angel Stadium, as well as how the 23-year-old has already expanded the public's collective sense of what is possible in baseball.
"That's as good a game as you can ever see pitched," Angels manager Mike Scioscia said.
Ohtani had pitched against the Athletics in Oakland only seven days earlier, which was supposed to work to his opponents' advantage. If anything, it was Ohtani who gained an edge.
He struck out the side in the first inning and again in the sixth. He touched 99 mph on the in-stadium radar gun. His split-finger fastball was devastating, so much so the only pitch as effective that catcher Martin Maldonado could recall was the slider Zack Greinke threw at the height of his powers.
Ohtani carried a perfect game into the seventh inning, when he allowed a one-out single to left field by Semien. He walked the next batter, Jed Lowrie, but preserved his team's 6-0 advantage by forcing Khris Davis to ground out and striking out Matt Olson.
The splitter Olson missed for the third strike the last of 91 pitches delivered by Ohtani, who struck out 12.
The start capped a one-of-a-kind week in which Ohtani homered in each of the three games he started as a designated hitter, all of them Angels victories.
He was his typically low-key self in the wake of his domination of the Athletics.
He said he became conscious around the fifth inning that he was throwing a no-hitter, but never let himself imagine completing it.
"I knew I hadn't given up a hit, but I didn't feel like I was going for a perfect game," Ohtani said in Japanese. "If anything, I was waiting for the hit to come. When the hit comes, I think that how you arrange your feelings and approach the next hitter is very important."
He lamented following up Semien's single with a four-pitch walk to Lowrie.
Ohtani was asked if the game was the best he had ever pitched. Ohtani didn't pitch a no-hitter in his five seasons with Japan's Nippon-Ham Fighters.
"No. 1 in my life was around when I was in elementary school," he joked.
He made it a point to mention the home fans, who rewarded him with a standing ovation when his perfect game was broken up.
"I'm happy I was able to respond to their expectations, however little," Ohtani said. "Every time, I'd like to perform in a way that won't betray their expectations. That's why I'm practicing every day."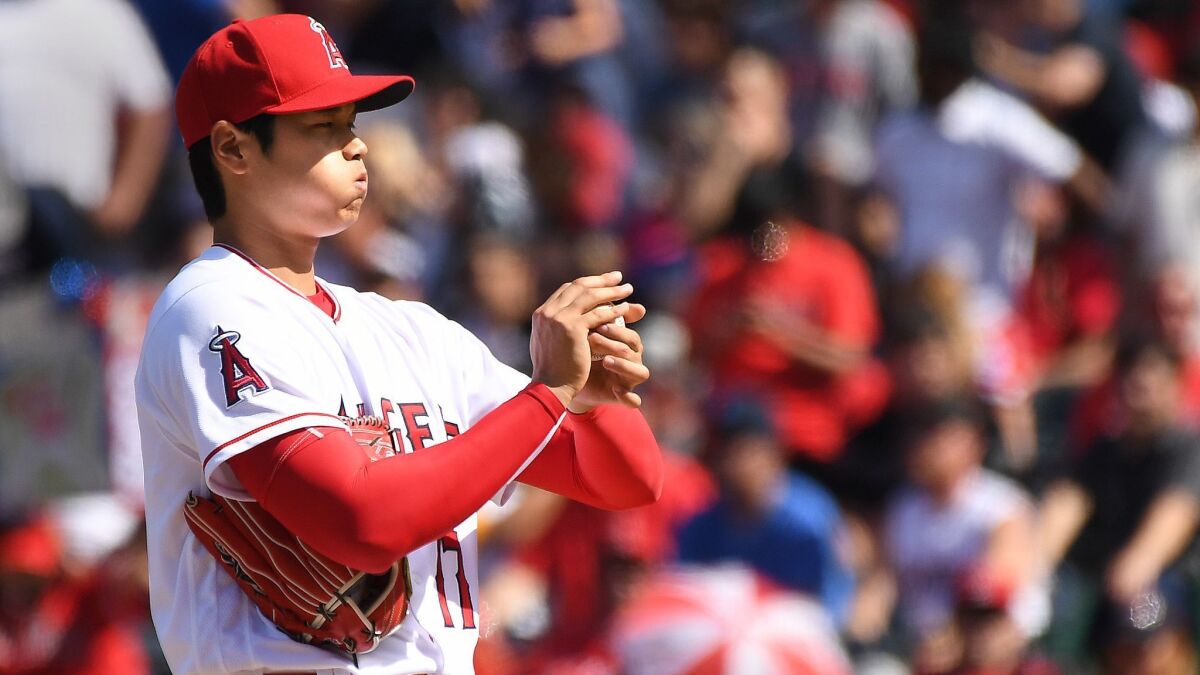 He credited the capacity crowd with helping him record the final outs of the seventh inning.
"I was really pushed by their cheers," he said. "The entire stadium created an atmosphere that made it possible for me to hold the other team."
Ohtani has twice completed the cycle of transitioning from hitter to pitcher, but wasn't ready to declare his move to the major leagues a success.
"It's just started," he said. "I think combating fatigue will be more of an issue later."
He also downplayed his early season success.
"It's a situation where the opponents still don't know much about me, so things are rolling this way," he said. "But when it gets difficult, I want to be prepared to break through that wall."
That he would say something like this was expected. From the time Ohtani decided to make his move to the major leagues, he has spoken almost romantically about the setbacks he would encounter, how they would harden his resolve and force him to improve as a player.
Ten games into his major league career, the obstacles haven't presented themselves.
Unless he finds a league in another planet, there's a chance they never will.
Get the latest on L.A.'s teams in the daily Sports Report newsletter.
You may occasionally receive promotional content from the Los Angeles Times.