Jose Briceño blasts walk-off homer in 11th to snap Angels' losing streak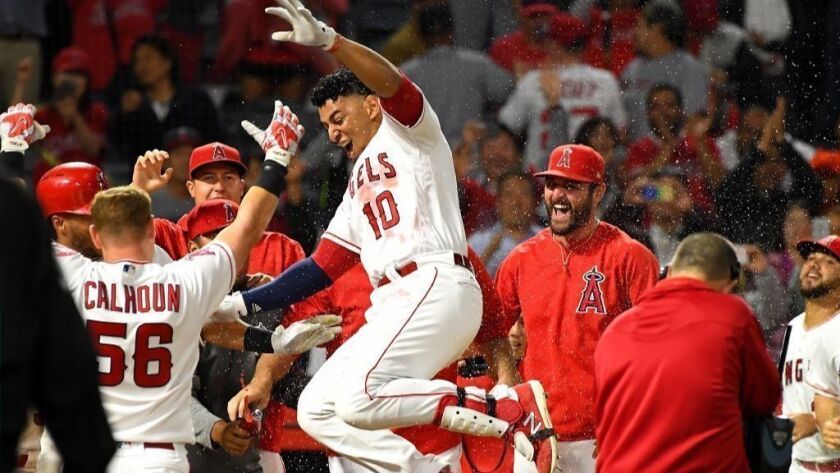 The scene at Angel Stadium's home plate Monday night resembled a mobbing.
White dust floated in the air. Clothes were ripped off. Grunts roared in the night.
The gleeful cheers of those still gathered to watch the episode unfold gave it away. This was a celebration, one the Angels earned after defeating the Texas Rangers 5-4 in 11 innings to begin the final week of the season.
In the moments after he clubbed a game-winning home run, pinch-hitter Jose Briceno was a target. He had launched Rangers reliever Matt Moore's third pitch of the inning over the center-field wall. His teammates would not let him go without a kindhearted pummeling. It happened in seconds — baby powder thrown at his head, jersey ripped out of his belted pants, undershirt torn clear down the front. A bucket of ice was dumped over his shoulders during his postgame interview.
"That was awesome," Briceno said in the clubhouse. "I don't know what's going on around me. I just tried to close my eyes."
The Angels had lost five games in a row, outscored 58-13. They needed someone other than Mike Trout and Shohei Ohtani to step up to end this disappointing season on a high note.
On this night, it was rookie catcher Briceno. His heroics came in the wake of Ty Buttrey's blown save in the ninth inning, which erased seven quality innings hurled by Felix Pena.
Instead of portending disaster, the blown save paved the way for perfect outings from Angels relievers Hansel Robles and Taylor Cole and for Briceno's second career pinch-hit homer, his second in as many days.
"We battled," manager Mike Scioscia said. "Those guys battled on the other side, too. ... But we did a lot of good things. We had a lot of young guys on the field tonight. I think they all held up well."
Before the hoopla, Ohtani knocked a first-pitch homer off Rangers starter Adrian Sampson in the first inning. It arced high, reaching a peak of 146 feet according to MLB's Statcast system, before landing in the right-center-field seats. Lasers in the ballpark measured the exit velocity of the home run at 112.9 mph — the hardest-hit home run of Ohtani's rookie campaign.
But the home run's majesty almost went for naught, along with solo shots Sampson surrendered to Jefry Marte and rookie Michael Hermosillo. It was the first home run of Hermosillo's career and his fifth hit since joining the Angels as a September call-up.
For the second time in two outings, Buttrey could not hold a lead. He gave up a two-out double to Ronald Guzman in the ninth. Pinch-hitter Elvis Andrus then laced a single through the left side of the infield, giving pinch-runner Delino DeShields enough time to score from second base. The Angels contended DeShields missed the bag as he rounded third and called for a replay of the tying run. Umpires upheld the call.
In his previous outing Saturday, Buttrey was charged with five runs in a loss at Houston after entering the game in the eighth inning with a 5-1 advantage. For the first time in his short major league career, which began Aug. 16, he wasn't able to record an out. He'd given up only one earned run and held batters to a .185 batting average in first 14 games.
His last two opponents have not been set down as effortlessly.
Yet the Angels improved to 76-81 anyway. Should they win their final five games, they would avoid a third consecutive sub-.500 season.
"Oh my gosh, I've been waiting for it," Hermosillo said. "I've been waiting to just get an RBI or just get on the board in some way. So it was great to help the team win for sure."
Scioscia doubles down … sort of
In the weeks since rumors surfaced of his impending retirement, Mike Scioscia has spent little time publicly discussing his intentions beyond the end of this Angels season, which coincides with the expiration of the 10-year contract he signed in 2009.
He's waved off attempts to reminisce about his career. He's talked often about the 2019 Angels and his enthusiasm for seeing what Ohtani might accomplish in 2020, when the two-way star is expected to return to the mound as a starting pitcher after repairing the damaged ulnar collateral ligament in his right elbow.
But when asked on KLAA's pregame radio show if he still loves managing, Scioscia broke his silence to tell Terry Smith he would like to remain at the helm if given the chance.
Scioscia, who turns 60 in November, has been in professional baseball for some 40 years. After 19 seasons managing the Angels, he will have earned the right to negotiate a new contract. It's just a matter of if he really wants one.
"We'll continue to evaluate things this week," he said. "I'll speak with [owner Arte Moreno] and speak with [general manager Billy Eppler] and kind of come to a decision. I think that if you love something, you want to continue to keep doing it. And if you can, great. And if it doesn't happen, so be it."
Simmons MRI clean
The Angels went without reigning Gold Glove winner Andrelton Simmons at shortstop, after Simmons landed awkwardly on his right knee while making a defensive play in the seventh inning of Sunday's loss.
Scioscia said Simmons underwent an MRI and received a clean bill of health.
Simmons, who's played in 142 games this season, is expected to return to the lineup on Tuesday.
---
Get the latest on L.A.'s teams in the daily Sports Report newsletter.
You may occasionally receive promotional content from the Los Angeles Times.